accesso Blog Series: Discovering the Latest and Greatest Feature Updates in our accesso ShoWare solution!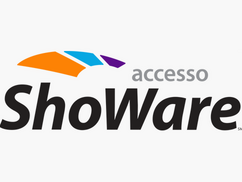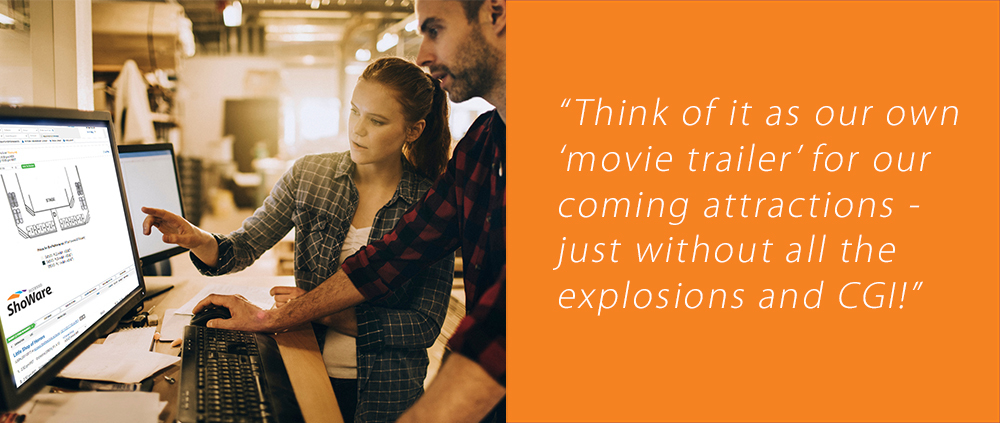 The sun is out, the tem­per­a­tures are ris­ing, and more and more peo­ple in your office are tak­ing vaca­tions. This can only mean one thing — sum­mer is here! Now despite my con­tempt for humid­i­ty and hot weath­er, I still enjoy the sum­mer months. Head­ing down­town to catch a ball­game, a week­end trip to the beach or going out­side with­out need­ing eight lay­ers of cloth­ing are all great things about this time of year, and so are sum­mer block­busters! I have fun watch­ing the trail­ers and decid­ing which movies I ​"have" to see ver­sus which ones I'll just wait to show up on Net­flix even­tu­al­ly. These days, with so many new movies com­ing out every year it can be hard to keep track of what's com­ing up. At acces­so, we've been work­ing hard to release as many new fea­tures and enhance­ments in our acces­so ShoWare solu­tion as pos­si­ble to keep our tick­et­ing solu­tion work­ing as effi­cient­ly as ever for all our clients. In fact, so many fea­tures have been com­ing out that we cre­at­ed a mes­sag­ing sys­tem to alert our clients to new enhance­ments every time they log into the site. Think of it as our own ​"movie trail­er" for our com­ing attrac­tions – just with­out all the explo­sions and CGI!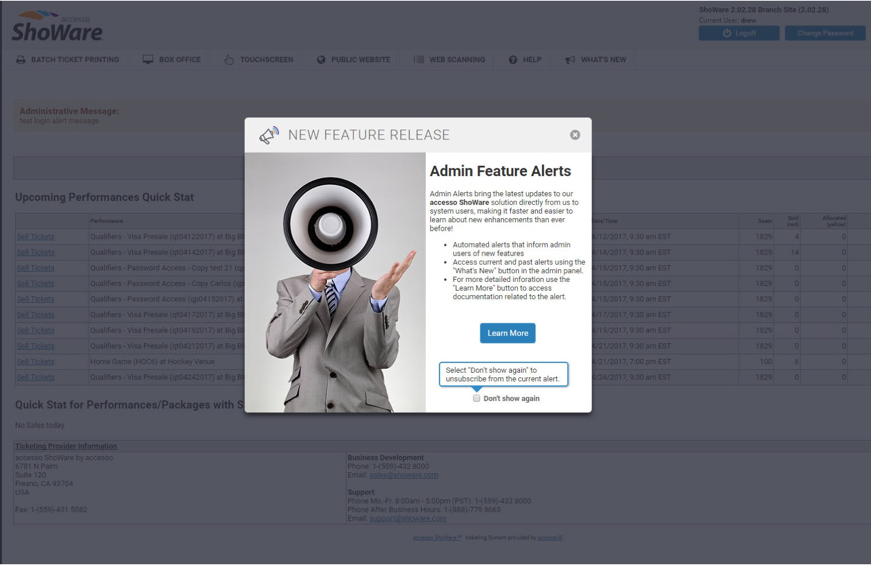 Do you know why there are eight Fast and Furi­ous movies? Because they keep mak­ing the stu­dio a bil­lion dol­lars each! There's two more on the way for those of us who haven't had enough of cars fly­ing through air­planes in a ball of fire and Vin Diesel slow­ly walk­ing out of the rub­ble with­out a scratch on him. While the stu­dio heads may be ​"lis­ten­ing" to our requests by count­ing box office receipts, acces­so ShoWare is lis­ten­ing to our client requests and mak­ing them a real­i­ty. Many of our new fea­tures came direct­ly from our clients, old and new, mak­ing sug­ges­tions to us as to how we can improve our prod­uct to work bet­ter. Our most recent enhance­ment was a revamp of our seat map cre­ation and edit­ing tools. Now, our clients can eas­i­ly save their maps at vir­tu­al­ly any point of the cre­ation process and not wor­ry about los­ing any of the work they've start­ed. Did you for­get to add that last stand­ing room only sec­tion to your map? No need to start over, adding a sec­tion is now pos­si­ble. Cre­at­ing and edit­ing seat maps has nev­er been eas­i­er than it is now!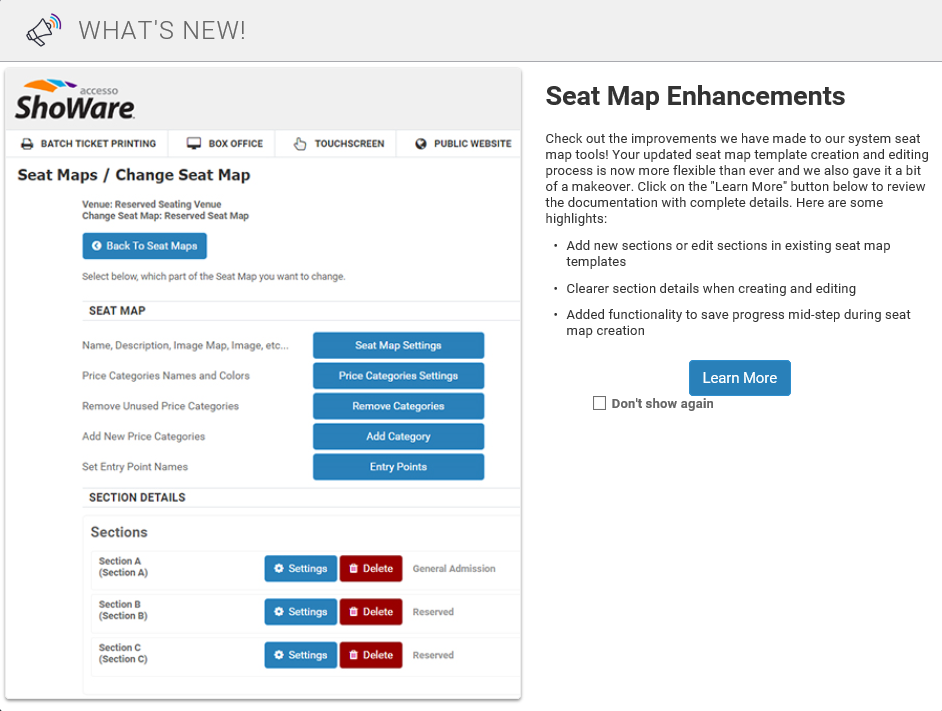 A sim­ple and intu­itive pur­chase expe­ri­ence online is vital. We know that our clients want their patrons to have a great guest expe­ri­ence, and that starts with their eCom­merce pur­chase. We've enhanced our coupon func­tion­al­i­ty so that new reduced prices that are unlocked when a coupon is entered are auto­mat­i­cal­ly applied to the patron's tick­ets in the bas­ket. We've switched to a brand-new, HTML-based, Print at Home tick­et that allows our clients more cus­tomiza­tion than ever before, while at the same time elim­i­nat­ing deliv­ery errors and the need to resend a patron their order. You can now offer your clients beau­ti­ful­ly designed Apple Wal­let tick­ets that will make the deliv­ery process a breeze. Our new stream­lined guest check­out options have great­ly reduced the num­ber of page clicks need­ed to com­plete an order, and have sig­nif­i­cant­ly sped up the check­out process over­all. We lis­ten to the tiny details too, like the need for addi­tion­al send email fields on our invoic­es so that our clients with group sales teams can eas­i­ly invoice mul­ti­ple peo­ple with­in an indi­vid­ual patron account. No detail is too small for us to con­sid­er improving!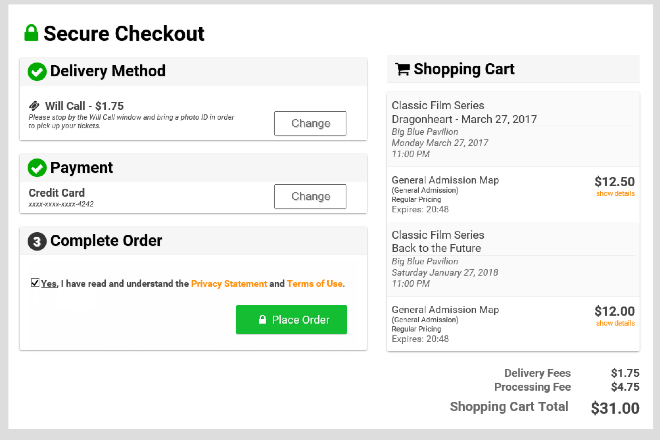 Lover of the arts that I am, I'm not sole­ly inter­est­ed in ​"block­buster" movies. I also like to take the time to check out as many of the Oscar nom­i­nat­ed films that I can each year. And while every new enhance­ment to our acces­so ShoWare solu­tion may not be con­sid­ered a block­buster, many of these less­er seen fea­tures are just as valu­able. Our patrons can now set auto­mat­ic sales times for pass­word pro­tect­ed per­for­mances, doing away with the need to man­u­al­ly turn pass­words off at the end of a pre­sale. Price codes lim­i­ta­tions have been added for both over­all quan­ti­ties and patron-based pur­chase restric­tions. This allows our clients to set up their own ver­sion of dynam­ic pric­ing that they can man­age them­selves. We've added new out­puts to many of our reports and enhanced them to reflect the needs of our clients and have also added more options for which reports can be sent out via our auto­mat­i­cal­ly sched­uled emails. Our acces­so ShoWare solu­tion has a new web-based scan­ning fea­ture that allows our clients to use Android plat­form phones and tablets in con­junc­tion with a small Blue­tooth device to scan tickets.
Every sequel or remake strives to be an improve­ment on the orig­i­nal. We all know that just about all of them fail to live up to this goal (except Toy Sto­ry 3 — it's an emo­tion­al roller coast­er!). Our acces­so ShoWare tick­et­ing solu­tion is dif­fer­ent though — it is get­ting bet­ter every sin­gle week with new enhance­ments and fea­tures designed to make our clients lives eas­i­er. We val­ue our clients and their input and are con­stant­ly striv­ing to offer the best ser­vice pos­si­ble. If you have ques­tions on any of the lat­est updates to the acces­so ShoWare solu­tion, be sure to read the ​"What's New" alert mes­sages, or see them all by click­ing on the ​"What's New" but­ton locat­ed next to the Help but­ton at the top of your site. Also, nev­er hes­i­tate to call or email your client ser­vices man­ag­er. We want to hear from you and make sure that you're get­ting all that you can from your site. We've got more new fea­tures to roll out soon, be sure to get your pop­corn ready!
If you want to find out more infor­ma­tion about our acces­so ShoWare solu­tion or want to sched­ule a per­son­al­ized demon­stra­tion let us know about your busi­ness needs here or email sales@​accesso.​com.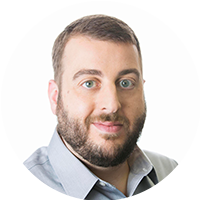 Chris Wald­mann- Sr. Client Ser­vices Man­ag­er, Annapo­lis Office
Chris Wald­mann is a Senior Client Ser­vices Man­ag­er from Bal­ti­more, Mary­land. Chris has worked with acces­so ShoWare for near­ly 4 years. He's an avid sports fan, likes to trav­el, and is work­ing on con­vinc­ing man­age­ment to get a pen­guin for an office pet!