accesso acquired by Lo-Q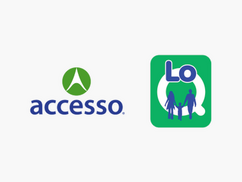 Acqui­si­tion Cre­ates Pre­mier Tech­nol­o­gy Solu­tions Provider in the Attrac­tions and Leisure Industry
LON­DON & ORLAN­DO, Fla. (5‑De­cem­ber-2012) – Lo‑Q plc (AIM:LOQ), the AIM-list­ed provider of vir­tu­al queu­ing sys­tems for theme parks and major attrac­tions, today announced that it has acquired pri­vate­ly-held acces­so, a rec­og­nized leader in tick­et­ing tech­nol­o­gy, eCom­merce, mobile apps and pay­ment pro­cess­ing. The trans­ac­tion cre­ates the pre­mier tech­nol­o­gy solu­tions provider in the attrac­tions and leisure industry.
Togeth­er, Lo‑Q and acces­so will har­ness the industry's grow­ing demand for enhanced guest con­ve­nience and opti­mized rev­enue dri­vers by lever­ag­ing the com­pa­nies' shared focus on award-win­ning tech­nol­o­gy, cus­tomer ser­vice and brand awareness.
"Pair­ing Accesso's award-win­ning tick­et­ing and e‑commerce port­fo­lio with our vir­tu­al queu­ing sys­tems is a real game-chang­er and vaults us into posi­tion as the world­wide leader in rev­enue-dri­ving solu­tions for the glob­al attrac­tions indus­try," said Tom Bur­net Lo‑Q CEO. ​"Accesso's tech­nolo­gies were a major draw for us, but the biggest fac­tor in our deci­sion was the company's out­stand­ing lead­er­ship and team of inno­v­a­tive employ­ees ded­i­cat­ed to deliv­er­ing world-class cus­tomer ser­vice and out­stand­ing results for their clients."
Reac­tion to the acqui­si­tion is just as enthu­si­as­tic at acces­so.
"We're thrilled to be join­ing the Lo‑Q port­fo­lio and look for­ward to offer­ing our com­bined set of rev­enue-dri­ving resources to attrac­tions around the globe," said Steve Brown, acces­so CEO. ​"Blend­ing our unique and high­ly suc­cess­ful com­pa­nies will allow us to joint­ly lever­age the tal­ent of both teams and our com­bined tech­no­log­i­cal, mobile and oper­a­tions exper­tise to devel­op next gen­er­a­tion solu­tions to meet the rapid­ly chang­ing needs of the attrac­tions marketplace."
Under terms of the deal, acces­so will retain its Cen­tral Flori­da office and Brown, who also remains in Flori­da, will join Lo‑Q as Pres­i­dent and Chief Oper­at­ing Offi­cer of the com­pa­nies' com­bined North Amer­i­ca busi­ness and will serve as a mem­ber of the Lo‑Q plc board of direc­tors, pend­ing reg­u­la­to­ry approval.
The acqui­si­tion takes place in the midst of a sig­nif­i­cant growth peri­od for acces­so as the com­pa­ny signed a num­ber of large port­fo­lio clients in the past 12 months and now serves more than 100 venues across North Amer­i­ca. The company's annu­al rev­enue has increased more than 130% over the past three years. acces­so employs 44 full time staff and will process near­ly $1 bil­lion in trans­ac­tions in 2012, includ­ing more than 14 mil­lion print at home tick­ets, and has deliv­ered more than 1 mil­lion down­loads of its native mobile con­tent appli­ca­tion for its clients.
The acqui­si­tion is Lo‑Q's sec­ond major deal in the past few months. In Sep­tem­ber, the com­pa­ny signed a part­ner­ship agree­ment with The Sander­son Group, an Aus­tralian mul­ti-nation­al busi­ness, to help spear­head Lo‑Q's expan­sion into the fast grow­ing Asian mar­ket place.
###
About Lo‑Q
Lo‑Q is the cre­ator of a vir­tu­al queu­ing sys­tem for theme parks, water parks and oth­er leisure attrac­tions that allows users to queue with­out wait­ing in line. Lo‑Q users reserve their place in a queue elec­tron­i­cal­ly and are noti­fied when their turn is up, spend­ing less time queu­ing and more time enjoy­ing their day out.
Lo‑Q's sys­tem has been adopt­ed by lead­ing theme park and attrac­tion oper­a­tors glob­al­ly, with cus­tomers includ­ing Par­ques Reunidos, Six Flags Enter­tain­ment Co, Her­schend Group, Mer­lin Enter­tain­ments and Com­pag­nies Des Alpes. These oper­a­tors ben­e­fit not only from hap­pi­er cus­tomers but also from addi­tion­al rev­enue streams as time pre­vi­ous­ly spent queu­ing is instead trans­formed in to high­er spend­ing in park restau­rants, gift shops and oth­er retail facil­i­ties. By the end of 2011, more than eight mil­lion indi­vid­u­als had used a Lo‑Q prod­uct and that num­ber is growing.
The Company's tech­nol­o­gy is pro­tect­ed by exten­sive patents or patents pend­ing in Europe, USA, Hong Kong and Japan. The tar­get mar­ket for this tech­nol­o­gy is large and grow­ing, with Lo‑Q cur­rent­ly explor­ing oppor­tu­ni­ties for expan­sion into new theme parks and new geo­gra­phies as well as oppor­tu­ni­ties to devel­op new prod­ucts for oth­er com­ple­men­tary adja­cent markets.
Lo‑Q is list­ed on the Alter­na­tive Invest­ment Mar­ket ("AIM") under the tick­er ​"LOQ".
About acces­so
Based in Cen­tral Flori­da, acces­so is rec­og­nized as the attrac­tions industry's lead­ing provider of tick­et­ing solu­tions offer­ing a range of pro­pri­etary, ful­ly-host­ed tick­et­ing, eCom­merce, mobile and pay­ment pro­cess­ing solu­tions to more than 100 lead­ing venues across North Amer­i­ca includ­ing Six Flags Enter­tain­ment, Cedar Fair Enter­tain­ment, Her­schend Fam­i­ly Enter­tain­ment, and Palace Enter­tain­ment. acces­so prod­ucts and ser­vices sup­port top attrac­tions across North Amer­i­ca from theme parks and water parks to con­certs, live events and sport­ing events.
accesso's pro­pri­etary solu­tions are not­ed for a stream­lined, easy-to-use design with seam­less­ly inte­grat­ed rev­enue dri­ving fea­tures. All acces­so solu­tions are ful­ly sup­port­ed 24⁄7 to ensure con­tin­u­al focus on client ser­vice lev­els and sales results.
For more infor­ma­tion vis­it www​.acces​so​.com.