accesso acquires VisionOne, Worldwide, Ltd.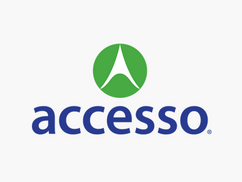 LON­DON (10-Novem­ber-2014) – acces­so Tech­nol­o­gy Group plc (AIM:ACSO), the pre­mier tech­nol­o­gy solu­tions provider to the glob­al attrac­tions and leisure indus­try, today announced that it has acquired VisionOne World­wide Ltd, a lead­ing provider of tick­et­ing solu­tions for casi­nos, fairs, sport­ing events, are­nas, the­aters, per­form­ing arts cen­ters, and tours. VisionOne oper­ates ShoWare™, a cus­tomiz­able cloud-based Soft­ware-as-a-Ser­vice tick­et sales and dis­tri­b­u­tion solu­tion used by more than 475 venues and leisure orga­ni­za­tions through­out North and South Amer­i­ca, and process­es more than 19 mil­lion tick­ets annually.
The acqui­si­tion brings togeth­er two major adja­cent mar­kets in the tick­et­ing indus­try – leisure/​attractions and enter­tain­ment – and firm­ly estab­lish­es acces­so as a leader in that space.
VisionOne's ShoWare plat­form pro­vides box office and online tick­et­ing solu­tions to the­aters, sports sta­di­ums and music fes­ti­vals, and was the first tick­et­ing solu­tion to allow venues, pro­mot­ers and artists the abil­i­ty to sell tick­ets through Facebook.
"By devel­op­ing a plat­form that improves col­lab­o­ra­tion between venues, pro­mot­ers and enter­tain­ers, VisionOne has cap­i­tal­ized on a unique oppor­tu­ni­ty with­in the live enter­tain­ment indus­try," said Tom Bur­net, acces­so CEO. ​"By offer­ing an afford­able self-ser­vice tick­et­ing solu­tion backed by 24⁄7 sup­port, ShoWare is well posi­tioned to con­tin­ue their rapid growth in an under­served marketplace."
Head­quar­tered in Fres­no, Calif. with oper­a­tions across North Amer­i­ca, Mex­i­co and Brazil, the com­pa­ny of 66 employ­ees has been pro­vid­ing a wide vari­ety of e‑commerce, con­sult­ing and soft­ware ser­vices to glob­al ros­ter of clients since 1999.
"We're excit­ed to be join­ing a com­pa­ny as respect­ed and pro­gres­sive as Acces­so," said Bruno Boe­hi, VisionOne CEO. ​"By com­bin­ing our tech­nol­o­gy with Accesso's award-win­ning solu­tions and estab­lished rela­tion­ships, we can sig­nif­i­cant­ly accel­er­ate our shared vision of lever­ag­ing tech­nol­o­gy to build bet­ter con­nec­tions between venues and con­sumers around the world."
Under terms of the deal, VisionOne will retain its Fres­no head­quar­ters and Boe­hi will serve as pres­i­dent of the VisionOne divi­sion of acces­so. All VisionOne employ­ees will join acces­so group, grow­ing the organization's work­force to more than 250 full­time employ­ees. Not includ­ed by this trans­ac­tion are the for­mer sub­sidiaries of VisionOne World­wide in Chile, Argenti­na, Switzer­land and Austria.
The acqui­si­tion is the third major trans­ac­tion for acces­so in as many years. In Decem­ber 2012, the vir­tu­al queu­ing com­pa­ny known then as Lo‑Q, acquired acces­so, the attrac­tion industry's lead­ing tick­et­ing and e‑commerce inno­va­tor. Last Decem­ber the com­pa­ny pur­chased Sir­iusware, a lead­ing tick­et­ing and guest man­age­ment point-of-sale tech­nol­o­gy provider to the attrac­tions and leisure indus­tries, with a par­tic­u­lar­ly strong pres­ence in the ski and snow sports sector.