accesso® Announces Leadership Change; Steve Brown Returns as CEO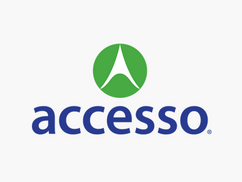 ORLAN­DO, Fla. (Jan­u­ary 27, 2020) – acces­so Tech­nol­o­gy Group plc (AIM:ACSO), a lead­ing solu­tions provider for attrac­tions and venues world­wide, announced today a renewed focus on its strate­gic objec­tive of deliv­er­ing rev­enue and expe­ri­ence-enhanc­ing solu­tions through the company's array of pro­pri­etary, mar­ket-lead­ing tech­nol­o­gy. To sup­port this effort, Steve Brown has returned to acces­so as Chief Exec­u­tive Offi­cer, replac­ing Paul Noland.
"We are thrilled that Steve has decid­ed to return to the lead­er­ship role as the CEO. His under­stand­ing of the company's core busi­ness along with his vision and pas­sion for Acces­so are unpar­al­leled. We look for­ward to work­ing with him as we re-ener­gize the group, our clients and the mar­ket­place and move for­ward with our long-term growth plan", said Bill Rus­sell, Exec­u­tive Chair­man of acces­so.
Steve Brown found­ed the company's name­sake acces­so busi­ness in 2008, which became part of what is now acces­so Tech­nol­o­gy Group PLC when it was acquired from Brown in 2012. Dur­ing a peri­od of rapid expan­sion between 2013 and 2017, the com­pa­ny acquired Sir­iusware, ShoWare, Ingres­so and TE2. Brown served as Pres­i­dent and CEO from 2016 until 2018 when he depart­ed the com­pa­ny. He steps back into the CEO role to rein­vig­o­rate the company's strate­gic plan to ful­ly lever­age the range of assets with­in its port­fo­lio and deliv­er val­ue-enhanc­ing solu­tions to the marketplace.
"Acces­so has an incred­i­ble team of tal­ent­ed pro­fes­sion­als, a vast array of inno­v­a­tive tech­nol­o­gy and a glob­al reach that is unmatched by any oth­er com­pa­ny in our indus­try. I look for­ward to reac­quaint­ing myself with our clients and the Acces­so team as we regain the momen­tum of this tru­ly unique com­pa­ny", said Brown, Chief Exec­u­tive Offi­cer of acces­so.
Brown's five-point strate­gic plan includes:
Refo­cus­ing the some

500

+ employ­ees locat­ed in

11

dif­fer­ent coun­tries on devel­op­ing and deliv­er­ing best-in-class rev­enue and expe­ri­ence enhanc­ing solutions.
Re-ener­giz­ing the company's unri­valed client-cen­tric approach to ser­vice and solu­tion delivery.
Work­ing dili­gent­ly to imple­ment oper­a­tional effi­cien­cies across the company's busi­ness segments.
Re-eval­u­at­ing the company's core tick­et­ing and point-of-sale (

POS

) solu­tions to iden­ti­fy a go-for­ward strate­gic plan that reduces over­lap, stream­lines oper­a­tions and improves glob­al sales reach.
Inte­grat­ing key com­po­nents of the tick­et­ing,

POS

, queu­ing and expe­ri­ence relat­ed tech­nolo­gies to address spe­cif­ic, mar­ket-dri­ven oppor­tu­ni­ties and real­iz­ing the syn­er­gis­tic val­ue intend­ed from the company's range of acquisitions.
About acces­so Tech­nol­o­gy Group plc
At acces­so, we believe tech­nol­o­gy has the pow­er to rede­fine the guest expe­ri­ence. Our patent­ed and award-win­ning solu­tions dri­ve increased rev­enue for attrac­tions oper­a­tors while improv­ing the guest expe­ri­ence. Cur­rent­ly serv­ing over 1,000 venues in 30 coun­tries around the globe, acces­so​'s solu­tions help our clients stream­line oper­a­tions, gen­er­ate increased rev­enues, improve guest sat­is­fac­tion and har­ness the pow­er of data to edu­cate busi­ness and mar­ket­ing decisions.
acces­so invests heav­i­ly in research and devel­op­ment because our indus­tries demand it, our clients ben­e­fit from it and it makes a pos­i­tive impact on the guest experience.
Our com­mit­ment to improv­ing the guest expe­ri­ence and help­ing our clients increase rev­enue is the core of our busi­ness. Our tech­nol­o­gy solu­tions allow venues to increase the vol­ume and range of on- and off-site spend­ing and to dri­ve increased trans­ac­tion-based rev­enue through cut­ting-edge tick­et­ing, point-of-sale, vir­tu­al queu­ing, dis­tri­b­u­tion and expe­ri­ence man­age­ment software.
Many of our team mem­bers come from back­grounds work­ing with­in the attrac­tions and cul­tur­al indus­try. In this way, we are expe­ri­enced oper­a­tors who run a tech­nol­o­gy com­pa­ny serv­ing attrac­tions oper­a­tors, ver­sus a tech­nol­o­gy com­pa­ny that hap­pens to serve the mar­ket. Our staff under­stands the day-to-day oper­a­tions of man­ag­ing com­plex venues and the chal­lenges this cre­ates, and togeth­er we strive to pro­vide our clients and their guests with tech­nol­o­gy that empow­ers them to do more and enjoy more. From our agile devel­op­ment team to our ded­i­cat­ed client ser­vice spe­cial­ists, every team mem­ber knows that their pas­sion, integri­ty, com­mit­ment, team­work and inno­va­tion are what dri­ve our success.
acces­so is a pub­lic com­pa­ny, list­ed on AIM: a mar­ket oper­at­ed by the Lon­don Stock Exchange. For more infor­ma­tion, vis­it www​.acces​so​.com. Fol­low acces­so on Twit­ter, LinkedIn and Face­book.