accesso Blog Series: Five Tips for Upselling, Driving Revenue and Improving the Guest Experience.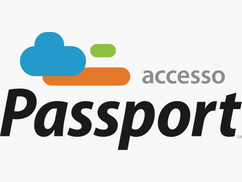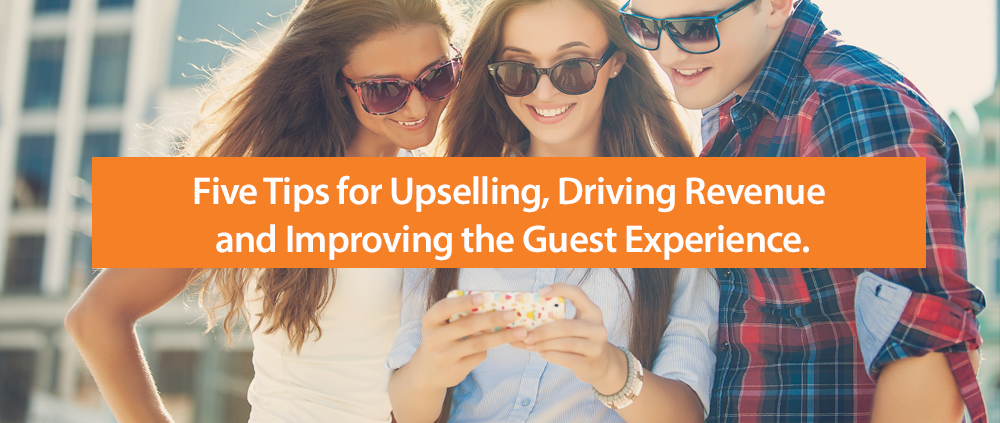 As tech­nol­o­gy pro­fes­sion­als with back­grounds in the theme park, cul­tur­al and attrac­tions indus­tries, we know that gain­ing new cus­tomers is vital to the con­tin­ued suc­cess of any venue. How­ev­er, it's impor­tant to remem­ber that a tick­et sale is only the start­ing point. Once a guest has pur­chased a tick­et, what's next? Ide­al­ly, the answer is: an expe­ri­ence that dri­ves more sales. Whether you're in the attrac­tions indus­try, a retail envi­ron­ment or B2B ser­vice, upselling is a crit­i­cal com­po­nent in dri­ving rev­enue. While most indus­try pro­fes­sion­als under­stand the ins and outs of upselling, it's impor­tant that the prac­tice of upselling not get lost in the ever-present dri­ve to attract new guests.
Essen­tial­ly, if you're not focus­ing on best prac­tices for upselling to your guests, you're miss­ing out on a lot of rev­enue. Accord­ing to Mar­ket­ing Met­rics, the prob­a­bil­i­ty of sell­ing to an exist­ing cus­tomer is 60 to 70 per­cent, which vast­ly out­weighs the prob­a­bil­i­ty of sell­ing to a new prospect. Not only is upselling key to build­ing your order val­ue and over­all rev­enue as an oper­a­tor, but, when imple­ment­ed cor­rect­ly, the prac­tice can also play an impor­tant role in improv­ing the guest expe­ri­ence, from the pur­chas­ing process to their time on-site. It's not just about ask­ing for the sale, but also pro­vid­ing some­thing of val­ue that your guests want to buy to enhance their experience.
With the impor­tance of upselling in mind, let's delve into five top tips for strate­gic imple­men­ta­tion to the ben­e­fit of you and your guests:
Know Your Cus­tomer

As with most mod­ern rev­enue-dri­ving strate­gies and tac­tics, hav­ing tru­ly in-depth knowl­edge of your guests is essen­tial to suc­cess­ful upselling. Know­ing your guests' pref­er­ences, wants and needs allows you to per­son­al­ize upsell rec­om­men­da­tions and begin build­ing their trust – an instru­men­tal build­ing block to devel­op­ing a long-term, loy­al rela­tion­ship – right from the start.

By ana­lyz­ing and strate­gi­cal­ly lever­ag­ing the guest data at your dis­pos­al, you can also opti­mize guest ser­vice by pro­vid­ing offers tai­lored to a guest's per­son­al needs. By pulling from indi­vid­ual pat­terns like past pur­chase behav­iors, you can estab­lish your­self as a trust­ed, author­i­ta­tive guide, tak­ing the bur­den of drawn-out, labor-inten­sive search­es off your guests.

This will also posi­tion you as an inte­gral play­er in the guest deci­sion-mak­ing process from start to fin­ish, allow­ing for the col­lec­tion of even more insight­ful data, while ensur­ing a seam­less and enjoy­able pur­chas­ing expe­ri­ence for your guest.

Make the Right Rec­om­men­da­tions

With irrel­e­vant rec­om­men­da­tions, you run the risk of irri­tat­ing your guest, poten­tial­ly lead­ing to shop­ping cart aban­don­ment and a loss of trust. For­tu­nate­ly, once you've iden­ti­fied your guests' needs and pref­er­ences, select­ing the right upsell offer becomes much eas­i­er. Accord­ing to For­rester, prod­uct rec­om­men­da­tions are respon­si­ble for an aver­age of

10

per­cent to

30

per­cent of eCom­merce rev­enue, so it's impor­tant to make sure you're pre­sent­ing guests with the right offer at the right time.

To dri­ve home the rel­e­vance of your offer, it's help­ful to ​

"

sell" the ben­e­fits of the upsell, edu­cat­ing guests on the offer's ben­e­fits and what's in it for them. For exam­ple, when sug­gest­ing the pur­chase of a

VIP

park pass, it's impor­tant to share all perks asso­ci­at­ed with the pass – like back­stage tours and exclu­sive insid­er infor­ma­tion – in addi­tion to the expect­ed front-of-the-line access. Even a first-time vis­i­tor to a muse­um may be tempt­ed to upgrade to an annu­al fam­i­ly mem­ber­ship if it presents the right ben­e­fits, whether those are dis­counts on din­ing, com­pli­men­ta­ry

IMAX

pass­es or even the free­dom to return in the future for a mod­est sur­charge.
Keep Rec­om­men­da­tions Sim­ple

While you always want to offer the upsell – after all, the more oppor­tu­ni­ties pro­vid­ed to guests, the greater the chances are they'll take advan­tage of one – it's impor­tant to toe the line between help­ful and pushy. Suc­cess­ful sales begin with solu­tions to guest prob­lems or by sat­is­fy­ing a par­tic­u­lar need, not by caus­ing con­fu­sion or pos­ing more ques­tions. Shop­pers don't want to be over­whelmed with options or inun­dat­ed with extra­ne­ous add-ons through­out the process.

By keep­ing upsell offers sim­ple and well-tar­get­ed, you'll not only increase the chance of suc­cess­ful sales, but con­tin­ue to build trust with guests by guid­ing them toward val­ue-add options that make sense for them. Think about the guest jour­ney at your insti­tu­tion or attrac­tion. Do most guests stay through lunchtime? It might make sense to offer a meal deal pack­age with every admis­sion tick­et. Do you have spe­cial pro­grams that near­ly every guest uti­lizes or attends, such as guid­ed audio tours or a dol­phin show? Why not offer these add-ons while you are sell­ing tick­ets online? Sim­ple sug­ges­tions can increase rev­enue and also help guests bet­ter plan their vis­it in the process.

Ensure a Seam­less Shop­ping Expe­ri­ence

The impor­tance of keep­ing upsell offer­ings sim­pli­fied is eas­i­ly matched by that of pro­vid­ing guests with a seam­less and enjoy­able eCom­merce plat­form, affect­ing their expe­ri­ence and sense of brand loy­al­ty before they even set foot on-site. By uti­liz­ing the right eCom­merce plat­form with a respon­sive and easy-to-use inter­face, you can dri­ve rev­enue through sim­pli­fied dynam­ic upsell mes­sag­ing that allows you to eas­i­ly con­trol which offers are made and when.

In the dig­i­tal age, it's also impor­tant to ensure that the seam­less­ness of your eCom­merce plat­form extends to the mobile expe­ri­ence. In the Unit­ed States alone,

77

per­cent of the pop­u­la­tion owns a smart­phone and

62

per­cent of smart­phone users have made a pur­chase online using their mobile device in the last six months.



40

per­cent of users will switch to a com­peti­tor if they're dis­ap­point­ed in your mobile expe­ri­ence, yet the major­i­ty of users have expe­ri­enced dif­fi­cul­ty com­plet­ing what should be a sim­ple mobile trans­ac­tion. These sta­tis­tics illus­trate the vast oppor­tu­ni­ty for oper­a­tors to cap­i­tal­ize on con­sumer con­ver­sion by estab­lish­ing and main­tain­ing a respon­sive and user-friend­ly mobile expe­ri­ence

Keep Upsell Pur­chas­es Intu­itive

Accord­ing to Pho­cuswright, more than half of book­ings and relat­ed pur­chas­es are made with­in a week of a planned activ­i­ty, while only

19

per­cent were booked more than a month in advance. In the last-minute rush to pur­chase pass­es, guests are like­ly to over­look impor­tant ancil­lary items that will make their expe­ri­ence more enjoy­able, like park­ing pass­es, stroller rentals or bev­er­age pack­ages.

By offer­ing basic, yet intu­itive upsell pur­chase options, you can dri­ve pre-vis­it rev­enue while set­ting your guests up for a relax­ing and mem­o­rable on-site expe­ri­ence. And, with the right eCom­merce plat­form, you can make this process eas­i­er than ever for your guests.

For exam­ple, our acces­so Pass­port® tick­et­ing solu­tion pro­vides quick-sell fea­tures, which offer guests sim­ple, high­ly rec­om­mend­ed items that they will like­ly want to pur­chase in addi­tion to their main tick­et. One exam­ple of a prac­ti­cal quick-sell offer­ing might be found on a gen­er­al admis­sion tick­et prod­uct page where the guest is prompt­ed to select their pre­ferred quan­ti­ty of tick­ets, and can also quick­ly add a selec­tion of park­ing pass­es with­out any extra site navigation.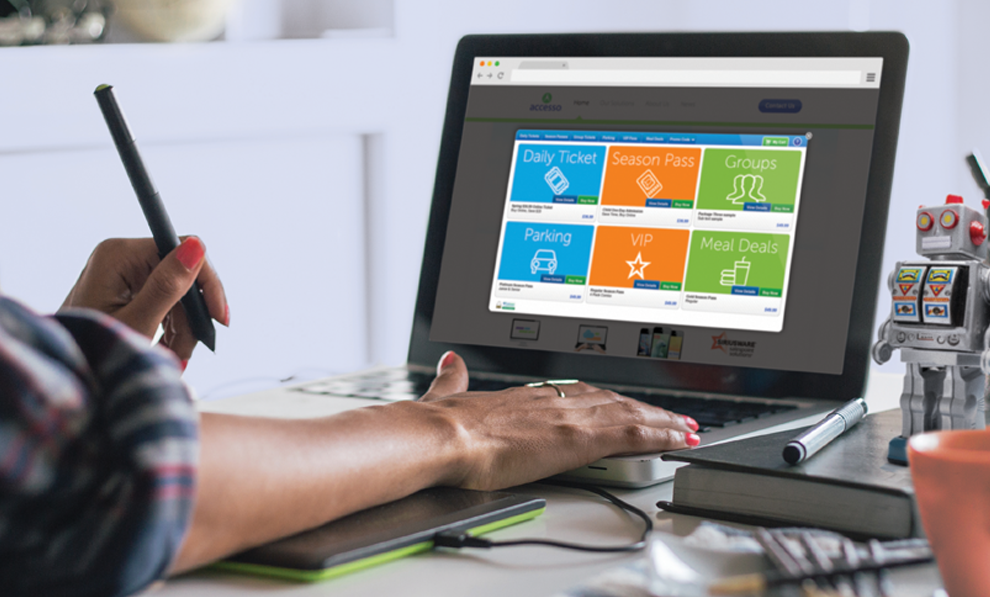 These tips will all help lead to the imple­men­ta­tion of a suc­cess­ful upselling strat­e­gy, which is a crit­i­cal part of max­i­miz­ing a guest's life­time val­ue. By estab­lish­ing your­self as a trust­wor­thy oper­a­tor and pro­vid­ing guests with data-dri­ven, strate­gic upsell offer­ings that make sense for their pre­ferred expe­ri­ence, you can begin to pave the road for a long-stand­ing, rec­i­p­ro­cal and loy­al rela­tion­ship. This being said, upselling is only a viable option once your guests are already com­mit­ted to pur­chas­ing a tick­et or, bet­ter yet, sea­son­al or year­ly pass­es. While it's true that con­sumers, par­tic­u­lar­ly younger gen­er­a­tions, are opt­ing to spend more on expe­ri­ences than tan­gi­ble prod­uct pur­chas­es, 57 per­cent of Amer­i­cans are cur­rent­ly sav­ing mon­ey specif­i­cal­ly for trav­el – the key word being sav­ing. For your guests, sea­son pass­es and even one-day admis­sion tick­ets like­ly rep­re­sent a big investment.
As con­sumers look to stretch their dol­lar, pay­ment plans are a sim­ple solu­tion to the prob­lem­at­ic price bar­ri­er. By spread­ing out the cost of valu­able options like mem­ber­ships and sea­son pass­es, you can pro­vide guests with a finan­cial­ly fea­si­ble solu­tion that elim­i­nates big-tick­et pur­chase anx­i­ety. In mak­ing pay­ment plans an option, you're not only mak­ing their first vis­it pos­si­ble, you're invit­ing them to come back time and time again. This allows guests to enjoy more and do more, all while tak­ing advan­tage of the valu­able upsell add-ons avail­able online and on-site.
If you're ready to see how tech­nol­o­gy can deliv­er a seam­less eCom­merce expe­ri­ence, break down price bar­ri­ers for high-val­ue offer­ings and help deliv­er tru­ly unfor­get­table expe­ri­ences for your guests, con­tact us here.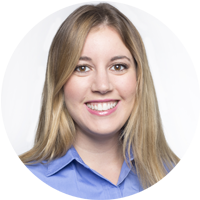 Katie Reil­ly — Dig­i­tal Mar­ket­ing Manager
Katie joined the acces­so team in 2016 and man­ages our con­tent and pres­ence online. She began her mar­ket­ing career in the per­form­ing arts, work­ing in group sales for the nation's old­est con­tin­u­ous­ly-oper­at­ed the­atre where she played intri­cate games of ​"Seat­ing Chart Tetris" in order to accom­mo­date large school groups. Katie is a grad­u­ate of The Col­lege of William & Mary and New York Uni­ver­si­ty, and when she's not strate­giz­ing our dig­i­tal cam­paigns, she enjoys all things musi­cal the­atre, learn­ing how to be a new mom, and trav­el­ing around the world while dis­cov­er­ing the best cheese shops along the way.