accesso Blog Series: Highlights from our 2017 Seminar!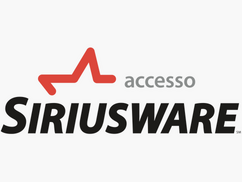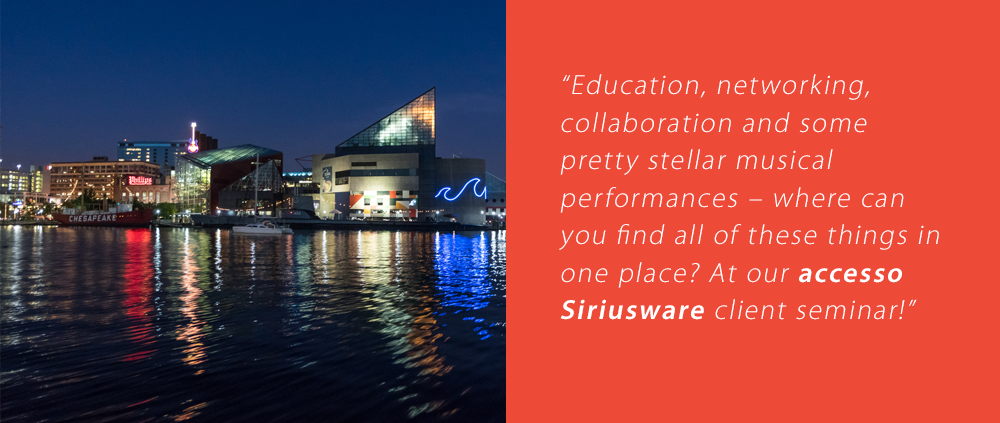 Edu­ca­tion, net­work­ing, col­lab­o­ra­tion and some pret­ty stel­lar musi­cal per­for­mances – where can you find all of these things in one place? At our acces­so Sir­iusware client sem­i­nar! We just wrapped up our 2017 meet­ing in Bal­ti­more and had the plea­sure of shar­ing the week (and some­times the stage) with over 250 clients from 111 sites through­out the ski, cul­tur­al and attrac­tions indus­tries. The sem­i­nar is one of my favorite oppor­tu­ni­ties to meet clients, share ideas and learn more about the lat­est func­tion­al­i­ty in our acces­so Sir­iusware and acces­so Pass­port solu­tions. With so many col­lab­o­ra­tive dis­cus­sions hap­pen­ing, it's great to hear about the lat­est indus­try trends and client sug­ges­tions that we can take back to our prod­uct team to help guide fur­ther enhance­ments. It helps us stay true to the part­ner­ship we work so hard to cre­ate with our clients, and it's a lot of fun, too!

We kicked off the week with a hap­py hour in the French Kitchen, a con­tem­po­rary French restau­rant locat­ed in the Ver­sailles room of the his­toric Lord Bal­ti­more Hotel. Clients and staff enjoyed hors d'oeuvres and a selec­tion of din­ner and dessert items while min­gling with new faces and catch­ing up with peers from pre­vi­ous years.

On Tues­day morn­ing, acces­so Sir­iusware Pres­i­dent Mark Dane­mann opened the day's events with an inspir­ing keynote. Mark began the talk by out­lin­ing the ori­gins of acces­so and went on to high­light some of the excit­ing acqui­si­tions that took place just this year with the addi­tion of Ingres­so and TE2. With a vari­ety of new devel­op­ment and a slew of new sites com­ing on board, acces­so is mov­ing our soft­ware into the future at an extreme­ly fast pace.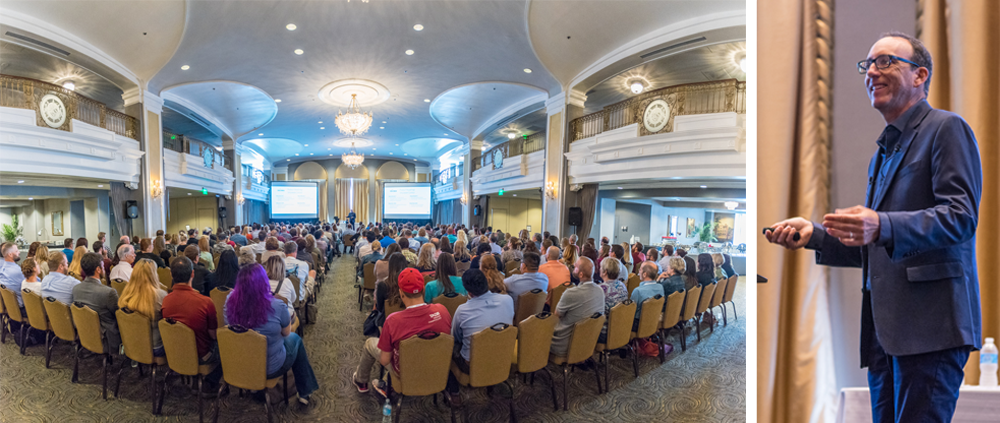 Through­out the week, clients had the option to par­tic­i­pate in a vari­ety of class­es to suit all inter­ests and expe­ri­ence lev­els, taught by many of our acces­so employ­ees. It was a col­lab­o­ra­tive week, with clients and staff shar­ing ideas and learn­ing more about accesso's offer­ings across our wide port­fo­lio of solu­tions includ­ing new­er prod­ucts like Sir­iusware con­trol and acces­so Pass­port Exchange. While many class­es cov­ered advanced top­ics for long­time users, we were thrilled to meet new trainees who were fol­low­ing our com­pre­hen­sive basics track that cov­ers the use of our acces­so Sir­iusware soft­ware from con­fig­u­ra­tion through the sales trans­ac­tion process. Since we have many clients now uti­liz­ing an inte­gra­tion of both our acces­so Sir­iusware and acces­so Pass­port solu­tions, we decid­ed to offer sev­er­al class­es specif­i­cal­ly focused on this new soft­ware col­lab­o­ra­tion. In round­table ses­sions, clients could elab­o­rate on how they uti­lize the soft­ware at their sites and share ideas for new enhancements.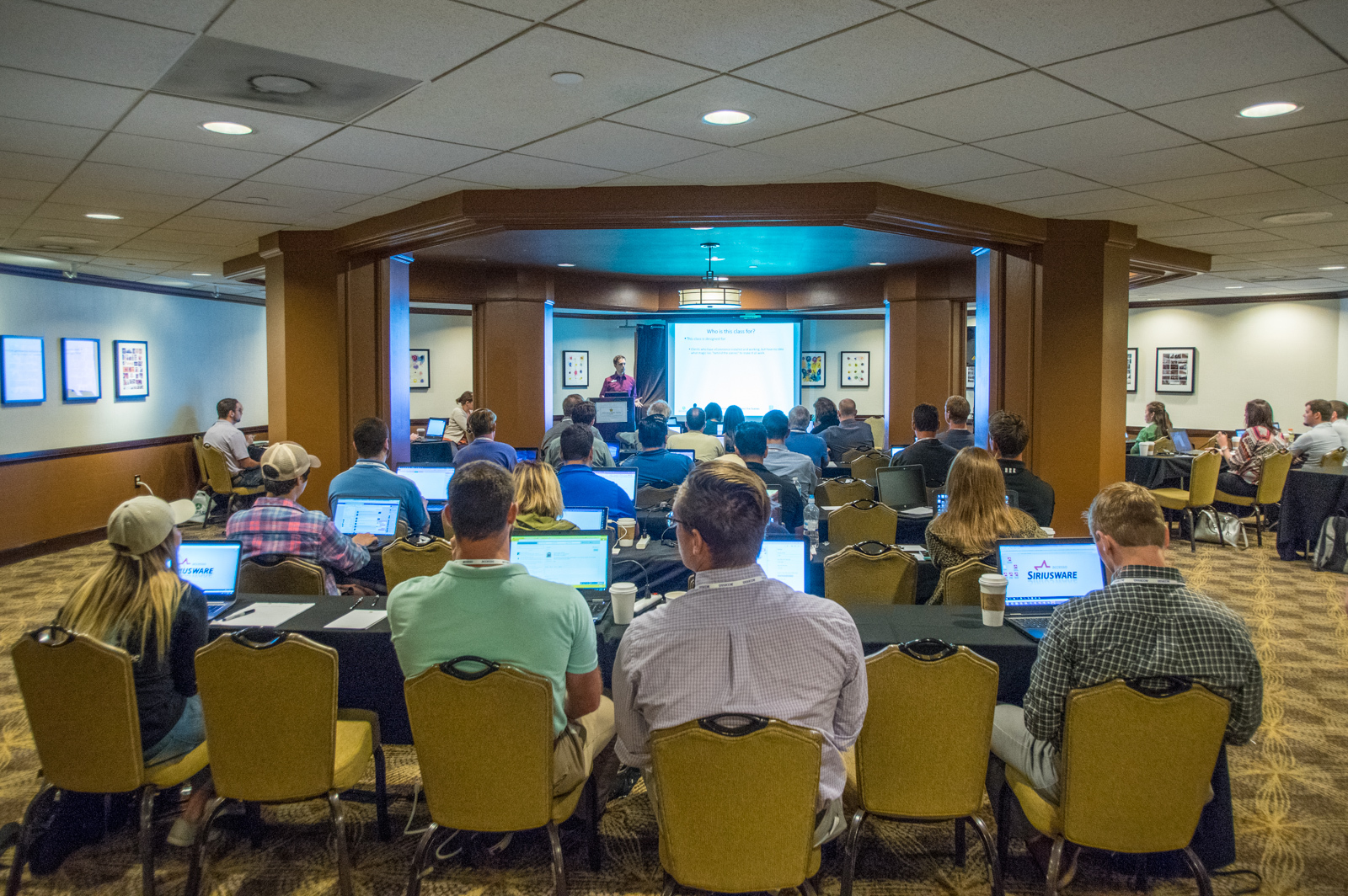 While attend­ing events and ses­sions, we always hear strong feed­back from many of our clients on the val­ue of the sem­i­nar, and this year was no dif­fer­ent. Clients praised the oppor­tu­ni­ty to ​"get instruc­tion from the peo­ple who know the sys­tem best" and the abil­i­ty to col­lab­o­rate with fel­low users on how to uti­lize the soft­ware in new and inno­v­a­tive ways: ​"specif­i­cal­ly for me this year," one client men­tioned, ​"was how to build prod­ucts in the best way pos­si­ble for our new facil­i­ty and activ­i­ties from real-life exam­ples and to also talk through the report­ing impli­ca­tions of the dif­fer­ent ways the prod­ucts could be built."
Our Wednes­day evening event has tra­di­tion­al­ly been the one night where our staff and clients can swap out the busi­ness dress for casu­al attire and put on their metaphor­i­cal par­ty hats. This year was no excep­tion. Held at the piano bar, Howl at The Moon Bal­ti­more, atten­dees were treat­ed to deli­cious food, drinks and fan­tas­tic enter­tain­ment includ­ing gui­tar, piano, and vocal per­for­mances from some of our very own clients and even a few staff mem­bers who joined the crew of pro­fes­sion­al in-house musi­cians! It was a great way to social­ize, relax and enjoy some out­stand­ing entertainment.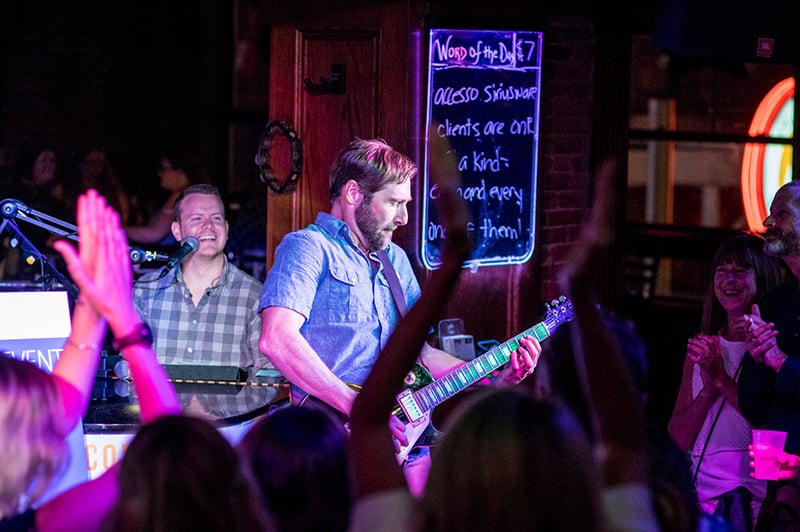 A num­ber of indus­try ven­dors and part­ners were able to join us this year to help expand our clients' edu­ca­tion of inte­gra­tions that we offer, as well as advance­ments, reg­u­la­tions, and new prod­ucts that are avail­able. Thank you to Ski­da­ta, Elavon, Axess, Posi­flex, Globe Tick­et, 1Risk, Dig­inex, Inntopia, JCA and Part­nertech USA for your support.
Over­all, the acces­so sem­i­nar pro­vid­ed an amaz­ing oppor­tu­ni­ty to bring staff and clients into one place for edu­ca­tion, cama­raderie and col­lab­o­ra­tion. Every year the event grows to include more venues and addi­tion­al top­ics, and we're so excit­ed to announce that next year's event will be held in beau­ti­ful San Diego at the Par­adise Point Resort & Spa. This trop­i­cal oasis on Mis­sion Bay includes gar­dens, lagoons, miles of beach and an award-win­ning spa, and sets the back­drop for a week of learn­ing, net­work­ing and fun. We hope to see you there!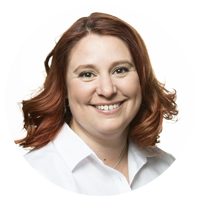 Jen­nifer Roth — Pro­pos­al Specialist
Jen­nifer joined acces­so in 2011, bring­ing her pas­sion for soft­ware and writ­ing to the team along with her exten­sive knowl­edge of the cul­tur­al and non-prof­it indus­tries. She began her career as a pro­fes­sion­al archae­ol­o­gist (à‑la Indi­ana Jones but with more tech­ni­cal writ­ing and a lot less for­tune and glo­ry) before man­ag­ing sev­er­al muse­ums includ­ing the first hands-on his­to­ry children's muse­um in the coun­try and a Nation­al Park Ser­vice his­toric site ded­i­cat­ed to Abra­ham Lincoln's Stay in Get­tys­burg. When she's not writ­ing tech­ni­cal doc­u­ments or win­ning pro­pos­als for us, she enjoys hik­ing, yoga, knit­ting, work­ing on the next great Amer­i­can nov­el and relax­ing at home with her family.