accesso Passport eCommerce Solution Named 2014 Best New Product by IAAPA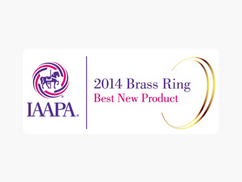 ORLAN­DO (19-Novem­ber-2014) –acces­so Tech­nol­o­gy Group plc (AIM:ASCO), the pre­mier tech­nol­o­gy solu­tions provider to the glob­al attrac­tions and leisure indus­try, has been award­ed the 2014 Best New Prod­uct Award under the cat­e­go­ry of Rev­enue & Admis­sion Control/​Wristband/​RFID Tech­nol­o­gy by the Inter­na­tion­al Asso­ci­a­tion of Amuse­ment Parks and Attrac­tions (IAA­PA) for its upgrad­ed acces­so Pass­port® eCom­merce solu­tion. This is the fourth ​"Best New Prod­uct" award the com­pa­ny has received from IAA­PA in the past six years.
Unveiled in July, the lat­est ver­sion of the acces­so's eCom­merce solu­tion allows attrac­tions the abil­i­ty to lever­age the same key rev­enue-dri­ving fea­tures accesso's eCom­merce plat­form is known for across any device, pro­vid­ing a rich and engag­ing eCom­merce expe­ri­ence no mat­ter how or where a guest decides to pur­chase attrac­tion tickets.
This com­plete update of accesso's renowned eCom­merce plat­form offers a ful­ly respon­sive design, which seam­less­ly adapts to the var­i­ous screen sizes of desk­top, tablet and mobile devices, as well as the added ben­e­fit of allow­ing guests to scan their admis­sion tick­ets direct­ly from their smart­phone. Along with the all-new user expe­ri­ence, a vari­ety of addi­tion­al enhance­ments have been made includ­ing sup­port for a wide range of pay­ment meth­ods, advanced fraud pro­tec­tion, and inte­grat­ed analytics.
"We are indeed hon­ored to be receiv­ing a fourth Best New Prod­uct award from IAA­PA," said acces­so CEO Tom Bur­net. ​"One of our company's most fun­da­men­tal objec­tives is to help theme parks and attrac­tions not only stay on top of the tech­nol­o­gy curve, but ahead of it, and there's sub­stan­tial inter­est in the respon­sive design and oth­er enhance­ments we've made to the Acces­so Pass­port eCom­merce platform."
The company's award-win­ning eCom­merce solu­tion pre­vi­ous­ly was rec­og­nized by IAA­PA as Best New Prod­uct in 2008. In 2011, acces­so received the Best New Prod­uct for Tech­nol­o­gy Applied to Amuse­ments for acces­so MOBILE, the attrac­tion industry's first com­pre­hen­sive mobile con­tent and com­merce solu­tion. acces­so also received the Best New Prod­uct for Rev­enue & Admis­sion Control/​Wristband/​RFID Tech­nol­o­gy in 2012 for Qband, the company's rev­o­lu­tion­ary vir­tu­al queu­ing prod­uct for water parks that uti­lizes water­proof RFID-enabled wristbands.