accesso ShoWare℠ and TicketGuardian Announce Strategic Insurance Technology Partnership to Enhance Platform Offerings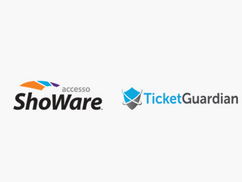 LOS ANGE­LES, CA (25-Jan-2018)— Today, acces­so ShoWare and Tick­et­Guardian announced a strate­gic part­ner­ship, inte­grat­ing TicketGuardian's insur­ance tech­nol­o­gy with the acces­so ShoWare tick­et­ing platform.
The tech­nol­o­gy inte­gra­tion will deliv­er a unique val­ue to acces­so ShoWare clients, who can now pro­vide their cus­tomers with an enhanced tick­et-pur­chas­ing expe­ri­ence and the com­fort of a sim­pli­fied tick­et insur­ance process.

"The Acces­so ShoWare team is thrilled to part­ner with Tick­et­Guardian as we con­tin­ue to enhance the tick­et­ing expe­ri­ence for our clients and their cus­tomers," said Bruno Boe­hi, Pres­i­dent of acces­so ShoWare. ​"TicketGuardian's inno­v­a­tive tech­nol­o­gy will allow our clients to pro­vide cus­tomers with peace of mind when mak­ing advance pur­chas­es, improv­ing the guest expe­ri­ence before they even set foot on site."

Known for their indus­try exper­tise, Tick­et­Guardian devel­ops insur­ance tech­nolo­gies pro­vid­ing keen solu­tions to some of the most com­plex chal­lenges in the tick­et­ing indus­try, for both tick­et hold­ers and sellers.
"By part­ner­ing with Acces­so ShoWare, Tick­et­Guardian is help­ing to improve the live events indus­try around the world," said Bryan Der­byshire, Founder and CEO of Tick­et­Guardian. ​"Com­bin­ing our insurtech with Acces­so ShoWare's robust tick­et­ing solu­tion extends the reach of our most advanced tech­nolo­gies to pro­tect as many peo­ple that buy tick­ets to live expe­ri­ences as we can."
###
To learn more about Tick­et­Guardian, vis­it: https://​www​.tick​et​guardian​.net.