accesso Unveils Revolutionary Smart Park Wearable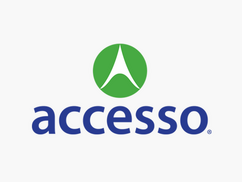 ORLAN­DO, Fla. (Novem­ber 15, 2016) – Tech­nol­o­gy Group plc (AIM: ACSO) has a long his­to­ry of col­or­ing out­side the lines, and its lat­est inno­va­tion may rede­fine lines altogether.
Hav­ing made its mark on leisure, enter­tain­ment and cul­tur­al mar­kets by pro­vid­ing cut­ting-edge queu­ing and tick­et­ing solu­tions to top attrac­tions around the globe, acces­so today revealed a shin­ing new stan­dard in smart park tech­nol­o­gy, acces­so PrismSM, at the IAA­PA Attrac­tions Expo in Orlan­do, Flori­da. Prism is a next-gen­er­a­tion, wear­able device that her­alds in a new age and new ways for theme parks, water­parks and oth­er attrac­tions to con­nect with guests.
Prism – the lat­est offer­ing in the acces­so LoQueueSM line of vir­tu­al queu­ing solu­tions – is the most tech­no­log­i­cal­ly advanced smart park wear­able avail­able. Using accesso's award-win­ning and pro­pri­etary queu­ing tech­nol­o­gy, guests wear­ing this new device can enjoy a more care­free park vis­it with less time spent wait­ing at each attrac­tion. With just a swipe of a fin­ger on the wristband's touch screen menu, guests take their place in the vir­tu­al queue for an attrac­tion or show – no kiosk or smart­phone required. If a ride's oper­a­tion is tem­porar­i­ly inter­rupt­ed, or a show is resched­uled, the Prism device will noti­fy the guest of the update.
The new Prism wear­able device does much more than wait in line for guests – it allows for a ful­ly inte­grat­ed smart park, cre­at­ing a bet­ter, more engag­ing and seam­less guest expe­ri­ence. From front gate entry, to facil­i­tat­ing secure cash­less pur­chas­es, send­ing push noti­fi­ca­tions or trig­ger­ing events based on guest loca­tion, Prism sets a new stan­dard for the attrac­tions industry.
Whether pro­vid­ed to all guests as part of park admis­sion to elim­i­nate the need to wait in any queues or offered as a pre­mi­um ser­vice upgrade, Prism offers the option to deliv­er a more effi­cient, inte­grat­ed, smart park experience.
"Unteth­ered by a smart­phone or rig­or­ous pre-plan­ning require­ments, guests can now enjoy a care­free, has­sle­free and wait­free expe­ri­ence when they vis­it their favorite venue," said Steve Brown, acces­so CEO. ​"With Acces­so Prism, we intro­duce an improved way for vis­i­tors to enjoy attrac­tions, and for attrac­tion oper­a­tors to offer more fun, more con­ve­nience, and less wait­ing for their guests."
The inno­v­a­tive Prism design is a com­pact and light­weight wear­able offer­ing a vari­ety of func­tions that can be unique­ly adapt­ed for a wide range of venues includ­ing theme parks, water parks, ski resorts and museums:
Vir­tu­al Queu­ing – A wait­free expe­ri­ence as guests reserve their place in line, change their ride selec­tions and mon­i­tor their ride return time.

Pay­ments – A wal­let­free expe­ri­ence with cash­less pay­ments via secure Near Field Com­mu­ni­ca­tion (

NFC

) technology.

Mes­sag­ing – Push noti­fi­ca­tions for prox­im­i­ty-based mar­ket­ing, oper­a­tional updates and sta­tus of vir­tu­al queue positions.

Pho­tog­ra­phy – Auto­mat­ed tag­ging of ride and park pho­tographs for seam­less col­lec­tion through­out the day.

Access – Has­sle­free entry at park turn­stiles, guest lock­ers and resort hotel room doors.

Intel­li­gence – Col­lects guest jour­ney infor­ma­tion in real time and pro­vides valu­able data to inform park oper­a­tions and marketing.
The pro­pri­etary acces­so design deliv­ers a mul­ti­tude of sophis­ti­cat­ed tech­nolo­gies that open up a whole new spec­trum of pos­si­bil­i­ties for venues to enhance their guest experience:
Com­mu­ni­ca­tion – Robust com­mu­ni­ca­tion pro­to­cols includ­ing Blue­tooth, long range radio and Secure

NFC

.

Dura­bil­i­ty – Tough­ened glass lens and water­proof design to with­stand rig­or­ous theme park and water park environments.

Ease-of-use – Capac­i­tive touch screen allows for sim­ple oper­a­tion by guests of all ages.

Stand-alone oper­a­tion – No require­ment for guests to teth­er to a smart phone, vis­it a kiosk or pre­plan their visit.

Pow­er effi­cien­cy – Advanced hard­ware and soft­ware pro­vide esti­mat­ed bat­tery life of over

200

days of vir­tu­al queu­ing operations.

Com­fort – Hypoal­ler­genic, one-size-fits-all, high-per­for­mance strap.

Adapt­abil­i­ty – Mul­ti­lin­gual capa­bil­i­ty for use with vis­i­tors from around the world.