accesso Webinar Series Presents: Introduction to Google Analytics.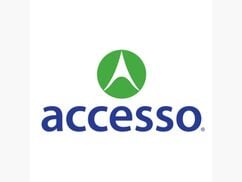 Under­stand­ing data is the key to mak­ing bet­ter busi­ness deci­sions, but when it comes to track­ing the per­for­mance of your online sales, it can be dif­fi­cult for the aver­age user to know where to start. As part of our com­mit­ment to part­ner­ship, we strive to empow­er our clients with the tools they need to ana­lyze their eCom­merce data effec­tive­ly and effi­cient­ly. We know that many of our clients use Google Ana­lyt­ics as their web ana­lyt­ics tool, and oth­ers have shared that they are inter­est­ed in get­ting start­ed with this pop­u­lar pro­gram. We asked our in-house expert Leslie Strick­land, Man­ag­er of Busi­ness Intel­li­gence, to share her top insights from man­ag­ing ana­lyt­ics track­ing for our acces­so Pass­port clients in a recent webinar.
For our begin­ner users or those need­ing a refresh­er, it's help­ful to start with a basic under­stand­ing of what web ana­lyt­ics means. Web ana­lyt­ics is the col­lec­tion, report­ing and analy­sis of data from a web­site in order to improve its per­for­mance. (Wikipedia). The per­for­mance of a web­site is typ­i­cal­ly mea­sured in terms of con­ver­sions or essen­tial­ly, what action you want the vis­i­tor to take. Depend­ing on the type of site you have, this action could be a call to a group sales agent, a form fill for more infor­ma­tion or the online sale of an item such as a sea­son pass, mem­ber­ship or event tick­et. In the dig­i­tal era we live in, it is impor­tant to care about how peo­ple engage with your site. Is it easy to nav­i­gate? Are vis­i­tors find­ing the infor­ma­tion they need? Are there any bar­ri­ers to pur­chase or con­ver­sion that you can eliminate?

It's impor­tant to ask these ques­tions because poten­tial cus­tomers are online. The aver­age U.S. con­sumer now spends at least 5 hours per day on their mobile device (TechCrunch) and 79% say they make pur­chas­es online (Pew Research). These cus­tomers, how­ev­er, are becom­ing increas­ing­ly dis­cern­ing: over a third of con­sumers will stop engag­ing with a web­site if it takes too long to load or is unat­trac­tive (Adobe). When you have the data on how your cus­tomers are engag­ing with your web­site, you can opti­mize it for even bet­ter engagement.
While there are numer­ous web track­ing tools avail­able, they all essen­tial­ly func­tion in the same way — track­ing user behav­ior, includ­ing the num­ber of ses­sions, sources of ses­sions, actions tak­en by users through­out the site and ulti­mate­ly, the most impor­tant action of all, con­ver­sions. We are focus­ing on Google Ana­lyt­ics because they have a sol­id posi­tion in the mar­ket­place for their open source solu­tion, and while not nec­es­sary for most sites, their paid solu­tion is incred­i­bly powerful.
In our intro­duc­tion, we will cov­er the parts of Google Ana­lyt­ics that we've found are the most help­ful to focus on, start­ing with a brief account man­age­ment intro­duc­tion before turn­ing to nav­i­gat­ing report cat­e­gories, under­stand­ing report options, seg­men­ta­tion and a review of the most pop­u­lar reports and how they might be use­ful to you. We will also briefly intro­duce Google Tag Man­ag­er and how it can help stream­line your con­ver­sion track­ing for fast, effi­cient results. For more train­ing on Google Ana­lyt­ics, we high­ly rec­om­mend vis­it­ing the Google Ana­lyt­ics Acad­e­my which is tai­lored to dif­fer­ent lev­els of expertise.
Watch our webi­nar to learn more. If you are inter­est­ed in learn­ing more about our acces­so solu­tions and how they work with Google Ana­lyt­ics, let us know about your busi­ness needs here or email sales@​accesso.​com.