accesso Wins Highest Honors for Exhibitors at the IAAPA Brass Ring Awards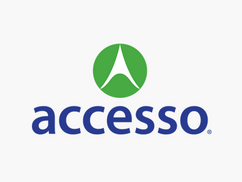 Tech­nol­o­gy Solu­tions Provider Hon­ored with Impact and Brass Ring Awards – for acces­so Prism wear­able technology
LON­DON, Eng­land (Novem­ber 16, 2017) – acces­so Tech­nol­o­gy Group plc (AIM: ACSO), the pre­mier tech­nol­o­gy solu­tions provider to leisure, enter­tain­ment and cul­tur­al mar­kets, was rec­og­nized by the Inter­na­tion­al Asso­ci­a­tion of Amuse­ment Parks and Attrac­tions (IAA­PA) with two pres­ti­gious awards for its break­through acces­so PrismSM technology.

At the 2017 IAA­PA Attrac­tions Expo, acces­so was hon­ored Wednes­day evening with the Impact Award for acces­so Prism. The high­est hon­or award­ed by IAA­PA, the Impact Award is bestowed annu­al­ly to a win­ner of one of the Best New Prod­uct Cat­e­gories that, in the opin­ion of the judg­ing pan­el of IAA­PA facil­i­ty mem­bers, had or will have the most impact on the amuse­ment parks and attrac­tions industry.

In addi­tion to receiv­ing the high­ly-cov­et­ed Impact Award, acces­so was also rec­og­nized with a Brass Ring Award for acces­so Prism as the best new prod­uct tech­nol­o­gy applied to amuse­ments. This is the fifth ​"Best New Prod­uct Tech­nol­o­gy" award the com­pa­ny has received from IAA­PA in the past nine years. The IAA­PA Brass Ring Awards rec­og­nize excel­lence through­out the glob­al attrac­tions industry.

accesso's award-win­ning Prism tech­nol­o­gy is a next-gen­er­a­tion, wear­able device that her­alds in a new age and new ways for theme parks, water parks and oth­er attrac­tions to con­nect with guests. Using accesso's award-win­ning and pro­pri­etary queu­ing tech­nol­o­gy, guests wear­ing this device can enjoy a more care­free park vis­it with less time spent wait­ing at each attrac­tion. With just a swipe of a fin­ger on the wristband's touch­screen menu, guests take their place in the vir­tu­al queue for an attrac­tion or show – no kiosk or smart­phone required. If a ride's oper­a­tion is tem­porar­i­ly inter­rupt­ed, or a show is resched­uled, the Prism device will noti­fy the guest of the update.

The Prism wear­able device does much more than wait in line for guests – it allows for a ful­ly inte­grat­ed smart park, cre­at­ing a bet­ter, more engag­ing and seam­less guest expe­ri­ence. From front gate entry, to facil­i­tat­ing secure cash­less pur­chas­es, send­ing push noti­fi­ca­tions or trig­ger­ing events based on guest loca­tion, Prism sets a new stan­dard for the attrac­tions industry.

"We are hon­ored to receive our first-ever Impact Award, as well as a Brass Ring Award from IAA­PA, rec­og­niz­ing the cut­ting-edge tech­nol­o­gy of Acces­so Prism," said Steve Brown, acces­so CEO. ​"Our ded­i­ca­tion to improv­ing the guest expe­ri­ence with tech­nol­o­gy con­tin­ues to dri­ve our devel­op­ment as a com­pa­ny that is help­ing to guide and shape our industry's future."
Trad­ed pub­licly on the AIM mar­ket, acces­so has con­tin­ued to grow rapid­ly through long-term invest­ment in its tech­nol­o­gy solu­tions plat­form, as well as acqui­si­tions that deep­en its abil­i­ty to help clients dri­ve effi­cien­cy and rev­enue growth.

About IAA­PA Attrac­tions Expo
IAA­PA Attrac­tions Expo 2017 is the pre­mier con­fer­ence and trade show for the $39.5 bil­lion glob­al amuse­ment park and attrac­tions indus­try. With its theme ​"Join the Cre­ation Nation" the show pro­vides attrac­tions indus­try lead­ers, deci­sion-mak­ers, and vision­ar­ies with every­thing need­ed to take every guest expe­ri­ence to the next lev­el, whether through the thou­sands of inno­va­tions, the hun­dreds of expert-led edu­ca­tion­al oppor­tu­ni­ties, or the engag­ing net­work­ing oppor­tu­ni­ties. IAA­PA Attrac­tions Expo 2017 will draw more than 32,000 indus­try pro­fes­sion­als, includ­ing more than 21,000 deci­sions- mak­ers and buy­ers from more than 100 coun­tries to the Orange Coun­ty Con­ven­tion Cen­ter in Orlan­do, Flori­da, Mon­day, Nov. 13, through Fri­day, Nov. 17. The more than 560,000-net-square-foot trade show floor will be open Tues­day, Nov. 14, through Fri­day, Nov. 17. Addi­tion­al infor­ma­tion is avail­able at www​.IAA​PA​.org/​I​A​A​P​A​A​t​t​r​a​c​t​i​o​n​sExpo. #IAE17
About IAA­PA The Inter­na­tion­al Asso­ci­a­tion of Amuse­ment Parks and Attrac­tions (IAA­PA) is the pre­mier trade asso­ci­a­tion for the attrac­tions indus­try world­wide. Found­ed in 1918, IAA­PA is the largest inter­na­tion­al trade asso­ci­a­tion for per­ma­nent­ly locat­ed amuse­ment facil­i­ties and attrac­tions and is ded­i­cat­ed to the preser­va­tion and pros­per­i­ty of the attrac­tions indus­try. IAA­PA rep­re­sents more than 5,300 attrac­tion, sup­pli­er, and indi­vid­ual mem­bers from more than 100 coun­tries with mem­ber facil­i­ties includ­ing amuse­ment and theme parks, water parks, fam­i­ly enter­tain­ment cen­ters, zoos, aquar­i­ums, sci­ence cen­ters, and muse­ums. IAA­PA hosts three annu­al trade shows includ­ing IAA­PA Attrac­tions Expo, Euro Attrac­tions Show, and Asian Attrac­tions Expo. The asso­ci­a­tion's glob­al head­quar­ters is in Orlan­do, Flori­da, Unit­ed States. The non­prof­it orga­ni­za­tion main­tains offices in Brus­sels, Hong Kong, Mex­i­co City, and Alexan­dria, Vir­ginia. To learn more, vis­it www​.IAA​PA​.org or con­nect with us: @IAAPAHQ #IAA­PA