AGM Trading Statement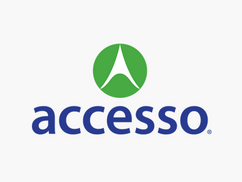 acces­so Tech­nol­o­gy Group plc (AIM: ACSO), the pre­mier tech­nol­o­gy solu­tions provider to leisure, enter­tain­ment and cul­tur­al mar­kets, pro­vides the fol­low­ing update on recent trading.
Trad­ing Statement
At 10:00am today, the Group will hold its Annu­al Gen­er­al Meet­ing (the ​"AGM" or the ​"Meet­ing") at Unit 5, The Pavil­ions, Rus­combe Park, Twyford, Berk­shire, RG10 9NN. At that time, the Chief Exec­u­tive Offi­cer of acces­so will pro­vide the fol­low­ing update on trad­ing for the four months end­ed 30 April 2019:
"The Board is pleased to report a pos­i­tive start to trad­ing in the 2019 finan­cial year, with the Board main­tain­ing its exist­ing guid­ance for the cur­rent finan­cial year. So far, the Group has con­tin­ued to see strong demand for our core solu­tions, both as indi­vid­ual prod­ucts and increas­ing­ly for mul­ti­ple appli­ca­tions at indi­vid­ual sites. We con­tin­ue to see pos­i­tive adop­tion of com­bined Acces­so Pass­port and Acces­so Sir­iusware deploy­ments, which are now oper­at­ing in tan­dem for exist­ing cus­tomers at 13 loca­tions world­wide, with sev­er­al addi­tion­al deploy­ments expect­ed between now and the end of 2019. The recent announce­ment of the upcom­ing imple­men­ta­tion of Acces­so Sir­iusware and Acces­so Pass­port at the Nation­al WWII Muse­um, New Orleans is typ­i­cal of this trend.
Fur­ther­more, we are pleased to note that the suc­cess­ful TE2 and Acces­so Pass­port inte­gra­tion, at Cedar Fair's Knotts Berry Farm theme park is now being rolled out across the 10 remain­ing Cedar Fair locations.
At the Group's 2018 pre­lim­i­nary results, the Board intro­duced addi­tion­al seg­men­tal dis­clo­sures to pro­vide greater trans­paren­cy and gran­u­lar­i­ty of the Group's per­for­mance. We are pleased to report that in our Guest Expe­ri­ence seg­ment, trad­ing has begun well, notwith­stand­ing the fact that the major­i­ty of rev­enue in this seg­ment is gen­er­at­ed in the sec­ond half of the year. While in Tick­et­ing and Dis­tri­b­u­tion, we saw stronger than expect­ed trad­ing in Tick­et­ing, off­set by the slow­er than antic­i­pat­ed roll­out of Dis­tri­b­u­tion activ­i­ties in North Amer­i­ca, lead­ing to the seg­ment as a whole trad­ing in line with Board expectations.
In order to address the increased demand from cus­tomers for joint imple­men­ta­tions of mul­ti­ple Acces­so solu­tions, and to accel­er­ate future growth, the Group is mak­ing sig­nif­i­cant invest­ment into prod­uct inte­gra­tion. While in the ear­ly stages of our accel­er­at­ed inte­gra­tion pro­gramme, the Board is pleased to note that progress is in line with our expec­ta­tions. Throughe­volv­ing and broad­en­ing our range of solu­tions the Board remains con­fi­dent that the Group will be able to accel­er­ate and unlock addi­tion­al cross-sell and up-sell poten­tial with­in our installed base and devel­op more effi­cient devel­op­ment, sup­port and ser­vice deliv­ery to our customers.
While the major­i­ty of the trad­ing year still remains ahead of us, the Board is encour­aged by the trad­ing seen at this stage of the year and remains con­fi­dent in the Group's out­look, main­tain­ing Board expec­ta­tions for the year ahead."
For fur­ther infor­ma­tion, please con­tact:
| | |
| --- | --- |
| acces­so Tech­nol­o­gy Group plc | +44 (0)118 934 7400 |
| Paul Noland, Chief Exec­u­tive Officer | |
| John Alder, Chief Finan­cial Officer | |
| Bill Rus­sell, Non-Exec­u­tive Chairman | |
| Simon Chisholm, Investor Relations | |
| FTI Con­sult­ing, LLP | +44 (0)20 3727 1000 |
| Matt Dixon, Adam Davidson | |
| | |
| Canac­cord Genu­ity Limited | +44 (0)20 7523 8000 |
| Simon Bridges, Richard Andrews | |
| | |
| Numis Secu­ri­ties Limited | +44 (0)20 7260 1000 |
| Simon Willis, Mark Lander | |
The infor­ma­tion con­tained with­in this announce­ment is deemed to con­sti­tute inside infor­ma­tion as stip­u­lat­ed under the Mar­ket Abuse Reg­u­la­tions (EU) No. 596⁄2014 ("MAR"). Upon the pub­li­ca­tion of this announce­ment, this inside infor­ma­tion is now con­sid­ered to be in the pub­lic domain
About acces­so Tech­nol­o­gy Group, plc
At acces­so, we believe tech­nol­o­gy has the pow­er to rede­fine the guest expe­ri­ence. Our patent­ed and award-win­ning solu­tions dri­ve increased rev­enue for attrac­tion oper­a­tors while improv­ing the guest expe­ri­ence. Cur­rent­ly serv­ing over 1,000 clients in 30 coun­tries around the globe, acces­so's solu­tions help our clients stream­line oper­a­tions, gen­er­ate increased rev­enues, improve guest sat­is­fac­tion and har­ness the pow­er of data to edu­cate busi­ness and mar­ket­ing decisions.
acces­so invests heav­i­ly in research and devel­op­ment because our indus­tries demand it, our clients ben­e­fit from it and it makes a pos­i­tive impact on the guest experience.
Our com­mit­ment to improv­ing the guest expe­ri­ence and help­ing our clients increase rev­enue is the core of our busi­ness. Our tech­nol­o­gy solu­tions allow venues to increase the vol­ume and range of on- and off-site spend­ing and to dri­ve increased trans­ac­tion-based rev­enue through cut­ting-edge tick­et­ing, point-of-sale, vir­tu­al queu­ing, dis­tri­b­u­tion and expe­ri­ence man­age­ment software.
Many of our team mem­bers come from back­grounds work­ing with­in the attrac­tions and cul­tur­al indus­try. In this way, we are expe­ri­enced oper­a­tors who run a tech­nol­o­gy com­pa­ny serv­ing attrac­tions oper­a­tors, ver­sus a tech­nol­o­gy com­pa­ny that hap­pens to serve the mar­ket. Our staff under­stands the day-to-day oper­a­tions of man­ag­ing com­plex venues and the chal­lenges this cre­ates, and togeth­er we strive to pro­vide our clients and their guests with tech­nol­o­gy that empow­ers them to do more and enjoy more. From our agile devel­op­ment team to our ded­i­cat­ed client ser­vice spe­cial­ists, every team mem­ber knows that their pas­sion, integri­ty, com­mit­ment, team­work and inno­va­tion are what dri­ve our success.
acces­so is a pub­lic com­pa­ny, list­ed on AIM: a mar­ket oper­at­ed by the Lon­don Stock Exchange. For more infor­ma­tion, vis­it www​.acces​so​.com. Fol­low acces­so on Twit­ter, LinkedIn and Face­book.