Introducing Enhanced Checkout!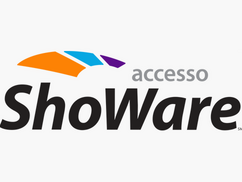 At acces­so®, we believe tech­nol­o­gy has the pow­er to rede­fine the guest expe­ri­ence. Every­thing we do starts with think­ing about the guest expe­ri­ence first, which allows us to help sim­pli­fy oper­a­tions, improve guest sat­is­fac­tion, and dri­ve growth for our clients. With this in mind, we are excit­ed to announce the lat­est enhance­ments to our acces­so ShoWare solu­tion: stream­lined check­out and guest checkout.
We will be cov­er­ing these fea­tures in greater detail at our webi­nar on Thurs­day, July 26th at 1 p.m. EST but in the mean­time, here is a sneak peek of what you can expect when you enable these enhancements.
Why do these enhance­ments matter?
There's a good chance you've pur­chased some­thing online, which means you've seen both beau­ti­ful, intu­itive eCom­merce stores as well as ones that are poor­ly designed. Maybe a page loaded too slow­ly or had too many forms. Per­haps you want­ed to buy some­thing on the go, only to dis­cov­er that a store­front was not opti­mized for mobile so you had to ​"pinch and zoom" to read. If you've ever expe­ri­enced that sce­nario and decid­ed to try again lat­er at your desk­top, only to dis­cov­er the item was then sold out, it's like­ly to remain in your mem­o­ry for a while.
Oth­er than these exam­ples, there are numer­ous stud­ies that under­score the impor­tance of a well-designed eCom­merce store. For exam­ple, the aver­age online cart aban­don­ment rate for all eCom­merce in the Unit­ed States is 68%. That means that on aver­age, for every ten carts filled online, only three orders will be com­plet­ed. Some­thing will cause us to change our mind, whether it's that slow-load­ing page or anoth­er fac­tor, near­ly sev­en times out of ten. That is an amaz­ing statistic!
What is stream­lined check­out, and how does it improve the guest experience?
As your tick­et­ing solu­tions part­ner, we want to help you reduce your cart aban­don­ment rate as much as pos­si­ble. Stream­lined check­out gives your guests a seam­less and engag­ing shop­ping expe­ri­ence which in turn helps increase con­ver­sions. This new fea­ture reduces the amount of clicks nec­es­sary to pur­chase tick­ets and pro­vides visu­al cues to guide your cus­tomers along the way, all on a sin­gle page. In case you are won­der­ing, full func­tion­al­i­ty is sup­port­ed with stream­lined check­out, which means that clients using themes, ​"heard about" val­ues, tick­et­ing insur­ance, or round up for a cause can still include these fea­tures in this process.
This three-step process is num­bered and easy to follow.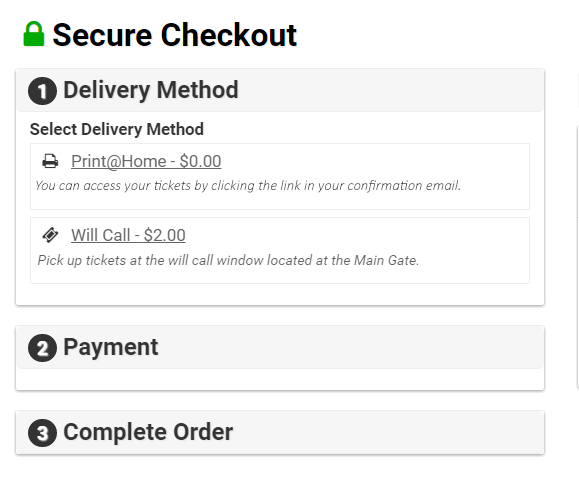 Each step receives a green check-mark when completed.

Deliv­ery method icons pro­vide clear visu­al indicators.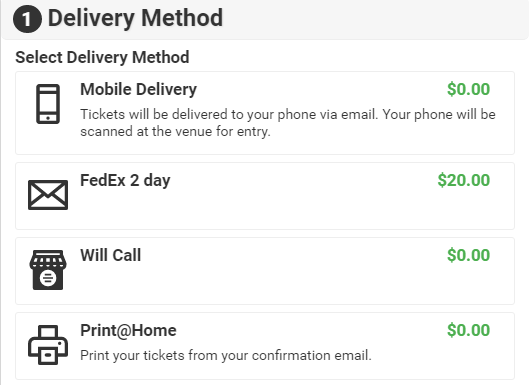 Our cred­it card form detects the card type (e.g. Visa, Mas­ter­card) auto­mat­i­cal­ly and dis­plays the cor­re­spond­ing icon. To let users know if they've inputted their card num­ber cor­rect­ly, this icon changes col­ors for anoth­er imme­di­ate visu­al cue.
Anoth­er huge ben­e­fit to this enhance­ment is that all order infor­ma­tion will be dis­played on one sin­gle page. If your cus­tomers need to change any­thing, they can eas­i­ly return to pre­vi­ous steps at any point pri­or to final­iz­ing the order.
How can I learn about these features?

To learn more about how enhanced check­out can help you increase con­ver­sions in your eCom­merce store, join us for our webi­nar on Thurs­day, July 26th at 1pm EST or con­tact your acces­so client ser­vices man­ag­er direct­ly. These fea­tures are avail­able now, and every client who attends the webi­nar will receive pri­or­i­ty place­ment for this upgrade.


By Katie Reilly
Mar­ket­ing Associate
Katie is a mar­ket­ing pro­fes­sion­al with over 6 years of online tick­et­ing expe­ri­ence with­in the per­form­ing arts and live enter­tain­ment indus­tries. Her expe­ri­ence spans a vari­ety of tick­et­ing sys­tems and venues rang­ing from the country's old­est con­tin­u­al­ly-oper­at­ed non-prof­it the­atre to a rock club where she over­saw a tran­si­tion between tick­et­ing sys­tems. She loves the acces­so ShoWare solution's advanced report­ing fea­tures which help make ana­lyz­ing ROI a breeze! Katie joined the acces­so team in 2016 and is a grad­u­ate of The Col­lege of William and Mary and New York University.