Is accesso Technology Group plc (AIM:ACSO) Financially Strong Enough To Weather A Storm?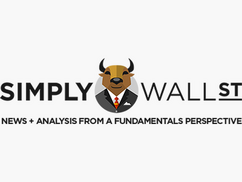 Dane Sim­mons of Sim­ply Wall St pro­vid­ed an analy­sis of acces­so Tech­nol­o­gy Group plc (AIM:ACSO) and its over­all finan­cial strength.
Com­par­ing the com­pa­ny's cur­rent assets to total debt, Sim­mons con­cludes that the com­pa­ny is capa­ble of pay­ing down debts if need­ed or if favor­able with­in the mar­ket. Sim­mons also reviews acces­so's earn­ings in com­par­i­son to over­all debt to deter­mine whether the com­pa­ny can be con­sid­ered finan­cial­ly sound and gen­er­at­ing enough earn­ings to out­weigh the inter­est on its debts.
Sim­mons con­cludes that acces­so's low-debt pro­file, earn­ings and oper­at­ing cash flow all indi­cate that it would be well-pre­pared to weath­er dif­fi­cult times and also to cap­i­tal­ize on growth oppor­tu­ni­ties when the mar­ket allows. To read the full analy­sis, click here.