Lo-Q is now accesso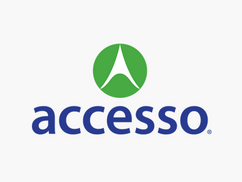 LON­DON (12-Novem­ber-2013) – Lo‑Q plc (AIM:LOQ), the pre­mier tech­nol­o­gy solu­tions provider to the attrac­tions and leisure indus­try, today announced a new cor­po­rate iden­ti­ty – acces­so®. Effec­tive 12-Novem­ber, the com­pa­ny will trade on the Lon­don Stock Exchange AIM Mar­ket as acces­so Tech­nol­o­gy Group plc under the new tick­er sym­bol ​"ACSO," and will lever­age the upcom­ing IAA­PA Expo in Orlan­do (Nov. 18 – 22), the industry's largest annu­al trade show, to fur­ther com­mu­ni­cate the rebrand to its core market.
The name change reflects the company's expand­ed capa­bil­i­ties and exper­tise gained when it acquired the pri­vate­ly-held tick­et­ing tech­nol­o­gy and e‑commerce firm acces­so LLC in late 2012.
"Rebrand­ing under the acces­so ban­ner cre­ates a uni­fy­ing brand for our prod­ucts and defines our core busi­ness well – help­ing theme parks and venues access tech­nolo­gies that opti­mize the guest expe­ri­ence and grow rev­enue," not­ed Tom Bur­net, CEO. ​"The acces­so name clear­ly encap­su­lates what the com­pa­ny aspires to be, and gives us greater flex­i­bil­i­ty to enter new mar­kets, make future acqui­si­tions and diver­si­fy our oper­a­tions around the world."
The com­pa­ny will lever­age the exist­ing acces­so brand assets – logo, imagery, mar­ket­ing – and is inte­grat­ing the inno­v­a­tive vir­tu­al queu­ing solu­tions into its prod­uct line as acces­so LoQueueSM solu­tions, main­tain­ing the brand that's become syn­ony­mous with help­ing theme park vis­i­tors avoid stand­ing in lines. acces­so ​'s tick­et­ing, mobile and eCom­merce tech­nolo­gies will con­tin­ue to be mar­ket­ed as acces­so Pass­port®solu­tions.
The company's foot­print has grown sub­stan­tial­ly in the past 15 months. Since adding tick­et­ing and eCom­merce capa­bil­i­ties in late 2012, the com­pa­ny has signed queu­ing or tick­et­ing agree­ments with major oper­a­tors includ­ing Uni­ver­sal Orlan­do, Mer­lin Enter­tain­ments, Via­land, Wet ​'n' Wild Las Vegas and Phoenix, and The Auto­Club Group, the sec­ond-largest AAA Club in North America.