Lo-Q Wins Prestigious IAAPA Brass Ring Award for Q-Band Product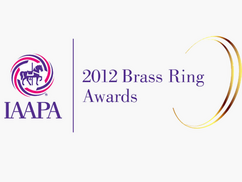 LON­DON (Novem­ber 15, 2012) – Lo‑Q (AIM: LOQ), the AIM list­ed provider of vir­tu­al queu­ing sys­tems for theme parks, water parks and major attrac­tions, is proud to announce that it has been award­ed an Inter­na­tion­al Asso­ci­a­tion of Amuse­ment Parks and Attrac­tions (IAA­PA) Brass Ring Award for its Q‑band, the Company's rev­o­lu­tion­ary water park product.
The award is for Best New Prod­uct in the Rev­enue & Admis­sion Con­trol / Wrist­band / RFID Tech­nol­o­gy cat­e­go­ry. Entries were judged on the ben­e­fit of the prod­uct or ser­vice to the prospec­tive buy­er, the orig­i­nal­i­ty or unique­ness, and the qual­i­ty of the prod­ucts or ser­vices togeth­er with the design and construction.
Suc­cess­ful­ly tri­alled ear­li­er this year, Lo‑Q has already installed the Q‑band in 11 water parks in North Amer­i­ca and is see­ing an encour­ag­ing rise in cus­tomer adop­tion as park guests became increas­ing­ly famil­iar with the prod­uct and its benefits.
Lo‑Q's inno­v­a­tive Q‑band prod­uct is a rev­o­lu­tion­ary RFID-enabled wrist­band that is both water­proof and light­weight. Guests rent­ing the Q‑band use it to reserve a ​"vir­tu­al" place in line at a park's most pop­u­lar slides, using kiosks locat­ed through­out the park. When their reser­va­tion time arrives, guests enter via a sep­a­rate entrance and scan their band to be val­i­dat­ed, allow­ing them more time to enjoy the park with less time wait­ing in line.
The IAA­PA Brass Ring Awards are one of the attrac­tion industry's most pres­ti­gious awards and have long been regard­ed as a sym­bol of excel­lence with­in the indus­try. The awards are pre­sent­ed each year dur­ing IAA­PA Attrac­tions Expo and are giv­en to indi­vid­u­als in recog­ni­tion of their ser­vice and con­tri­bu­tion to the indus­try; to amuse­ment facil­i­ties for oper­a­tional excel­lence; and to man­u­fac­tur­ers and sup­pli­ers for prod­uct inno­va­tion and creativity.
Found­ed in 1918, IAA­PA is the largest inter­na­tion­al trade asso­ci­a­tion for per­ma­nent­ly sit­u­at­ed amuse­ment facil­i­ties world­wide. The organ­i­sa­tion rep­re­sents more than 4,300 facil­i­ty, sup­pli­er, and indi­vid­ual mem­bers from more than 97 coun­tries includ­ing pro­fes­sion­als from amuse­ment parks, theme parks, and attrac­tions, fam­i­ly enter­tain­ment cen­tres, muse­ums and sci­ence cen­tres, water parks and resorts, zoos and aquar­i­ums and indus­try man­u­fac­tur­ers and suppliers.
Com­ment­ing on the award, Tom Bur­net, Chief Exec­u­tive Offi­cer of Lo‑Q plc said:
"We are immense­ly proud to receive this pres­ti­gious award from one of the most estab­lished organ­i­sa­tions in the attrac­tions indus­try. Our ded­i­ca­tion to inno­va­tion and tech­nol­o­gy has helped us become the lead­ing provider of vir­tu­al queu­ing sys­tems for the amuse­ment indus­try around the world and we are proud to be acknowl­edged for our efforts. This impor­tant indus­try endorse­ment not only recog­nis­es the qual­i­ty of our tech­nol­o­gy, but high­lights the fact that, despite only launch­ing ear­li­er this year, Q‑band is already mak­ing waves in the industry."
About Lo‑Q
Lo‑Q is the cre­ator of a vir­tu­al queu­ing sys­tem for theme parks, water parks and oth­er leisure attrac­tions that allows users to queue with­out wait­ing in line. Lo‑Q users reserve their place in a queue elec­tron­i­cal­ly and are noti­fied when their turn is up, spend­ing less time queu­ing and more time enjoy­ing their day out. Lo‑Q's sys­tem has been adopt­ed by lead­ing theme park and attrac­tion oper­a­tors glob­al­ly, with cus­tomers includ­ing Par­ques Reunidos, Six Flags, Dol­ly­wood, Mer­lin Enter­tain­ments and Com­pag­nie des Alpes. These oper­a­tors ben­e­fit not only from hap­pi­er cus­tomers but also from addi­tion­al rev­enue streams as time pre­vi­ous­ly spent queu­ing is instead trans­formed into high­er spend­ing in park restau­rants, gift shops and oth­er retail facil­i­ties. By the end of 2011, more than eight mil­lion indi­vid­u­als had used a Lo‑Q prod­uct and that num­ber is growing.
The Company's tech­nol­o­gy is pro­tect­ed by exten­sive patents or patents pend­ing in Europe, USA, Hong Kong and Japan. The tar­get mar­ket for this tech­nol­o­gy is large and grow­ing, with Lo‑Q cur­rent­ly explor­ing oppor­tu­ni­ties for expan­sion into new theme parks and new geo­gra­phies as well as oppor­tu­ni­ties to devel­op new prod­uct for oth­er com­ple­men­tary adja­cent markets.
Prod­ucts include:
Q‑bot: Guests reserve a ride on their hand-held Q‑bot device, allow­ing them to enjoy the rest of the park whilst the Q‑bot vir­tu­al­ly queues for them. When it's time to ride, the Q‑bot lets them know and they head straight on to their reserved ride.
Q‑band: Q‑band is the world's first vir­tu­al queu­ing solu­tion for water parks. Using a water­proof

RFID

wrist­band, cus­tomers reserve their favourite slide at a touch­screen kiosk. The Q‑band dis­plays their wait time and once it has count­ed down to zero, it's time to ride and the guest heads straight onto their reserved slide. The prod­uct can also incor­po­rate cash­less pay­ment and access con­trol features.
Q‑smart: Q‑smart puts our vir­tu­al queu­ing tech­nol­o­gy straight onto a smart phone and allows park guests to reserve, pay for and man­age their rides. Lo‑Q is list­ed on the Alter­na­tive Invest­ment Mar­ket ("

AIM

") under the tick­er ​

"

LOQ

".