People of accesso: Paul Noland - Music Lover, Launch Coaster Enthusiast, Open Communicator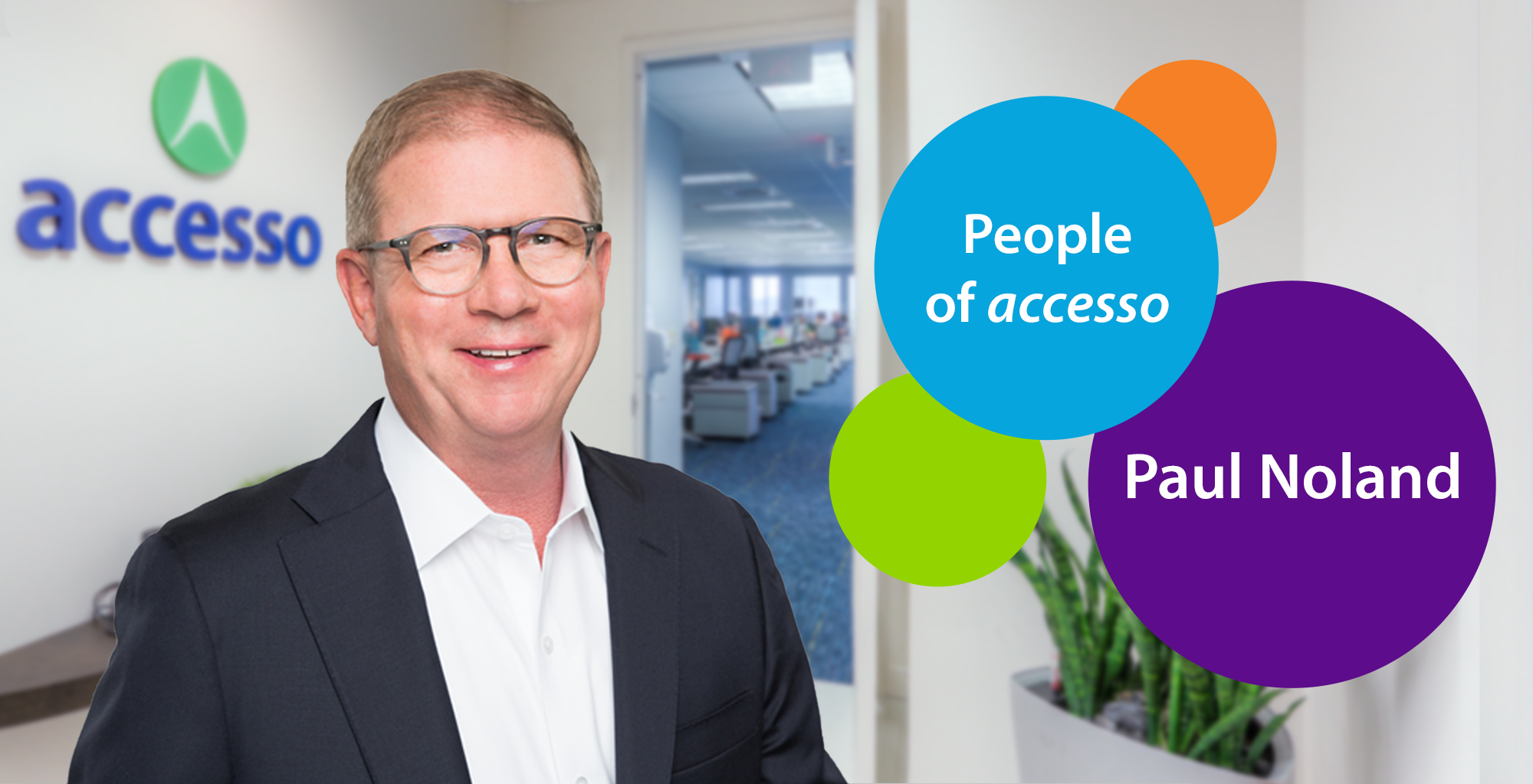 Welcome to "People of accesso," where we introduce you to our talented team members from all around the globe! Our hope is that this series will give you a small sample of the faces and personalities that make our company unique. For our first piece, we thought, what better person to begin with than our CEO, Paul Noland? Paul is relatively new to the accesso family, and while many of us have had the pleasure of working with him directly, few know the full extent of the serendipitous and winding journey that brought him here.
We Didn't Start the Fire.
Given Paul's extensive career in the attractions industry, as former CEO of IAAPA and a Disney veteran, we were surprised to hear that his first true passion was music. "My first passion was music, mostly rock and alternative but I like all kinds of genres and styles," he says. Paul was able to leverage his love for music as the President of the Student Union at Radford University where they were responsible for booking all the concerts, plays and movies on campus. "I was in charge of security for some big shows," he revealed. One of his most memorable shows? "We had booked Billy Joel right before his album 'The Stranger' came out. His tour bus broke down, so he showed up that morning with his crew, and I got to play host and hang out with him all day. We played a few rounds of handball and chatted, and it was an amazing experience." Some of Paul's favorite artists today include Mumford and Sons, The Decemberists and Jason Isbell.
Be Our Guest.
After graduating from college, Paul moved on to the Hospitality Industry where he started working with a Marriott property in Washington, DC. After just a year, he moved on to the corporate headquarters in Bethesda, MD where he worked in sales and played a key role in restructuring the hotel's reservation system and revenue management. After twelve years with Marriott, Paul made the leap to the attractions industry at Disney where he ran ticketing and worked on the Fast Pass and MyMagic+ initiatives. His career path, he says, reminds him a lot of the movie Forrest Gump: "Throughout my career I've tried my best to follow my heart, and it's taken me on the most amazing journey where I fell into things I was amazingly passionate about."
Paul's experience at Disney was a dream come true, because he is one of those people who genuinely loves theme parks. He doesn't just talk the talk, and he definitely isn't one of those guys who will sit on the bench waiting with everyone's bags. Paul's here for the high-impact, adrenaline-pumping, scream-inducing thrill rides: "For me, there is nothing like the thrill of going from a full stop to a roaring 60 miles per hour," he said. So, what are some of Paul's favorite rides? The Helix at Liseberg Park in Sweden, for one, and he is also a huge fan of the Tower of Terror at Disney: "It's a great fusion of thrill and unbelievable storytelling."
When You're Here, You're Family.
When asked what his journey throughout the leisure, hospitality and entertainment industries has taught him, Paul stresses the importance of effective, ongoing communication. "When in doubt, be proactive about your communication," he shared. "Communicate earlier and involve your team. That way, you can be receptive to new ideas and perspectives earlier in the planning cycle rather than when it's too late." Another thing that Paul finds immensely important is the ability to admit when you've made a mistake: "Everyone makes mistakes – we're all human – but if you own up to it and take responsibility, you're in a much better position to fix the issue, whether that's coming up with a creative solution yourself or graciously asking for help."
So what brought Paul to accesso? "It was an amazing opportunity to lead an organization that is on the verge of major global expansion," he says, "But in large part, it was also the people. Throughout my career, I've come to realize that the most rewarding positions are those that allow you to work alongside truly dedicated and passionate people, with one unified interest and a common goal. At accesso, we are not just a technology company – we're a team of individuals who are really dedicated to improving the guest experience throughout the leisure and entertainment industries. That's what drew me to the company, and that's what I see when I visit each and every one of our offices around the globe. I can't wait to see what we can accomplish together."
Welcome Paul, we're so glad to have you as part of the accesso family, and one of these days we'll have to get you to an Olive Garden (because as of press time, he has never been)!