accesso Blog Series: 2017 in Review - Celebrating the Past as We Look Toward the Future.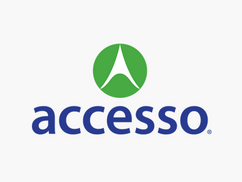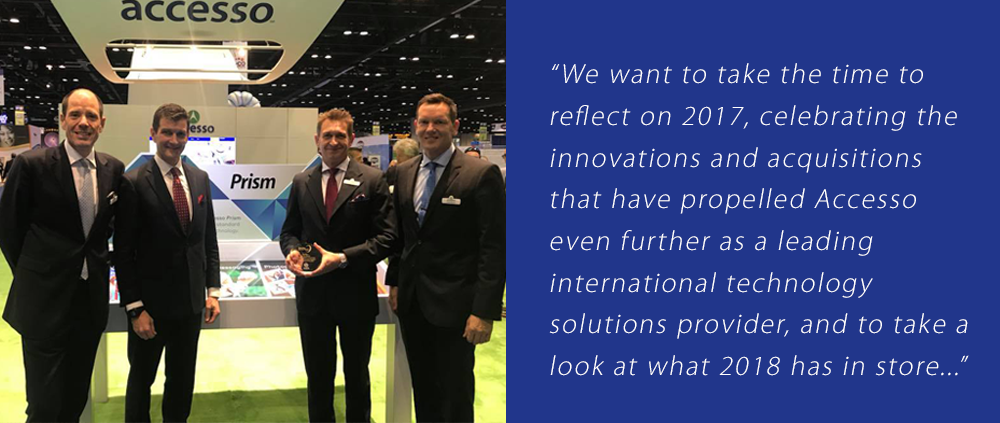 As we enter the new year, we want to take the time to reflect on 2017, cel­e­brat­ing the inno­va­tions and acqui­si­tions that have pro­pelled acces­so even fur­ther as a lead­ing inter­na­tion­al tech­nol­o­gy solu­tions provider, and to take a look at what 2018 has in store for the mar­kets and indus­tries we are so proud to serve.
We are hum­bled to say that acces­so has been hon­ored with awards this past year for our influ­ence on the ongo­ing evo­lu­tion of inter­nal oper­a­tions and, ulti­mate­ly, the guest expe­ri­ence. From Orlan­do Busi­ness Jour­nal​'s Inno­va­tions in Tech­nol­o­gy Awards to Lloyds Nation­al Busi­ness Awards, where we were hon­ored as the Mid-Mar­ket Busi­ness of the Year for our vision, ambi­tion and com­mit­ment to ser­vice, 2017 has been a land­mark year for acces­so, and the indus­try has tak­en note.
Each year, we look for­ward to attend­ing the Inter­na­tion­al Asso­ci­a­tion of Amuse­ment Parks and Attrac­tions (IAA­PA) Expo. It serves as the per­fect stage for acces­so to share our tech­nol­o­gy and presents a one-of-a-kind oppor­tu­ni­ty for us to con­nect face-to-face with many of our clients, new prospects and poten­tial investors from around the world.
At this year's Expo, we were hon­ored at the IAA­PA Brass Ring Awards cer­e­mo­ny for our acces­so PrismSM wear­able tech­nol­o­gy, a next-gen­er­a­tion, wear­able device that presents new, ground­break­ing ways for parks, water parks and oth­er attrac­tions to con­nect with their guests.
In addi­tion to the Brass Ring Award for ​"Best New Prod­uct Tech­nol­o­gy Applied to Amuse­ments," we were thrilled to receive IAAPA's high­est hon­or – the Impact Award – for acces­so Prism​'s incred­i­ble impact, both now and in the future, on the amuse­ment parks and attrac­tions industry.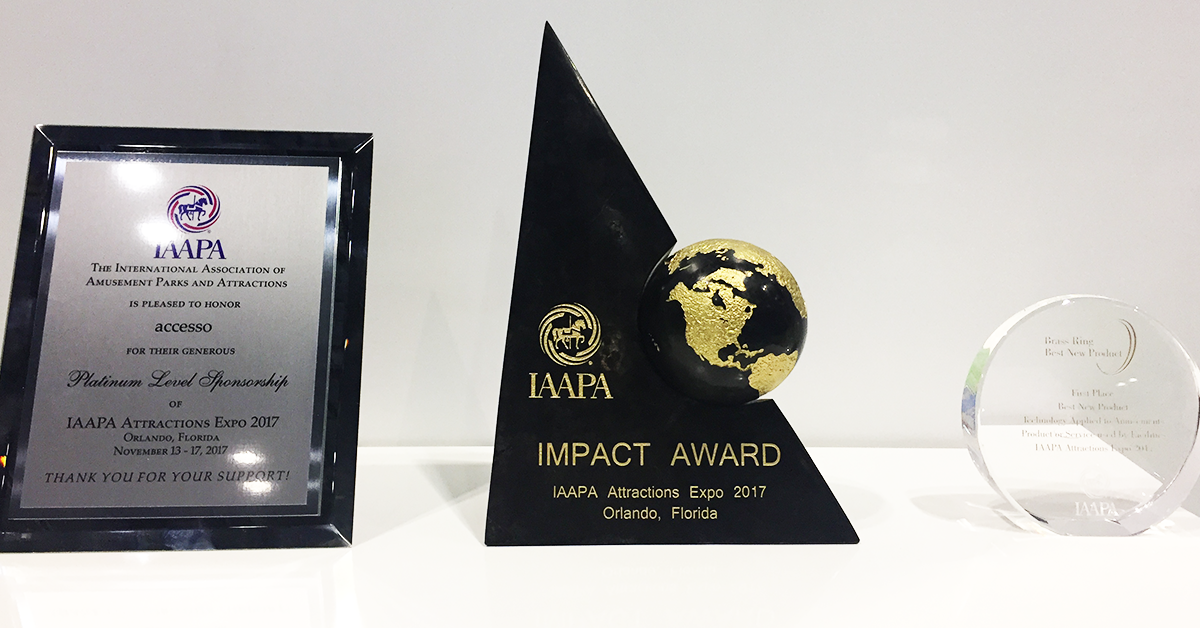 We also cel­e­brat­ed a num­ber of new part­ner­ships and agree­ments in 2017. Six com­pa­nies with­in the leisure, enter­tain­ment and cul­tur­al mar­kets – includ­ing the Flori­da Attrac­tions Asso­ci­a­tion, Vil­lage Road­show Theme Parks and Expe­ri­en­cias Xcaret – part­nered with acces­so in 2017 to imple­ment our inno­v­a­tive tick­et­ing plat­forms and point-of-sale solu­tions to sim­pli­fy oper­a­tions, stream­line trans­ac­tions and enhance the over­all guest experience.
We were also proud to enhance the pow­er of the acces­so ShoWareSM tick­et­ing solu­tion with the inte­gra­tion of two new plat­forms: Ingres­so, a glob­al dis­tri­b­u­tion sys­tem tar­get­ing the enter­tain­ment indus­try, and Pay­Pal, a trust­ed glob­al leader in online pay­ments. With access to Ingresso's expan­sive net­work of tick­et dis­tri­b­u­tion chan­nels – reach­ing more than 1 bil­lion con­sumers world­wide – and the use of PayPal's con­ve­nient and pop­u­lar pay­ment options, acces­so ShoWare clients can fur­ther max­i­mize tick­et sales and pro­vide a more has­sle-free and effi­cient pay­ment process for their patrons.
Our acqui­si­tion in July of The Expe­ri­ence Engine™ (TE2) – the largest in acces­so​'s his­to­ry – may be the most excit­ing devel­op­ment of the year. TE2 bridges the phys­i­cal and dig­i­tal gap through­out all phas­es of the guest expe­ri­ence by craft­ing indi­vid­ual pro­files for each guest. Through fab­ri­cat­ed touch points, oper­a­tors can craft a one-of-a-kind, indi­vid­u­al­ized expe­ri­ence while guid­ing guests along their entire jour­ney – from the moment they decide to pur­chase a tick­et, through their time on-site and once they've returned home. acces­so​'s suite of award-win­ning tech­nol­o­gy, com­bined with TE2's data-dri­ven insights, sets the stage for oper­a­tors and providers to dri­ve rev­enue, add val­ue and rev­o­lu­tion­ize the guest expe­ri­ence like nev­er before.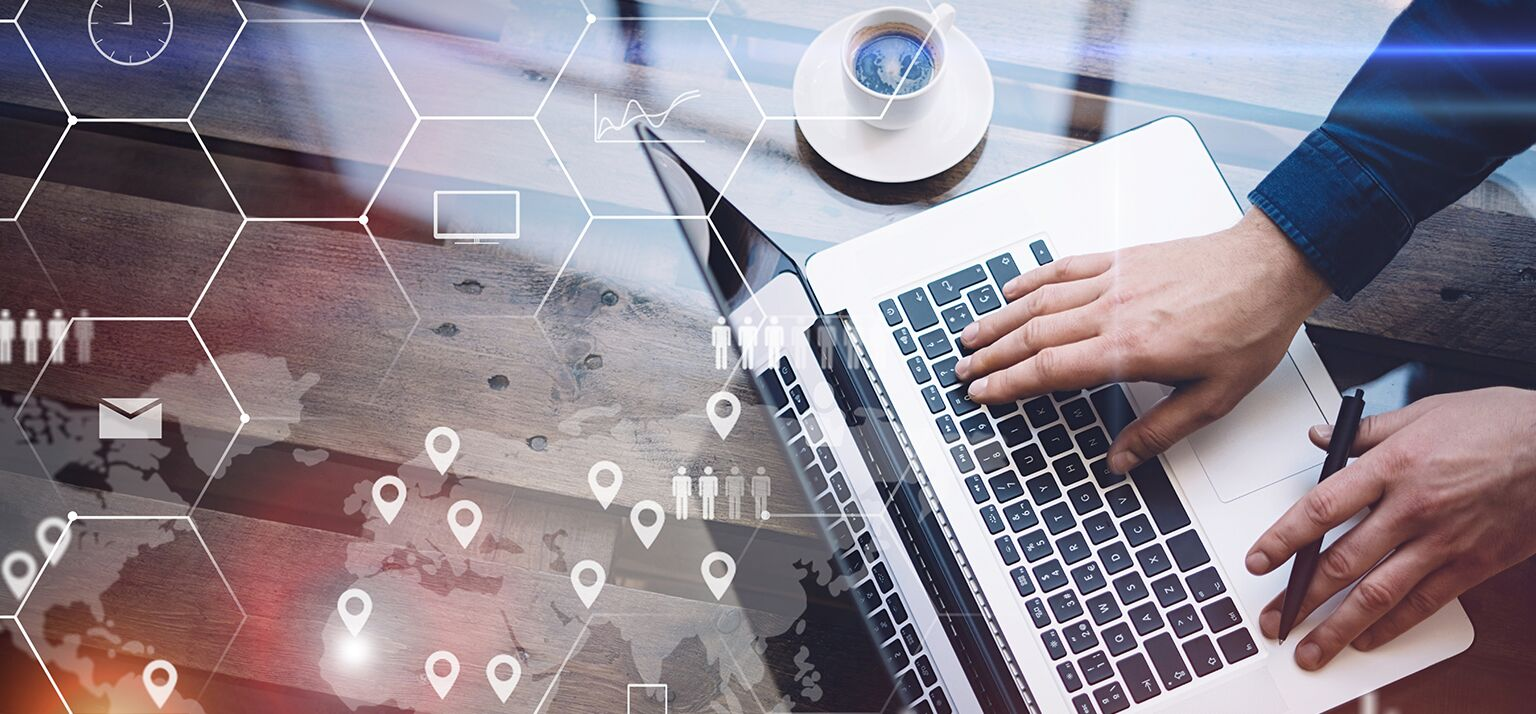 Look­ing for­ward to 2018, we nat­u­ral­ly ask, ​"What's next?"

With activ­i­ties ranked as the third-largest seg­ment of trav­el – and pro­ject­ed to account for $174 bil­lion of glob­al spend­ing by 2020 – what trends and move­ments will have the great­est impact on the way oper­a­tors will need to adapt to stay ahead of the pack?

Lever­ag­ing Insight­ful Data: Every com­pa­ny, by nature, has data at its dis­pos­al. How­ev­er, it's what you do with the data that is so impor­tant. With­out lever­ag­ing what you know about guests to pre­dict what they want – per­haps before they even know them­selves – data alone does not car­ry any value.


The Mobile Expe­ri­ence: With

40

per­cent of trav­el sales being made on mobile devices, it makes sense that most com­pa­nies have moved beyond the tra­di­tion­al web pres­ence to incor­po­rate this new plat­form. How­ev­er, sim­ply hav­ing a mobile app is not enough; keen atten­tion to detail must be paid to the design and lay­out to ensure a user-friend­ly inter­face that is easy to nav­i­gate.

An engag­ing mobile app estab­lish­es new com­mu­ni­ca­tion path­ways between oper­a­tors and their guests and presents the oppor­tu­ni­ty to grab and hold on to a poten­tial customer's atten­tion;

46

per­cent of shop­pers are less like­ly to seek out alter­na­tive options when using a company's mobile app.

This being said, it is cru­cial that oper­a­tors keep eCom­merce top-of-mind. By cre­at­ing a plat­form that fea­tures a sim­ple and pleas­ing­ly respon­sive design, adapt­able to desk­top, tablets and mobile devices, oper­a­tors can ensure a seam­less and enjoy­able expe­ri­ence for guests and the oppor­tu­ni­ty for incre­men­tal­ly dri­ven rev­enue through dynam­ic up-sell mes­sag­ing through­out the online shop­ping experience.


Build­ing Loy­al­ty: As a new era is emerg­ing, where mil­len­ni­als, who hold an esti­mat­ed com­bi­na­tion of $

2

.

5

tril­lion in glob­al spend­ing pow­er, are enter­ing their prime spend­ing years, trends in trav­el and leisure are mov­ing away from tra­di­tion and pre­dictabil­i­ty in favor of new, out-of-the-ordi­nary expe­ri­ences. To keep up with the ebb and flow of the indus­try, it's impor­tant for oper­a­tors to not only be close­ly famil­iar with their guests' pref­er­ences and habits, but to build long-term rela­tion­ships with those guests.

Per­son­al­ized pro­mo­tion­al offers can play a role in spark­ing this rela­tion­ship. When pre­sent­ed with a pro­mo­tion­al offer,

30

per­cent of trav­el­ers would take a trip when they weren't plan­ning to and

25

per­cent would con­sid­er going to a des­ti­na­tion they weren't pre­vi­ous­ly famil­iar with.

Loy­al­ty pro­grams and incen­tives are play­ing an ever-increas­ing role in guest rela­tion­ship man­age­ment. In the past two years alone, the num­ber of U.S. hotel guests who belong to a fre­quent-stay loy­al­ty pro­gram jumped from

37

to

63

per­cent. And, while loy­al­ty pro­grams as a whole are on the rise, it's impor­tant to remem­ber that dif­fer­ent cus­tomers are enticed by dif­fer­ent incen­tives. Draw­ing back to the impor­tance of lever­aged, insight­ful data, oper­a­tors can offer tai­lored perks to match guest pref­er­ences if they are aware of what appeals to each indi­vid­ual guest.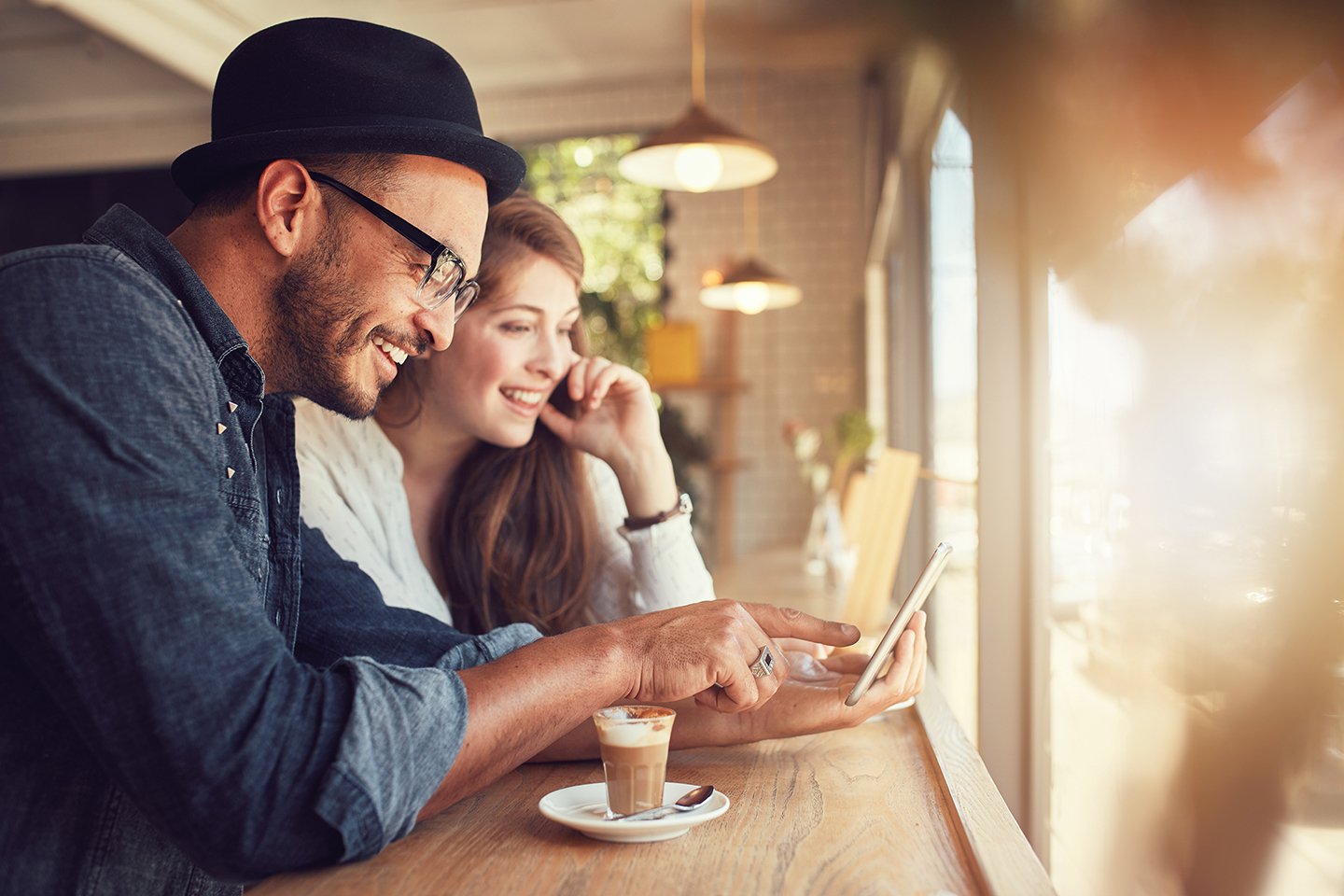 These trends have one con­nec­tive, under­ly­ing theme that will be key to attain­ing and keep­ing the atten­tion and loy­al­ty of guests in 2018: per­son­al­iza­tion.
Trav­el­ers are more loy­al to a com­pa­ny that per­son­al­izes their expe­ri­ences and a study by Wun­der­man found that the vast major­i­ty of con­sumers report­ed that brands need to active­ly demon­strate that they under­stand and care about them as indi­vid­u­als before they even con­sid­er mak­ing a purchase.

In the ongo­ing quest for true per­son­al­iza­tion, oper­a­tors will find new ways to use exist­ing tech­nol­o­gy, as well as apply new tech­no­log­i­cal inno­va­tions, to bet­ter know and under­stand guests, and to cater direct­ly to their needs and desires. In a time when trav­el­ers are seek­ing cus­tomiza­tion and an expe­ri­ence that is unique from begin­ning to end, the uti­liza­tion of insight­ful data to com­mu­ni­cate with them as indi­vid­u­als (as opposed to a mem­ber of the mass mar­ket) is what will lead to long­stand­ing, mutu­al­ly ben­e­fi­cial rela­tion­ships between oper­a­tors and their guests.
With an excit­ing year ahead of us that is ripe with poten­tial, it will be crit­i­cal to stay on the fore­front of the ever-evolv­ing tech­no­log­i­cal land­scape and work to pro­vide the dif­fer­en­ti­a­tion that ele­vates an expe­ri­ence from sim­ply accept­able to unforgettable.
To learn more about our acces­so solu­tions, con­tact us here.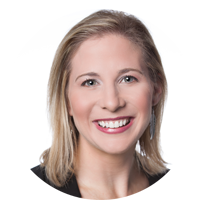 Tara Moran­di — Vice Pres­i­dent, Marketing
Tara joined acces­so in 2011, and leads the mar­ket­ing efforts for the acces­so brand. She began her career in the Leisure Indus­try as a Mar­ket­ing Direc­tor for a water­slide com­pa­ny where she trav­eled the world test­ing water slides like a crash test dum­my! Over the past 7 years, she has been part of the company's five acqui­si­tions and rebrand­ed them under the acces­so umbrel­la. When she's not polic­ing our brand and lead­ing our adver­tis­ing, mar­ket­ing and pub­lic rela­tions strate­gies for us, she enjoys run­ning races, binge-watch­ing Net­flix and hang­ing out at home with her two daugh­ters and husband.