accesso Blog Series: 5 Tips for Creating Effective In-App Marketing Copy.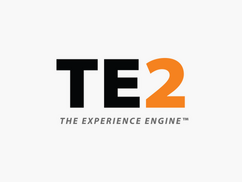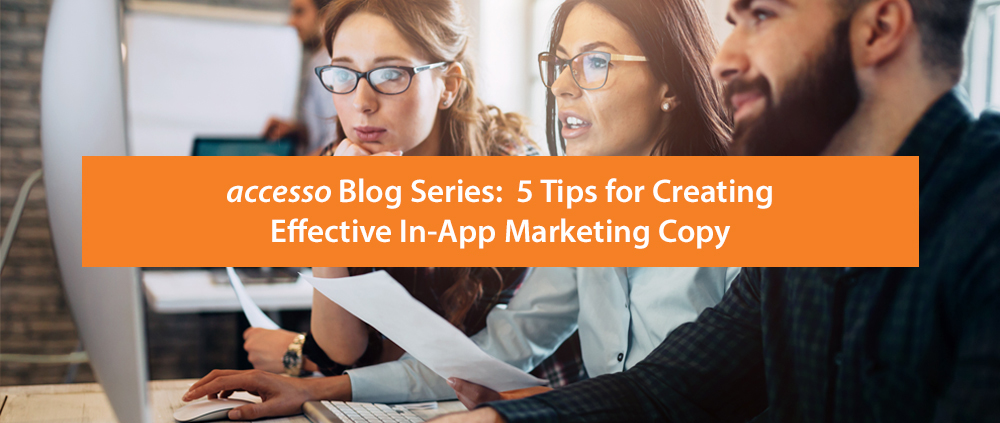 Every busi­ness wants to cre­ate an amaz­ing app expe­ri­ence, some­thing that increas­es con­ver­sions and has lov­able and use­ful fea­tures all wrapped up in an engag­ing user inter­face. Imple­ment­ing effec­tive mar­ket­ing copy with­in your app is equal­ly impor­tant, yet is often under­stat­ed. It's easy to think that engag­ing web­site copy will trans­late into sim­i­lar­ly engag­ing app copy, but that isn't nec­es­sar­i­ly the case. We've come up with these 5 tips to remove that learn­ing curve and give your in-app mar­ket­ing a boost to grow user sat­is­fac­tion, increase app store rat­ings and dri­ve con­ver­sions for your brand.
Let's take a look at some of these best practices:
1

. Extend Your Brand Voice

Your brand's voice may be fun­ny and sar­cas­tic, seri­ous and thought­ful, or even down­right bor­ing (*cough* any fur­ni­ture com­pa­ny ever). What­ev­er your brand voice may be, it's impor­tant to make sure it car­ries through to your app. The style and fre­quen­cy of push noti­fi­ca­tions, the length and for­mat­ting of your mes­sages and even your call-to-action (CTA) should all be a direct exten­sion of your brand's voice. But why is main­tain­ing your brand voice so impor­tant? Sim­ple! Con­sis­tent brand pre­sen­ta­tion across all plat­forms increas­es rev­enue by up to 33%, accord­ing to a study con­duct­ed by Demand Metric.
2

. Don't Be Afraid to Use Ono­matopoeia and Emojis

As best-sell­ing author and copy­writ­ing leg­end Joe Sug­ar­man once said, ​"The sole pur­pose of the first sen­tence in an adver­tise­ment is to get you to read the sec­ond sen­tence." In mobile app terms, the sole pur­pose of the push noti­fi­ca­tion text is to get you to click through and read the head­line of your mes­sage or arti­cle. Yes, this means using loud words like BOOM! BANG! POW! (more elo­quent­ly called ono­matopoeia) and yes, it can also mean using emo­jis: heart eye emo­jis, grin­ning face emo­jis, or what­ev­er reflects the mes­sage and feel­ing you're try­ing to con­vey – as long as it's in line with your brand voice (refer to para­graph above). Stud­ies show that emo­jis on Twit­ter can increase engage­ment by 25% and emo­jis in a Face­book post can increase the num­ber of likes by 57%. [Insert mic drop emo­ji here].
3

. Prac­tice Good Body Copy Etiquette

Think of the behav­ior flow of your audi­ence from the moment they receive a push noti­fi­ca­tion to when they redeem a coupon, pur­chase your prod­uct, or land on an infor­ma­tion­al page. If you have catchy push noti­fi­ca­tion text and an effec­tive CTA, but your body copy is not mobile-friend­ly, your users are less like­ly to read it and your con­ver­sion rate will drop. Don't bore them with 5 para­graphs about the his­to­ry of an event you're pro­mot­ing (unless it's REAL­LY cool). Con­verse­ly, you also don't want to give them too lit­tle infor­ma­tion, which could make your mes­sage look like a bar­ren waste­land (which in turn could look very sim­i­lar to your app's rev­enue num­bers). Also, don't repli­cate your push noti­fi­ca­tion copy in the head­line of the mes­sage, unless the head­line takes up a ridicu­lous­ly small por­tion of the mes­sage screen.

Stud­ies have shown that users tend to scan pages, whether on the web or mobile, in an ​"F‑shaped" pat­tern. They first focus on the upper part of con­tent, read­ing hor­i­zon­tal­ly, and then move to the sec­ond block of con­tent where they do the same thing. Final­ly, they will jump down to the rest of the con­tent and scan ver­ti­cal­ly until they see some­thing that inter­ests them or not. This is not great for the user, and it's not great for your busi­ness either! Luck­i­ly, there are a few things you can do to help min­i­mize scan­ning, or at least max­i­mize the like­li­hood that the impor­tant infor­ma­tion you want to con­vey will be seen: using head­ings and sub­head­ings, start­ing those head­lines with the most impor­tant words, using bul­let­ed or num­bered lists and mak­ing impor­tant words or phras­es bold are all ways that you can opti­mize your con­tent for users (Nielsen Nor­man Group).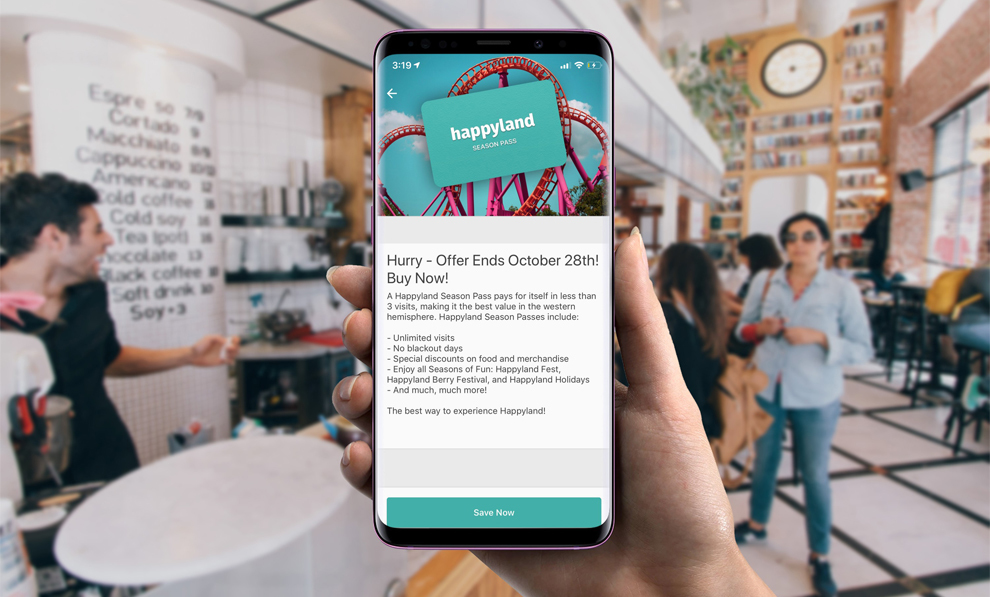 Make sure to edit your copy and trim out the unnec­es­sary con­tent. While adjec­tives and adverbs can paint a beau­ti­ful­ly-descrip­tive pic­ture in one's sub­con­scious mind, are they real­ly, tru­ly, fun­da­men­tal­ly and unques­tion­ably nec­es­sary? (See what I did there?). In gen­er­al, keep­ing it sim­ple (unless you're The Econ­o­mist) is always the way to go, as long as your mes­sage has a flow.
4

. Use Your Call to Action Wisely

Unlike an arti­cle that can have mul­ti­ple CTA's embed­ded in the copy, the call-to-action in an app mes­sage should only hap­pen once. It needs to be con­cise and spe­cif­ic, so it bet­ter be pow­er­ful! Think about what you are sell­ing your cus­tomer in each mes­sage. Are you real­ly want­i­ng them to just ​"Click now," or are you want­i­ng them to ​"See how it works" or ​"Reserve their free copy"?

When you're craft­ing your CTA for each mes­sage, keep in mind that con­ver­sions are large­ly dri­ven by emo­tion – the same rea­son good adver­tise­ments make us feel a cer­tain way. Friend­Buy increased signups by 34% by adding anx­i­ety-reduc­ing con­tent and explain­ing key ben­e­fits next to their CTA. Remem­ber: you're not sell­ing a prod­uct or ser­vice, you're sell­ing a less tan­gi­ble and more emo­tion­al, val­ue-dri­ven benefit.
5

. Test the Performance

The push noti­fi­ca­tion is one of the most impor­tant aspects of in-app mar­ket­ing, and it's also one of the eas­i­est to test. Even if you don't have true A/B test­ing capa­bil­i­ties with your app, you can try run­ning vari­a­tions of push noti­fi­ca­tion copy on alter­nate weeks so you can com­pare the met­rics. Maybe ​"POW!" is more effec­tive than ​"BANG!". Maybe the rock­et ship emo­ji leads to a high­er view rate than the heart eyes. Just keep in mind that when you are A/B test­ing, it's impor­tant to only test one ele­ment at a time, and that you'll want to set up the para­me­ters in advance (specif­i­cal­ly, the dura­tion of the exper­i­ment and how it will be mea­sured) so that you can have a con­trolled test­ing envi­ron­ment. Have fun with it, and don't be afraid to exper­i­ment as long as you are measuring!

In-App Mar­ket­ing doesn't need to be dif­fi­cult, but don't get dis­cour­aged if you don't com­pel every­one to buy your prod­uct or even open your mes­sage right off the bat. Like any craft, it is devel­oped and per­fect­ed over time. Before you know it, you'll be dri­ving more rev­enue, get­ting more arti­cle views and engag­ing with hap­py cus­tomers like nev­er before.

Curi­ous about how in-app mar­ket­ing can dri­ve rev­enue at your venue? Learn how to per­son­al­ize the guest expe­ri­ence with our TE2 solu­tion or con­tact us for more information.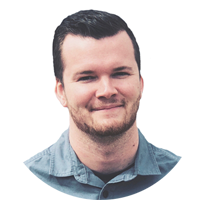 Michael Smart – Mar­ket­ing Cam­paign Man­ag­er, The Expe­ri­enceEngine (TE2)
MichaelS­mart is a Mar­ket­ing Cam­paign Man­ag­er for The Expe­ri­ence Engine (TE2). He lives in San Diego,California and enjoys cre­at­ing music, learn­ing about astronomy,and any­thing Oprah-related.