accesso Blog Series: Buyer Beware! How to Help Your Patrons Avoid Ticketing Scams.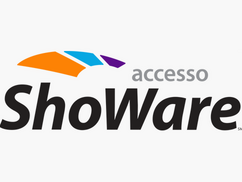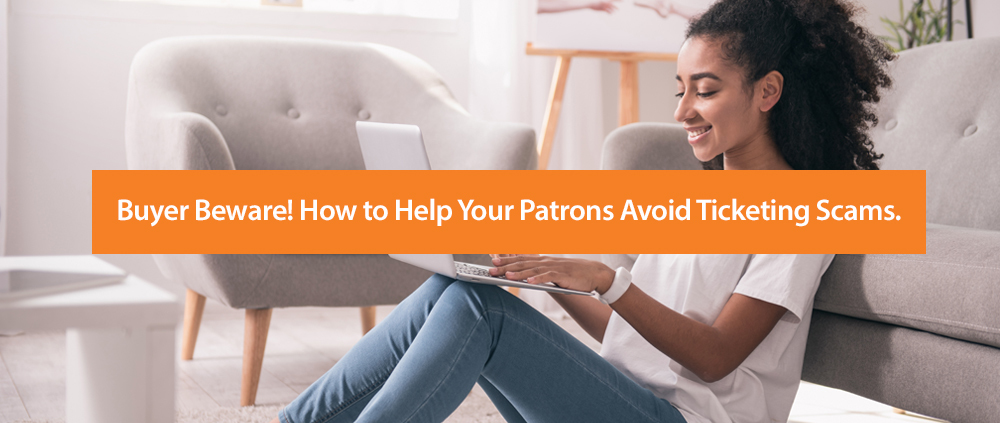 Tick­et spoof­ing is a major prob­lem fac­ing the tick­et­ing indus­try. Every day, our acces­so ShoWare tick­et­ing call cen­ter receives at least one phone call from an upset patron who has fall­en vic­tim to one of these schemes, con­vinced that an unscrupu­lous ven­dor was actu­al­ly the pri­ma­ry tick­et­ing source for an event. These sto­ries can be heart­break­ing, and unfor­tu­nate­ly, there is very lit­tle that can be done once the tick­ets have been pur­chased. Once the patron real­izes they pur­chased from a bro­ker, it can be chal­leng­ing to help them under­stand it was actu­al­ly their error. Read on to dis­cov­er the lat­est tac­tics used by these ven­dors and our best advice for tack­ling this issue.
The Mod­est­ly-Priced Tick­et With Hid­den Fees
A recent cus­tomer for a very pop­u­lar coun­try music act called us to inquire about a total charge of $2,500 for four tick­ets, when face val­ue was only $500. It turns out that they had acci­den­tal­ly pur­chased from a devi­ous bro­ker, who list­ed the tick­ets at face val­ue but with a whop­ping $500 per-tick­et-fee (which means a $500 pur­chase sud­den­ly became $2,500!). Most often it's not this extreme, but many times, these tick­ets will have a mod­est mark-up by the bro­ker on face val­ue (let's say a $30.00 tick­et being sold for $48.00) and also hold an addi­tion­al fee of $15-$20. At first glance, this addi­tion­al fee may seem minor, but at half the cost of the tick­et, per tick­et, it quick­ly adds up: a pair of tick­ets for $60 can quick­ly become close to $150, for no oth­er rea­son than the fact that a patron acci­den­tal­ly pur­chased it from the wrong source.
It's also help­ful to be aware of the types of shows that these bro­kers like to tar­get: shows like ​"Dis­ney on Ice" that are very pop­u­lar and fea­ture mul­ti­ple per­for­mances, spread out over mul­ti­ple days. And of course, bro­kers will watch sales close­ly and if a per­for­mance starts to near sell out, they will move prices up and up and up!
Exor­bi­tant­ly-Priced Tick­ets From a Very Con­vinc­ing Imitator
The most com­mon prac­tice is a tick­et bro­ker who ​"spoofs" the web­site of a pop­u­lar venue. They make their site look like the venue's site, they have a seat map, and they under­state their own brand in the hopes of fool­ing (spoof­ing) the con­sumer into buy­ing tick­ets from them. The good news here is the tick­ets are usu­al­ly valid, how­ev­er they can be 2,3, even 10 times high­er cost than face val­ue. Anoth­er com­mon prac­tice for bro­kers is to cre­ate the illu­sion that they have bet­ter seats avail­able than what the venue can offer. This is typ­i­cal­ly not the case.
The Gold­en Rule for Avoid­ing Most Spoof­ing Scams
There are a hand­ful of ways live enter­tain­ment venues can teach their con­sumers to look out for tick­et­ing scams. Sim­ply being mind­ful of what to look for can make a huge dif­fer­ence. For exam­ple, though patrons are super excit­ed when they pur­chase tick­ets to the con­cert, event or game of their dreams, imme­di­ate­ly post­ing a pic­ture of their tick­ets on social media is a huge don't! Accord­ing to the Wash­ing­ton Post, ​"fraud­sters can copy your name and bar code from your pho­tos and make forged copies to sell to unsus­pect­ing vic­tims. If the pirat­ed copies get scanned by an atten­dant first, you — even with the real goods — might not be allowed inside the venue." If con­sumers can be trained to do one thing to help elim­i­nate most, if not all, of these spoof­ing scams, it'd be to sim­ply not use search engines such as Google, Bing, or even Craigslist to find event tick­ets! Patrons uti­liz­ing search engines to find tick­ets is the behav­ior bro­kers are count­ing on to pull a fast one. If you search ​"Dis­ney on Ice Seat­tle," you will get a pletho­ra of nation­al bro­kers such as Vivid Seats and/​or Stub Hub, as well as local bro­kers. Even search­ing the venue name (such as ​"the acces­so ShoWare Cen­ter") can result in a long list of tick­et bro­ker sites that are some­times even ranked above that of the venue itself.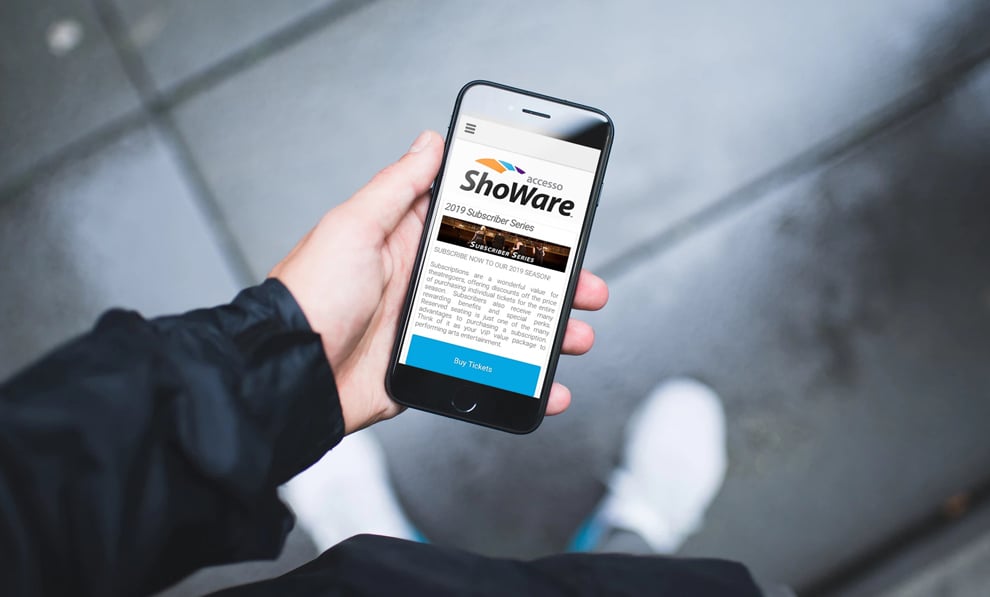 One of the most impor­tant ways cus­tomers can avoid falling vic­tim to tick­et bro­ker spoofs is to know the venue where the event is being held. The Bet­ter Busi­ness Bureau lists pur­chas­ing from the venue itself when­ev­er pos­si­ble as its top tip to any con­sumers who are look­ing to attend a tick­et­ed event. Know­ing the venue makes it eas­i­er to know the direct con­tact infor­ma­tion for that par­tic­u­lar venue. By nav­i­gat­ing direct­ly to a venue's web­site, whether through your email newslet­ter, social media posts or direct URL, min­i­mizes the like­li­hood that con­sumers will fall vic­tim to the tac­tics of a nefar­i­ous mid­dle-man. In stay­ing with our exam­ple, www​.acces​soshoware​cen​ter​.com will pro­duce the cor­rect result every time, as opposed to using a search engine to guide you to the ver­i­fied web page.
What Can You Do About This?
Whether you are a per­form­ing arts cen­ter, the­atre or sports are­na, you should be proac­tive and edu­cate the gen­er­al pop­u­la­tion that buys tick­ets at your venue. Not only is it impor­tant for your patrons to pur­chase tick­ets from your box office, but they also need to know things like the refund pol­i­cy and if there are cer­tain ser­vice fees that are not refund­able. It is always best to get out in front of the sit­u­a­tion with proac­tive mes­sag­ing, instead of look­ing to calm the frus­tra­tions of a con­sumer that has fall­en vic­tim to a tick­et spoof. Below is an exam­ple of mes­sag­ing to send out peri­od­i­cal­ly to your email list. You can also post a sim­i­lar mes­sage on your web­site and social platforms.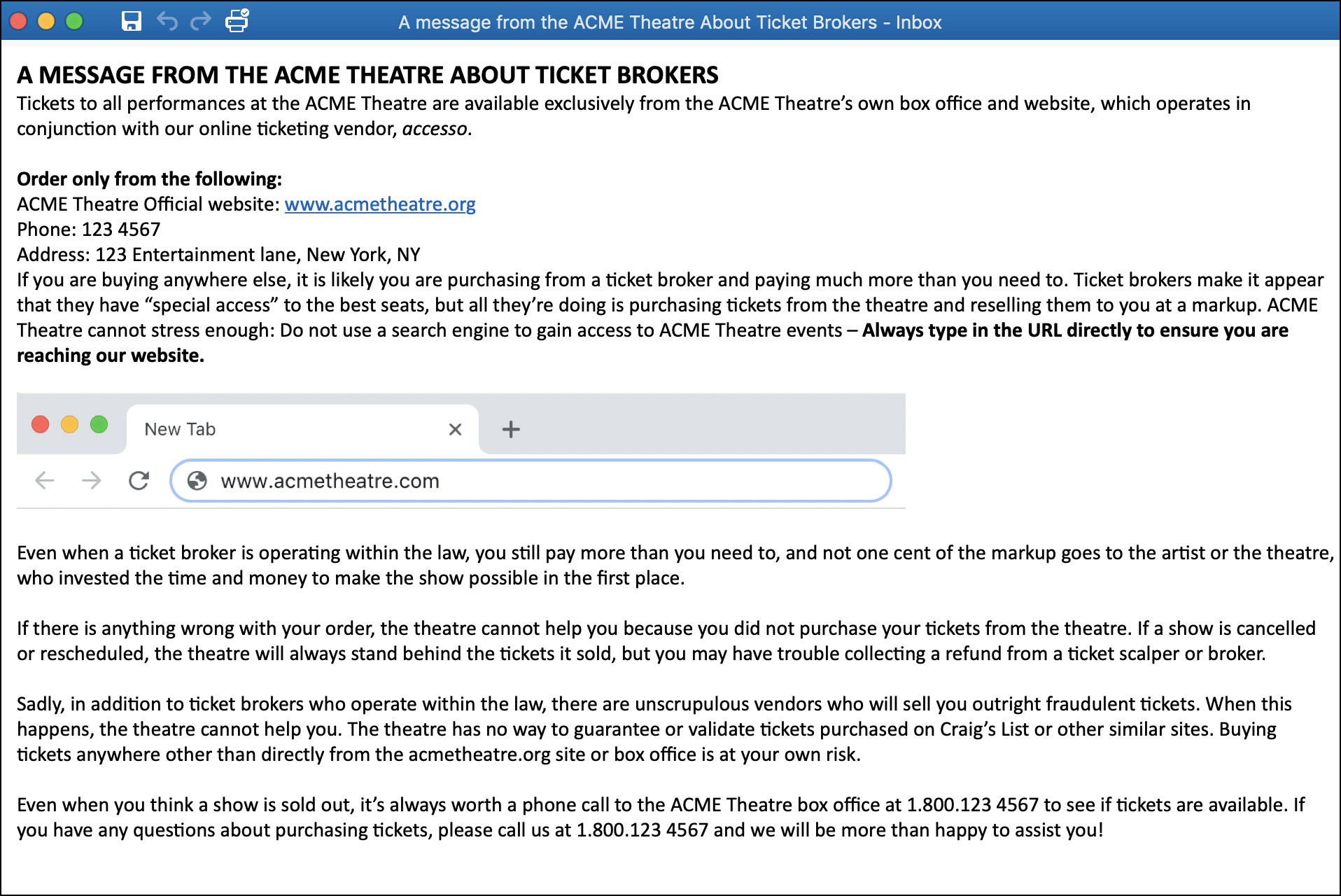 Bro­kered tick­ets that con­sumers mis­tak­en­ly pur­chase can cre­ate a lot of unneed­ed con­fu­sion and frus­tra­tion. Even though the fraud­u­lent tick­ets were not pur­chased through your venue, it can tar­nish the rep­u­ta­tion and brand of your venue in the eyes of poten­tial patrons, despite the issue being com­plete­ly out of the venue's con­trol! A brand's rep­u­ta­tion is based on how their cus­tomers per­ceive the brand in many dif­fer­ent aspects, and when some­one pur­chas­es these bro­kered tick­ets, brand degra­da­tion can occur. Unfor­tu­nate­ly, it is becom­ing more of a com­mon process for con­sumers to aim all frus­tra­tion towards the venue host­ing the event. Our acces­so ShoWare call cen­ter agents report that con­sumers seem to blame the venue, not the bro­kers who fraud­ed them out of mon­ey or them­selves. It's our hope that if tick­et­ing plat­forms and venues take the time to edu­cate patrons, we can help com­bat the issue of bro­kered tick­ets and ensure that guests have a pos­i­tive expe­ri­ence and a long, loy­al rela­tion­ship with your venue.
To learn more about our acces­so ShoWare box office tick­et­ing solu­tion, con­tact us here or email sales@​accesso.​com.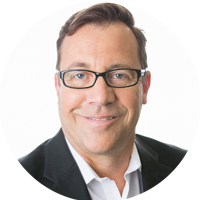 Joe Wettstead – Vice Pres­i­dent Client Ser­vices, acces­so ShoWare
Joe lives in Irvine, Cal­i­for­nia with his wife Eliz­a­beth, and his three kids are close by. He joined the acces­so team in 2009 and has worked in the SaaS indus­try for 25 years. When he's not help­ing clients find unique solu­tions to busi­ness chal­lenges, Joe loves golf­ing, hik­ing, surf­ing, trav­el­ing, wine tast­ing and real­ly tak­ing in all South­ern Cal­i­for­nia has to offer.