accesso Blog Series: Serving Up a Hit Musical to New Audiences with Ingresso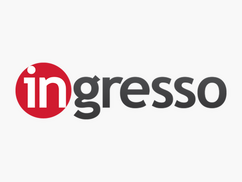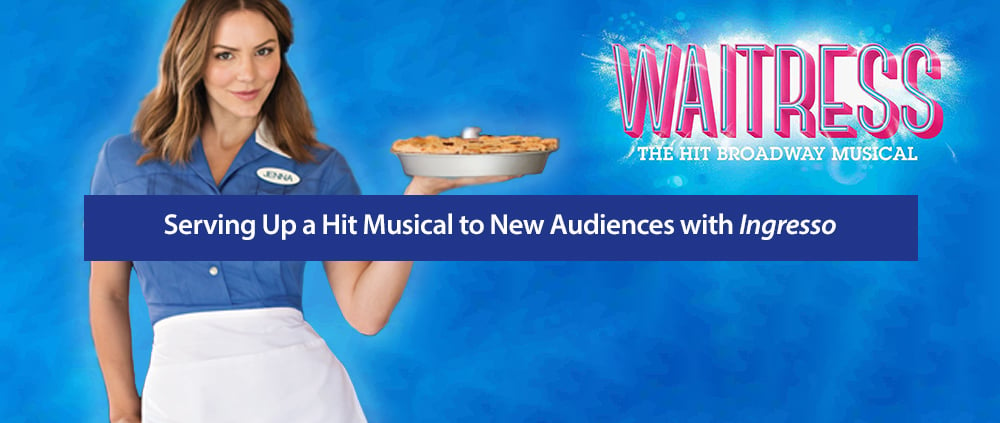 In the the­atre world, con­nect­ing with new audi­ences is extreme­ly reward­ing. Yes, open­ing night per­for­mances and sold-out hous­es are both excit­ing and grat­i­fy­ing, but at the end of the day, there's noth­ing quite as spe­cial as know­ing that you helped an audi­ence mem­ber dis­cov­er a per­for­mance, an idea or sto­ry for the very first time. Our Ingres­so solu­tion is designed to fuel expe­ri­ences just like that by con­nect­ing events to new audi­ences from all around the world. We are pleased to be part­ner­ing with the Adel­phi The­atre in London's West End to intro­duce audi­ences to the Tony Award-nom­i­nat­ed hit musi­cal Wait­ress this year. It's com­mon to hear of shows that promise some­thing for every­one, but Wait­ress has so many dif­fer­ent lay­ers and mes­sages, and car­ries an incred­i­ble back­sto­ry of empow­er­ment that can inspire many peo­ple in dif­fer­ent ways.

Wait­ress blends high­ly mem­o­rable ele­ments of pop (penned by Gram­my-nom­i­nat­ed singer-song­writer Sara Bareilles) with the com­pelling sto­ry of a tal­ent­ed pie-mak­er named Jen­na who works her way through sig­nif­i­cant chal­lenges to achieve her dreams. Faced with the weight of impend­ing moth­er­hood, Jen­na real­izes it is time to final­ly break free of her tox­ic mar­riage, yet she is finan­cial­ly stuck and emo­tion­al­ly manip­u­lat­ed. She learns of a pie con­test and sees it as her big chance to leave, but of course, things don't always go as planned (in fact, some­times life is unex­pect­ed­ly sweet­er). The show fea­tures uplift­ing mes­sages of friend­ship, encour­age­ment and inner strength, and we fol­low not only the sto­ry of Jen­na but also of her beloved and hilar­i­ous­ly comedic co-workers.
When it debuted on Broad­way in 2016, Wait­ress was notably the first musi­cal to fea­ture women in all four major cre­ative posi­tions: book (Jessie Nel­son), music and lyrics (Bareilles), direct­ing (Tony-win­ner Diane Paulus), and chore­og­ra­phy (Lorin Latar­ro). ​"Women in one cre­ative role, let alone four, are still rel­a­tive­ly rare on Broad­way," writes Joanne Kao for the sta­tis­tics blog FiveThir­tyEight, ​"Over the last 41 sea­sons of Broad­way musi­cals, only about 1 in 10 direc­tors, authors or com­posers, and 1 in 4 chore­o­g­ra­phers, have been female. By con­trast, 255 musi­cals, or 52 per­cent, have had four men in their top cre­ative roles."
It's also the first time that a show fea­tur­ing an all-female cre­ative team will be per­formed on London's West End, and Bareilles is thrilled: ​"I can­not con­tain my excite­ment that we will be bring­ing Wait­ress to the West End!! This is a dream come true," she shared in a state­ment shared by Play­bill, ​"We are so proud of this beau­ti­ful show, and can't wait to share the sto­ry of Jen­na with a whole new audi­ence and wel­come them into the world of Wait­ress with open arms and plen­ty of pie." US singer Katharine McPhee will be per­form­ing the role of Jen­na, ful­fill­ing a dream of her own, one that she's had since see­ing Cats: The Musi­cal on her first trip to Lon­don as a twelve-year-old.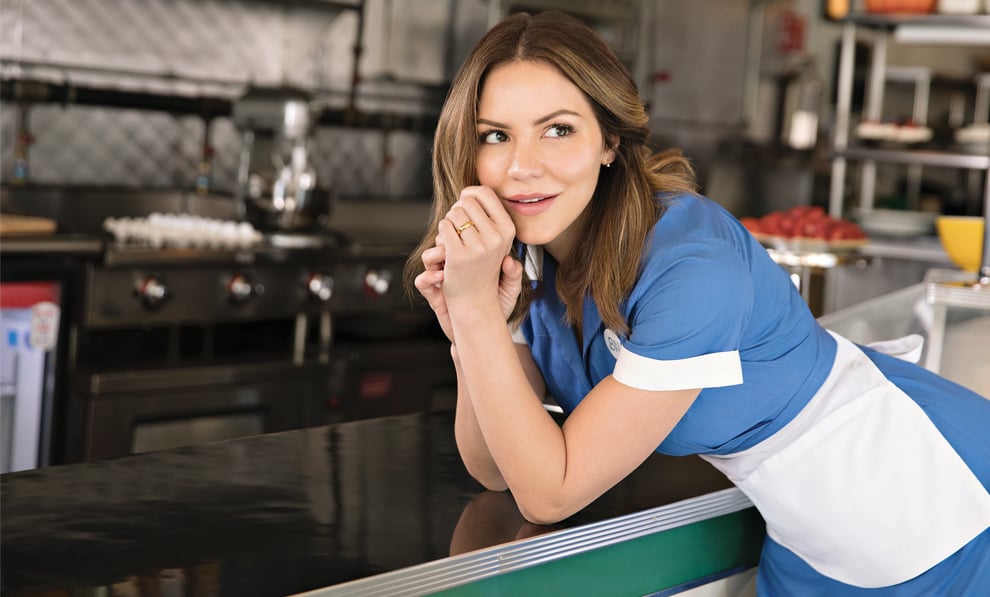 The orig­i­nal sto­ry of Wait­ress, as told by Adri­enne Shelly who wrote and act­ed in the film, was deeply per­son­al. As Devin Gor­don of Newsweek writes, it was ​"about a gift­ed woman find­ing her place in the world, and in that regard it is a metaphor for Shelly's own life." Shelly had been an actor and film­mak­er with a long career span­ning two decades. When she became preg­nant with her daugh­ter, she feared it would be impos­si­ble to bal­ance the demands of moth­er­hood and her cre­ative career. After her daugh­ter was born, she fell deeply in love, and like so many women before her, she found a way to not only bal­ance work and moth­er­hood but to thrive in doing so.
"One of the things she was most excit­ed about was the fact that she had done this as a woman and as a moth­er," said Wait­ress pro­duc­er Michael Roiff, ​"She was an amaz­ing mum, and I remem­ber one day when we had watched a cut of the film, she turned around and said: ​"Look, you can do it. Soci­ety wants to tell you that you have to choose, but you don't have to choose."
I had the plea­sure of see­ing Wait­ress when the tour­ing pro­duc­tion came through Los Ange­les last sum­mer, and I found it to be a mem­o­rable expe­ri­ence. Dur­ing inter­mis­sion, I met an eleven-year-old girl who dreams of being an actress some­day – much like a young Katharine McPhee see­ing Cats in Lon­don. She has an agent already (because, remem­ber, this is L.A.) but hadn't been cast in any­thing yet, unlike some of her friends. She shared that this was one of the best musi­cals she's seen and she absolute­ly loved the music and the humor. I found those ele­ments enjoy­able too, but my per­spec­tive on the show was much dif­fer­ent. The group of comedic co-work­ers remind­ed me so much of my own tight-knit group of friends across the coun­try (so to me, those scenes felt bit­ter­sweet). More impor­tant­ly, though, it was the first musi­cal I'd seen since my daugh­ter was born, on my very first week­end away from her, so the themes of par­ent­hood and achiev­ing your dreams res­onat­ed with me in a major way. After the show, I won­dered if the girl I met felt inspired by the show's mes­sage to fol­low your dreams, to dis­cov­er your tal­ents and stay true to one­self. That's the beau­ty of the­atre, in my opin­ion – the same core mes­sage can res­onate with dif­fer­ent peo­ple in a mul­ti­tude of ways, cre­at­ing dif­fer­ent expe­ri­ences and inspir­ing new ideas, yet instill­ing a sense of connection.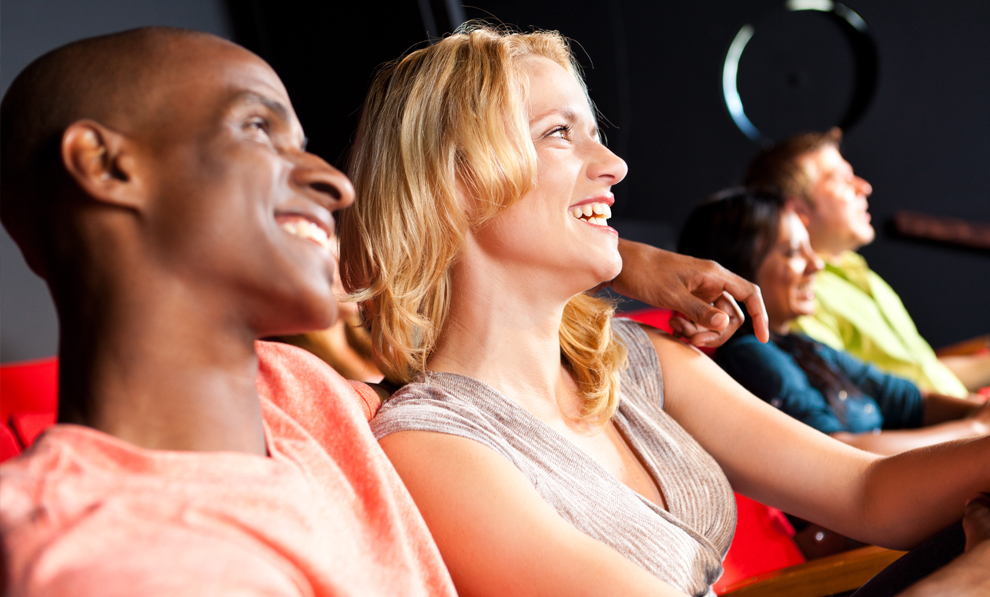 At acces­so, we are help­ing new audi­ences dis­cov­er new expe­ri­ences and sto­ries through our Ingres­so dis­tri­b­u­tion sys­tem, which sells tick­ets for thou­sands of the best events and attrac­tions on earth. Ingres­so is a tech­nol­o­gy plat­form that oper­ates as a seam­less exten­sion of your box office, allow­ing for low-cost dis­tri­b­u­tion of tick­ets in a dynam­ic, glob­al mar­ket­place. We work with venues as diverse as the­atres, ski areas, attrac­tions and muse­ums in order to extend the reach of their events with tru­ly min­i­mal effort. Our dis­tri­b­u­tion net­work is con­stant­ly grow­ing and includes a diverse vari­ety of trav­el sites (OTAs, trav­el agents, air­lines, hotels), eCom­merce sites (local, online retail and media) and B2C part­ners (retail and affil­i­ates). In fact, we recent­ly announced strate­gic part­ner­ships with Google and Groupon.
How exact­ly does Ingres­so work? We have built an API that can con­nect into any tick­et­ing sys­tem, includ­ing our acces­so ShoWare reserved seat tick­et­ing solu­tion, our acces­so Pass­port eCom­merce solu­tion and many oth­ers out­side of the acces­so suite. Our clients can choose which dis­tri­b­u­tion part­ners they want to work with, and they have full con­trol of tick­et inven­to­ry at all times. Venues can track sales in real time, access report­ing ana­lyt­ics and set­tle in what­ev­er way works best for them. We also offer a full white-label solu­tion, that is test­ed and built to max­i­mize con­ver­sions and can be ful­ly adapt­able to a venue's site and sales strategy.
Our Ingres­so solu­tion has a direct con­nec­tion to the Adelphi's tick­et­ing sys­tem and has cur­rent­ly sold over £8m worth of tick­ets for their shows. Since Ingres­so launched in 2011, we have facil­i­tat­ed sales by our own B2C brands and API con­nect­ed dis­trib­u­tors of over 7 mil­lion tick­ets with a total val­ue of £375m. Over £23m that total val­ue has been for musi­cals like Wait­ress.
Pre­views of Wait­ress at the Adel­phi The­atre (spon­sored by Amer­i­can Air­lines) will begin Feb­ru­ary 8, 2019, before the offi­cial open­ing on March 7th. To learn more about our Ingres­so solu­tion, con­tact us here or email sales@​ingresso.​co.​uk.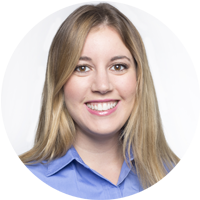 Katie Reil­ly — Dig­i­tal Mar­ket­ing Manager
Katie joined the acces­so team in 2016 and man­ages our con­tent and pres­ence online. She began her career work­ing in mar­ket­ing and group sales for the old­est con­tin­u­ous­ly-oper­at­ed the­atre in the Unit­ed States where she rou­tine­ly played intri­cate games of ​"Seat­ing Chart Tetris" to accom­mo­date large school groups. When she's not strate­giz­ing our dig­i­tal cam­paigns, Katie enjoys trav­el­ing, chas­ing around her tod­dler with her hus­band and their fluffy orange cat, and keep­ing the local Whole Foods cheese counter in busi­ness.