accesso Client Seminar 2018: A Week of Learning in Paradise!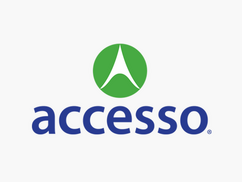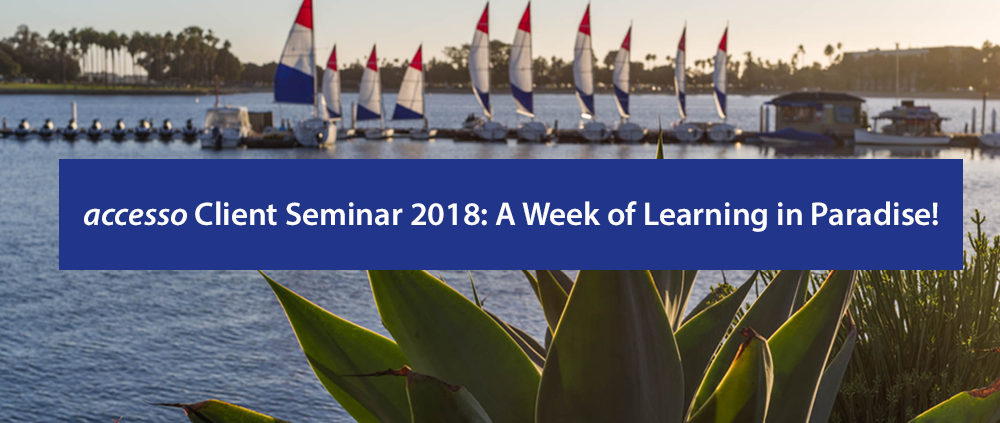 We've just returned from a week of learn­ing, net­work­ing and fun at our 2018 acces­so Client Sem­i­nar in sun­ny San Diego, and based on the feed­back we've received, this has been one of the best years yet! It was so much fun to catch up with famil­iar faces and to meet some of our new clients. This year, we were pleased to wel­come over 225 atten­dees from 106 venues for inten­sive soft­ware train­ing, col­lab­o­ra­tive round­table ses­sions, breezy beach­side break­fasts and trop­i­cal-themed evening events. Read on to dis­cov­er more high­lights from our week in paradise.
Wel­come to Paradise
"The Sem­i­nar this year was out­stand­ing! I thought San Diego was beau­ti­ful – loved it!"
This year's acces­so Client Sem­i­nar was held at the Par­adise Point Resort & Spa, a 44-acre island resort in the heart of San Diego fea­tur­ing lush gar­dens, tran­quil lagoons and a mile of sandy beach. We were promised per­fect weath­er and stun­ning sun­sets, and true to form, San Diego did not dis­ap­point! After our first day of class­es, we cel­e­brat­ed the begin­ning of our time togeth­er with a ​"Wel­come to Par­adise" Hap­py Hour on the ter­race. Mem­bers of the acces­so team min­gled with clients from all across the leisure and enter­tain­ment indus­try, from ski resorts to muse­ums, aquar­i­ums, zoos, attrac­tions and more.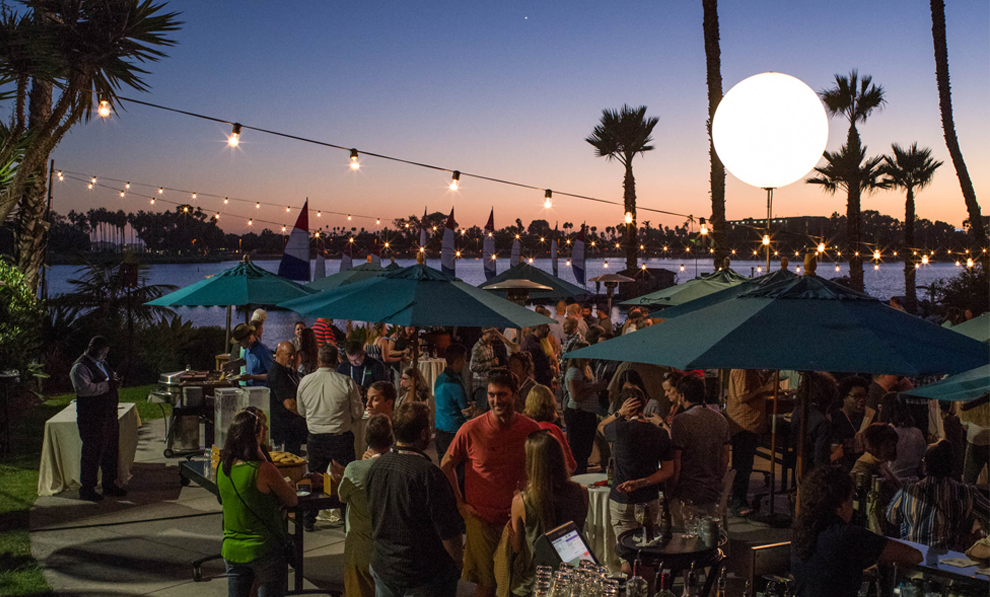 Tues­day Keynote
This was a year of tran­si­tions at acces­so, with long­stand­ing Pres­i­dent of acces­so Sir­iusware, Mark Dane­mann, mov­ing into the role of Chief Infor­ma­tion Offi­cer, and our for­mer Chief Tech­nol­o­gy Offi­cer, Eric Petru­sic, tak­ing the helm as Pres­i­dent of our acces­so Tick­et­ing Group. Many of our clients have come to know Mark from over two decades of Client Sem­i­nars, and he did not want to miss the oppor­tu­ni­ty to recap how far we have come togeth­er and intro­duce the group to Eric, so for the very first year, the keynote was joint­ly presented.
Mark kicked things off with a pic­ture from the very first sem­i­nar over 23 years ago, and he remind­ed us that the week was about three main things: con­tact, con­nect­ing and con­tent. He talked about how the acces­so Client Sem­i­nar brings togeth­er clients from so many dif­fer­ent indus­tries, from muse­ums to ski areas, attrac­tions and more, and he shared insight into his new role at acces­so. He then turned the pre­sen­ta­tion over to Eric, who talked about his expe­ri­ences devel­op­ing our acces­so Pass­port eCom­merce solu­tion, his love of the leisure and enter­tain­ment indus­tries and his mem­o­ries of tak­ing his Flori­da-based fam­i­ly up to Penn­syl­va­nia for a ski trip. He out­lined the vision for our new acces­so Tick­et­ing Group (which includes acces­so Sir­iusware, acces­so Pass­port, acces­so ShoWare and our Ingres­so tick­et­ing dis­tri­b­u­tion solu­tion) and the oppor­tu­ni­ties we see mov­ing forward.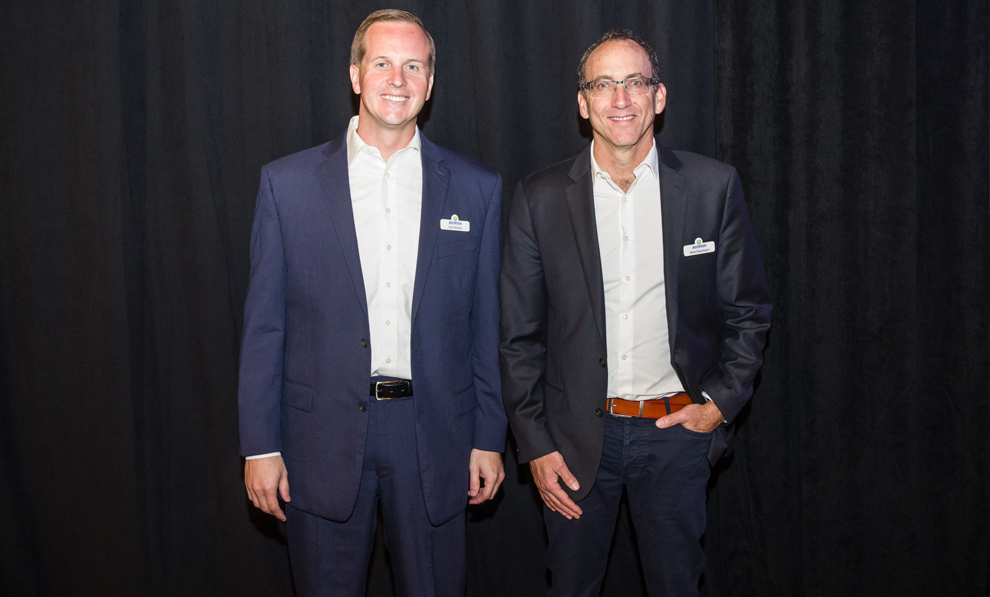 Ses­sion Highlights
"I came with a list of ques­tions and after the first day, I had at least a third of them answered! All of the instruc­tors have been fan­tas­tic, and I know that when I get back I can make use­ful changes in my system."

We had near­ly 100 ses­sions this year includ­ing lec­ture class­es, pan­els, round­ta­bles and more. Some of our oth­er pop­u­lar ses­sions includ­ed ​"What's New in acces­so Sir­iusware," and ses­sions about our new Ingres­so and TE2 solu­tions. We debuted our new scan­ner with an inter­ac­tive game, and clients were able to check out our brand-new Food & Bev­er­age kiosk in-between sessions.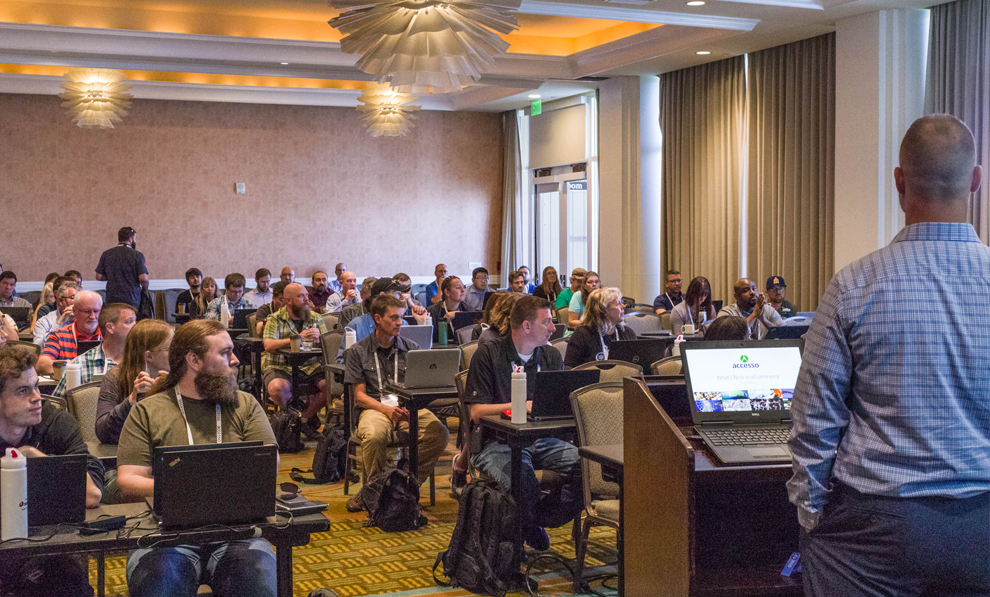 "Mak­ing new friends and con­nec­tions was the high­light for me, as it taught me that there are oth­ers that might have the same chal­lenges and some of them have solu­tions I couldn't have come up with alone."

After last year's Client Sem­i­nar, you told us that you want­ed more oppor­tu­ni­ties to net­work and col­lab­o­rate with col­leagues, and we lis­tened! We had 20 round­ta­bles and pan­els this year, includ­ing indus­try-spe­cif­ic ses­sions for muse­ums, ski and attrac­tions, as well as ses­sions on Hard­ware & IT, Cred­it Cards, Retail, Scan­ning and Gates, Dynam­ic Pric­ing and even a ses­sion for New Users of acces­so Sir­iusware. As always, our ​"Time With An Expert" ses­sions were very pop­u­lar, allow­ing clients to receive a per­son­al­ized con­sul­ta­tion to help with busi­ness challenges.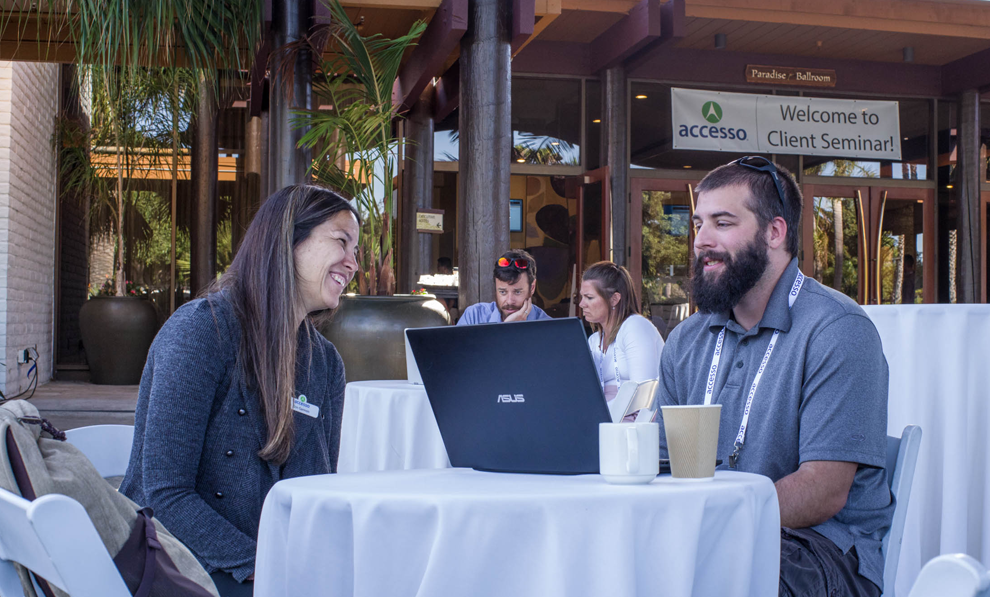 Wednes­day Night Lei'd Back Luau
"Friend­ly hosts, great meals, infor­ma­tive ses­sions and every­thing was nice­ly organized!"
In a week that is jam-packed with learn­ing, Pow­er­Point pre­sen­ta­tions and soft­ware demon­stra­tions, our Wednes­day night event pro­vides an oppor­tu­ni­ty to relax, unwind and have some fun! This year, we took over the resort's Main Pool and trans­formed it into a trop­i­cal par­adise with Poly­ne­sian-inspired food, drinks and enter­tain­ment. Every­one donned their finest Hawai­ian shirts and enjoyed a fresh selec­tion of trop­i­cal tunes from an amaz­ing steel drum duo. It wasn't long before Tyler Goforth (acces­so Report­ing & Inte­gra­tion Soft­ware Engi­neer) and Andrew Glas­feld (acces­so Report­ing Team Lead) kicked off the first round of our lim­bo con­test. ​"How low can you go?" The answer is – sur­pris­ing­ly low! We also had a Hawai­ian-themed pho­to booth up and run­ning, and after we had our fill of Poly­ne­sian hors d'oeuvres, many of us migrat­ed out to the dance floor while oth­ers sat and chat­ted around a cozy campfire.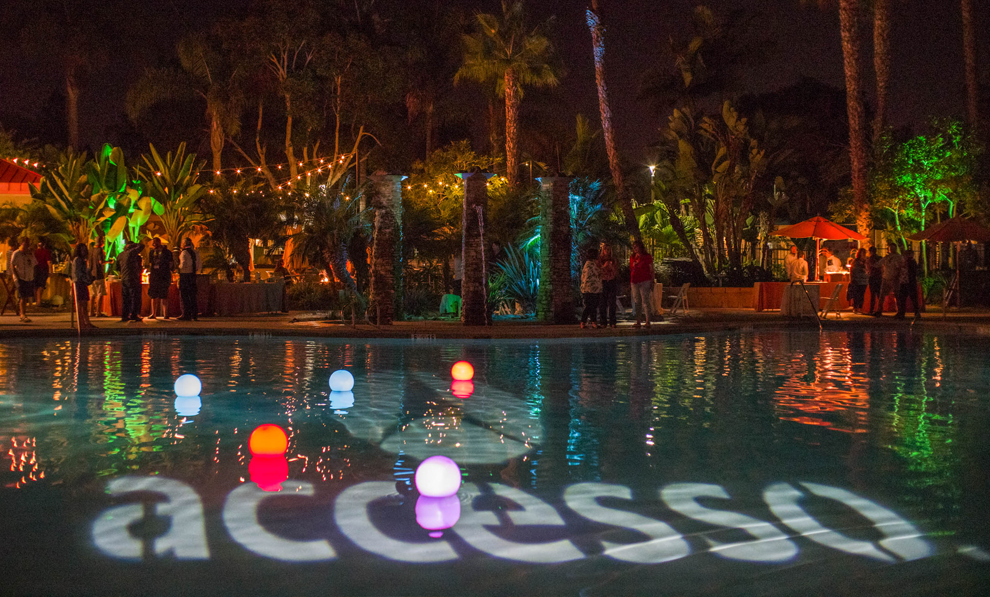 Thank you to our Sponsors!
"We are proud to have the oppor­tu­ni­ty to work with Acces­so clients. Get­ting a feel for the new direc­tions the com­pa­ny is tak­ing is awe­some and so is hav­ing the oppor­tu­ni­ty to see some of our clients we don't typ­i­cal­ly see on a reg­u­lar basis!"
We were thrilled to wel­come so many indus­try part­ners to this year's Client Sem­i­nar, and this event could not have been a suc­cess with­out their par­tic­i­pa­tion! Thank you to our event spon­sors, Elavon (Wednes­day night Hawai­ian Luau Par­ty) and SKI­DA­TA (Mon­day night ​"Wel­come to Par­adise"). Thank you to Axess, who spon­sored WiFi through­out the week, and Posi­flex, our Wel­come Bag spon­sor. We are also grate­ful for the sup­port of Kubera Pay­ments, Trans­ac­tion Resources Inc (our Vir­tu­al Machine spon­sor) and Digonex (our Keynote spon­sor). Our atten­dees enjoyed cof­fee and tea breaks spon­sored by 1Risk, Globe Tick­et and Amlon Indus­tries, and we had a refresh­ing hydra­tion sta­tion spon­sored by Rack­space. We also were pleased to wel­come Inntopia, Groupon and Cipher­Lab to meet with clients and staff at ven­dor tables.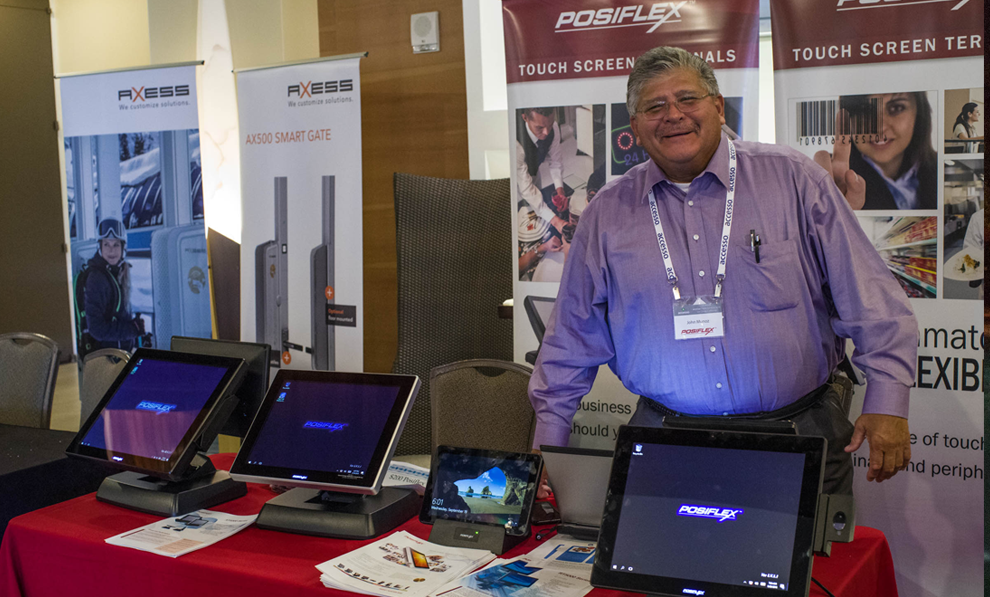 Thank You to Our Clients!
"This was my first sem­i­nar and I've had a great expe­ri­ence. Every­one has been so help­ful and always will­ing to spend the extra time with us."
We are tru­ly grate­ful for all of your feed­back from the event. For some of us on the Client Sem­i­nar team, this was our first sem­i­nar too – and it was tru­ly our plea­sure to get to know many of our amaz­ing clients. Thank you to every­one who shared their per­spec­tives with us, whether it was relat­ed to oper­a­tional chal­lenges or issues fac­ing your indus­try, we could not con­tin­ue to devel­op our prod­ucts in a way that is impact­ful with­out your sup­port. We are also great­ly appre­cia­tive of all who shared feed­back relat­ed to our event. If you missed one of our sur­veys and have some­thing you'd like to add, please email us at seminarregistration@​accesso.​com and we'll add it to our list!
Until Next Time… So Long, and Thanks for all the Fish!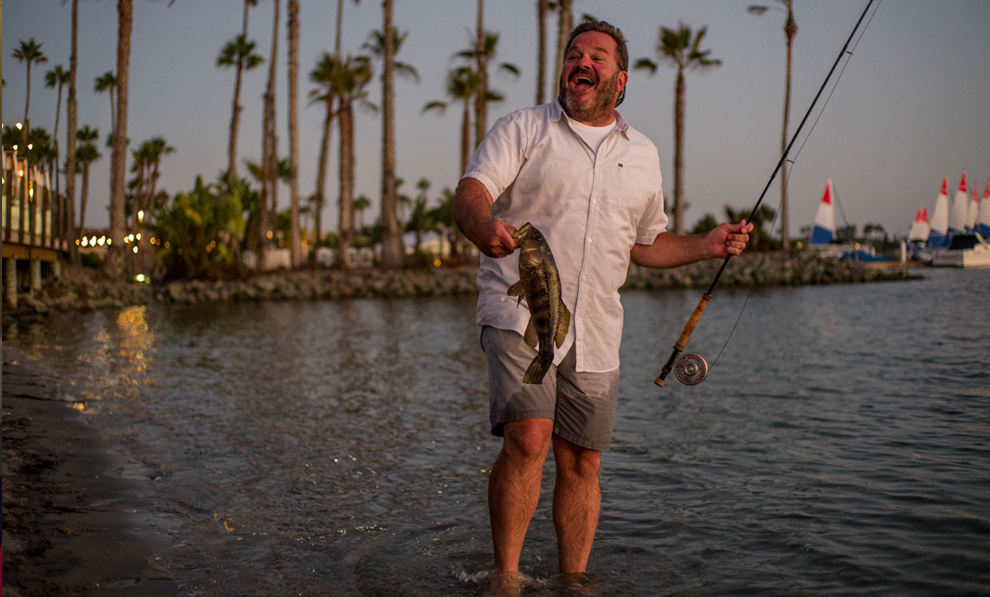 From sun­set walks on the beach to fish­ing in Mis­sion Bay, this year's acces­so Client Sem­i­nar was one to remem­ber! We hope that you thor­ough­ly enjoyed this week of learn­ing and con­nect­ing with one anoth­er, and we can't wait for the adven­tures that await us all next year! Mark your cal­en­dar now for our 2019 acces­so Client Sem­i­nar in Den­ver from Sun­day, Sep­tem­ber 15th – Fri­day, Sep­tem­ber 20th.
- The acces­so Client Sem­i­nar Team