The Secret Ingredient to Exceptional F&B: How Technology Can Make Your Service Sizzle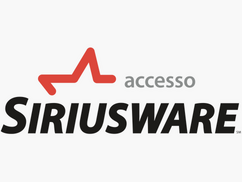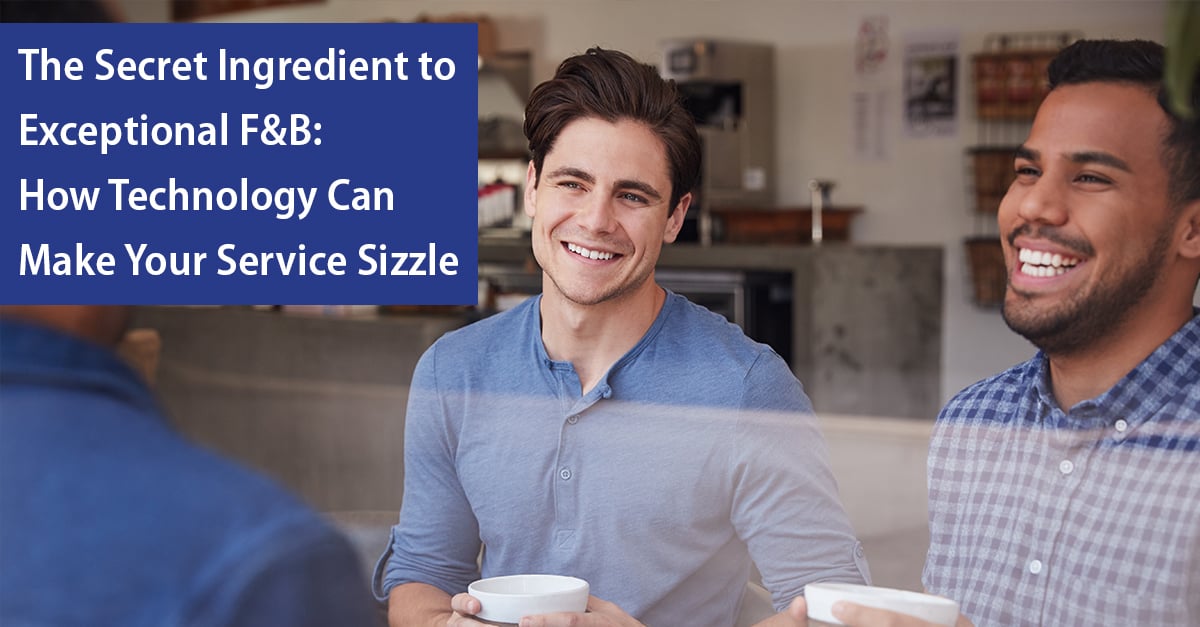 Enhanc­ing the guest expe­ri­ence is crit­i­cal to the suc­cess of your attrac­tion. Under­stand­ing where your orga­ni­za­tion shines and elim­i­nat­ing points of fric­tion can help you curate bet­ter expe­ri­ences that result in high­er spend­ing, pos­i­tive word of mouth and increased guest loy­al­ty. One area that is espe­cial­ly prone to fric­tion is the Food & Bev­er­age sphere: As guests try to expe­ri­ence every­thing you have to offer, wait­ing in line for food can cause undue frus­tra­tion. Guest expec­ta­tions are ris­ing, and with 41% of Quick-Ser­vice Restau­rant oper­a­tors plan­ning on devot­ing more resources to tech­nol­o­gy to improve the guest expe­ri­ence in the next year, expec­ta­tions will only con­tin­ue to grow. These changes can sound daunt­ing, but they don't have to be! By embrac­ing inno­v­a­tive tech­nol­o­gy that empow­ers guests and staff alike, your orga­ni­za­tion can be well-equipped to exceed guest expec­ta­tions. Read on to dis­cov­er what your orga­ni­za­tion needs to know about F&B technology.
Oppor­tu­ni­ties for the Attrac­tions Indus­try
The ​"Con­ve­nience Econ­o­my" is chang­ing the way that guests expe­ri­ence all attrac­tions, from theme parks to ski resorts and zoos. In 2016, Busi­ness Insid­er Intel­li­gence pre­dict­ed that mobile food orders would reach $38 bil­lion by 2020, rep­re­sent­ing a five-year com­pound annu­al growth rate (CAGR) of 57%, and that by 2020, mobile order-ahead will account for 10.7% of all quick-ser­vice restau­rant (QSR) sales. As mobile order­ing becomes the norm with­in the restau­rant indus­try, it's like­ly that your tar­get audi­ence will be accus­tomed to pick­ing the per­fect meal from their phones. And, as more con­sumers embrace mobile options for food and bev­er­age pur­chas­ing, attrac­tions oper­a­tors would be wise to fol­low the trend.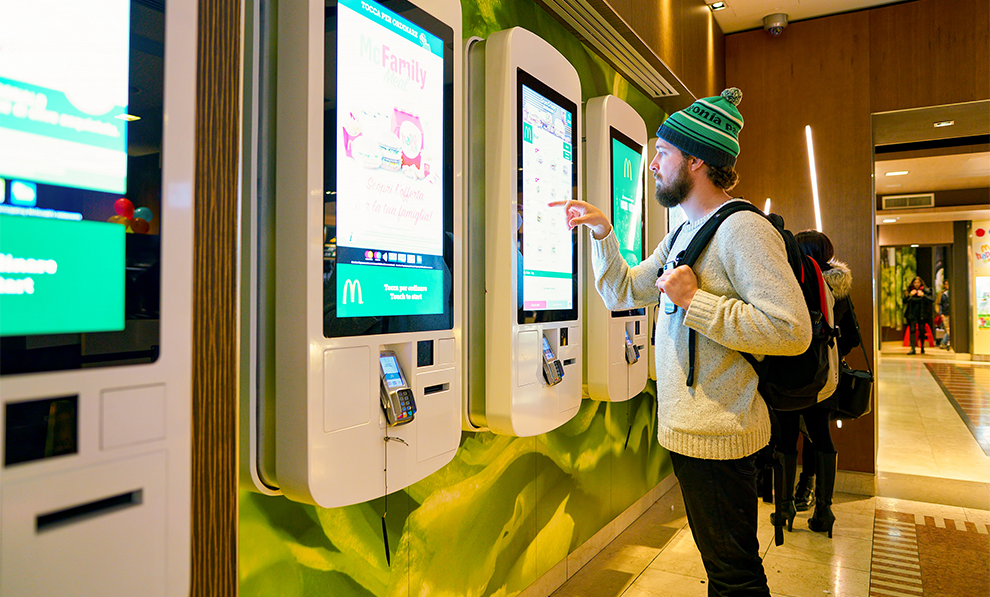 In addi­tion to mobile order­ing, self-serve kiosks are rev­o­lu­tion­iz­ing the way guests think about their F&B expe­ri­ence. Cus­tomers love the effi­cien­cy and accu­ra­cy of kiosks: 79% of cus­tomers say they believe that restau­rant kiosks make their expe­ri­ence more con­ve­nient (Nation­al Restau­rant Asso­ci­a­tion). Major restau­rant play­ers in the Unit­ed States QSR indus­try start­ed exper­i­ment­ing with kiosks in 2006, but com­pared to our over­seas coun­ter­parts, adop­tion had been rel­a­tive­ly slow until 2018. Today, oper­a­tors are real­iz­ing the ROI, with 41% of the indus­try using kiosks cur­rent­ly, and invest­ments in kiosks expect­ed to grow to $31.32 bil­lion by 2024. A par­tial list of major play­ers embrac­ing kiosks includes:
McDonald's, where

7

in

10

McDonald's loca­tions with­in Texas, Flori­da and Mary­land are equipped with self-ser­vice kiosks. The com­pa­ny has been adding them at a rate of

1

,

000

stores per quar­ter. McDonald's has also made its third invest­ment in a tech­nol­o­gy com­pa­ny this year, acquir­ing arti­fi­cial intel­li­gence com­pa­ny Apprente in Sep­tem­ber. An ear­li­er acqui­si­tion, Dynam­ic Yield, allows loca­tions to ana­lyze fac­tors like time of day and weath­er to cre­ate menus designed to bet­ter appeal to customers.
Wendy's, with kiosks in two-thirds of their restau­rants, as well as deliv­ery ini­tia­tives in process.
Yum! Brands, with

KFC

, which plans to have

5

,

000

restau­rants out­fit­ted with kiosks by

2020

, and Taco Bell which plans to add kiosks to all

US

restau­rants by the end of

2019

.
Restau­rant Brands Inter­na­tion­al (Burg­er King, Tim Hor­tons, Popeyes), which report­ed­ly is play­ing ​

"

catch up" this year with their ​

"

Burg­er King of Tomor­row" ini­tia­tive that is ​

"

focused on build­ing a dig­i­tal­ly inte­grat­ed expe­ri­ence for their guests," accord­ing to

CEO

Daniel Schwartz (Restau­rant Busi­ness).
Pan­era Bread, which has long invest­ed in tech­nol­o­gy that reduces fric­tion and increas­es engage­ment, debuted their mobile app in

2014

and added kiosks to the mix in the fol­low­ing years. Cur­rent­ly, dig­i­tal sales com­prise

35

% of their busi­ness with over

1

.

7

mil­lion dig­i­tal orders placed each week (Forbes). Aside from ris­ing cus­tomer expec­ta­tions, what's dri­ving this rapid growth? Make no mis­take, this tech­nol­o­gy is proven to prof­it, not only in the long term but imme­di­ate­ly: for exam­ple, one study shows that kiosks often boost sales as much as

15

 – 

30

% (

QSR

Mag­a­zine).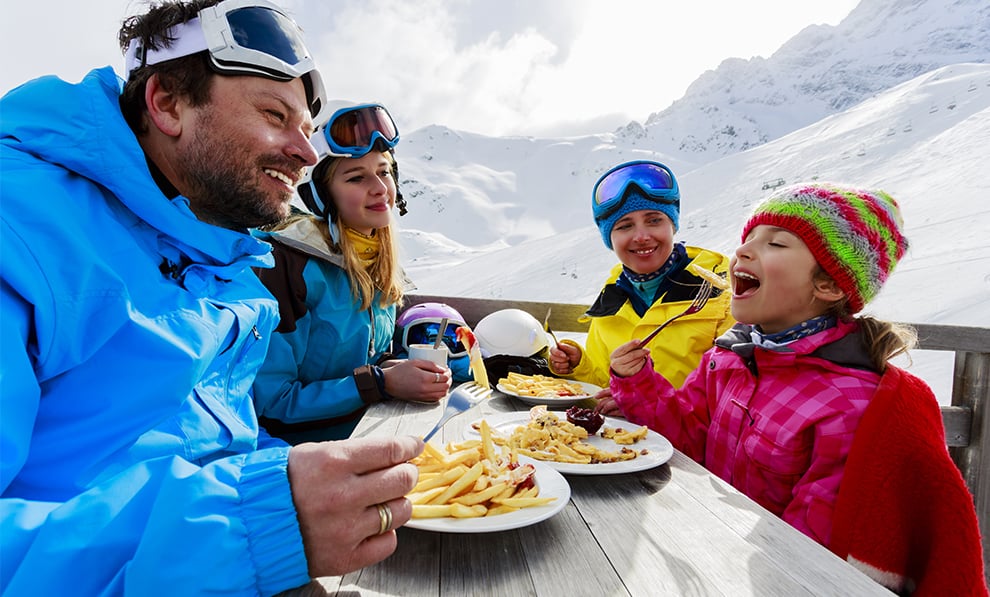 Pow­er to the (Hun­gry) Peo­ple: Mobile Order­ing and Self-Serve Kiosks
Both mobile and kiosk order­ing solu­tions rep­re­sent a broad­er shift towards guest empow­er­ment as a whole, which is the key dri­ver behind the Con­ve­nience Econ­o­my. Using F&B tech­nol­o­gy, you can allow your guests more agency in curat­ing exact­ly the type of expe­ri­ence they desire, reduc­ing fric­tion and max­i­miz­ing sat­is­fac­tion. In par­tic­u­lar, kiosks and mobile apps can empow­er your guests to:
Gain knowl­edge of restau­rant options: Ever set­tled for one type of cui­sine because it was right in front of you, only to dis­cov­er a more favor­able option a short dis­tance away? Frus­trat­ing, right? How about coor­di­nat­ing a meal for a group with diverse taste pref­er­ences – would­n't it be nice to have all of the options at your fin­ger­tips so that you can plan ahead, divide and con­quer? Cus­tomers want to be ​

"

in the know," and a mobile app gives them the pow­er to make eas­i­er and faster deci­sions that are ulti­mate­ly more satisfying.
Explore the menu at their own pace: No more squint­ing to read menu posters and feel­ing rushed when you final­ly reach the front of the line! Mobile apps bring menus to the palm of your guest's hands, allow­ing them to research and plan their meal well in advance.
Cus­tomize to their heart's con­tent: It's not always fea­si­ble for your wall signs to dis­play the myr­i­ad of ways that your guests can cus­tomize their orders, whether with spe­cif­ic top­pings or even the abil­i­ty to ask for light, medi­um or extra ketchup. With kiosks and mobile apps, you can let your guests cre­ate more per­son­al­ized orders that are more satisfying.
Access and claim up-sell and cross-sell offers: ​

"

Would you like fries with that?" Believe it or not, some cus­tomers are less inclined to take advan­tage of up-sell oppor­tu­ni­ties when order­ing in per­son because they feel judged, accord­ing to research by Till­ster. When the same offer is pre­sent­ed by a mobile app, it reduces order anx­i­ety, which is proven to lift sales (Forbes). Fur­ther­more, mobile apps (as well as kiosks) give oper­a­tors more flex­i­bil­i­ty in orches­trat­ing up-sells, whether by exper­i­ment­ing with dif­fer­ent parts of the menu to show­case or access­ing data to help refine future campaigns.
Choose the best time to vis­it: When used in tan­dem with a loca­tion-based mar­ket­ing ser­vice like The Expe­ri­ence Engine (TE

2

), your guests are empow­ered to find hid­den gems on-prop­er­ty while oper­a­tors strate­gi­cal­ly man­age the flow of vis­i­tors through your attrac­tion. A push noti­fi­ca­tion for a less-busy restau­rant with an ​

"

Order Now" option can be a pow­er­ful motivator.
A word of cau­tion: if you're plan­ning on imple­ment­ing a kiosk or mobile app, beau­ti­ful design and end-user func­tion­al­i­ty are crit­i­cal. In the case of Star­bucks, trans­ac­tions dropped by 2% in late 2016, in part because of prob­lems caused by mobile order­ing. A con­sumer-fac­ing sys­tem is only as good as the staff-fac­ing sys­tem that makes seam­less order ful­fill­ment possible.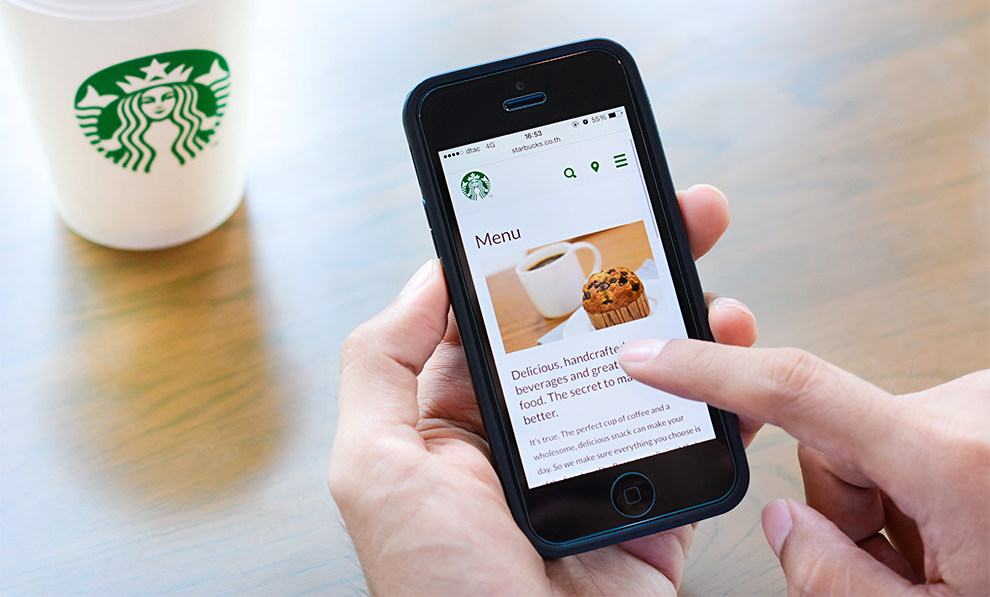 Staff-Fac­ing Tech­nol­o­gy: Opti­miz­ing Your Team Mem­bers' Experience
While much of the dis­cus­sion around apps and kiosks has focused on the guest per­spec­tive, it's impor­tant to note the ways in which F&B tech­nol­o­gy can help your orga­ni­za­tion pro­vide a bet­ter work­ing envi­ron­ment for your team members.
Kiosks and Mobile Apps
Kiosks and auto­mat­ed tech­nol­o­gy do have one neg­a­tive con­no­ta­tion that can some­times be very alien­at­ing: the threat of replac­ing authen­tic, human inter­ac­tions (and work­ers) with robots. Indeed, many cus­tomers were his­tor­i­cal­ly reluc­tant to embrace kiosks due to these asso­ci­a­tions (hence the slow­er adop­tion curve), but cus­tomer sen­ti­ment is quick­ly chang­ing: a 2018 poll by MSN found that 78% of cus­tomers were less inclined to vis­it a restau­rant with kiosks, but research from 2019 shows that 65% of cus­tomers now say they are more inclined to vis­it a restau­rant with kiosks (Forbes).
It's impor­tant to view inno­v­a­tive F&B tech­nol­o­gy not as a way to cut staff mem­bers, but rather, as an oppor­tu­ni­ty to pro­vide your staff with more cre­ative, inter­ac­tive and ful­fill­ing work. When staff are no longer bogged down with cer­tain food process­es, they can ded­i­cate their efforts to high­er-val­ue areas:
Greet­ing customers
Help­ing them nav­i­gate menus
Mak­ing recommendations
Help­ing oth­er depart­ments dur­ing peri­ods of high demand

Intu­itive Point-of-Sale Solu­tions
Great tech­nol­o­gy can have untold impact on the peo­ple who ensure your attrac­tion runs smooth­ly on a dai­ly basis, and point-of-sale tech­nol­o­gy is no excep­tion. From train­ing to dai­ly use, a point-of-sale solu­tion that is intu­itive and easy to use is essen­tial for your staff.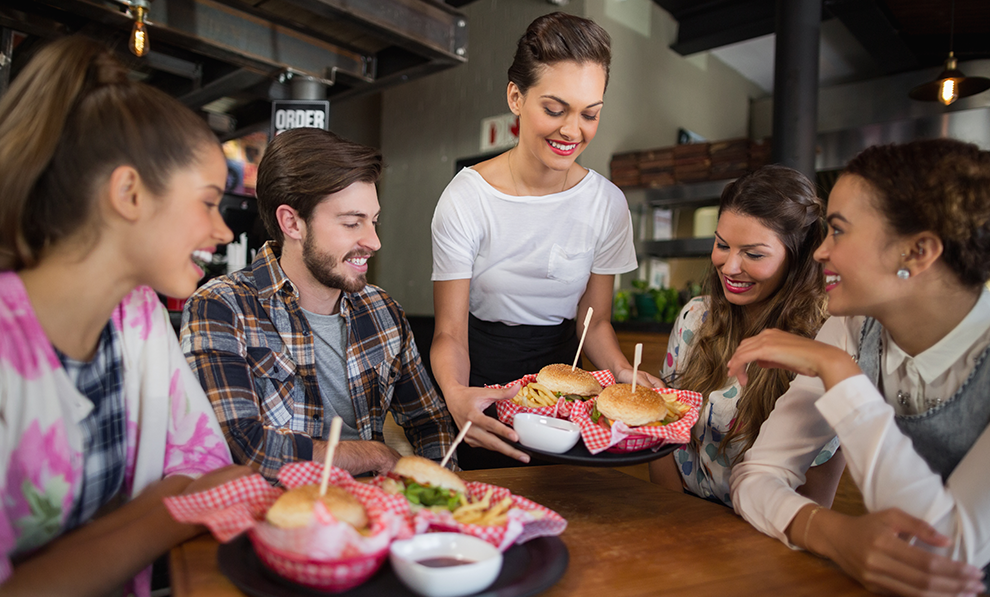 For exam­ple, our acces­so Sir­iusware Food & Bev­er­age ser­vice mod­ule cre­ates a spe­cial­ized inter­face of but­ton-dri­ven menus that make trans­ac­tions easy and intu­itive for oper­a­tors. All the essen­tial food ser­vice fea­tures are built in, includ­ing tip man­age­ment, table man­age­ment and kitchen/​bar print­ing, and end-of-day rec­on­cil­i­a­tion for both cashiers and wait staff is sim­ple and secure.
While it might sound like a triv­ial ben­e­fit, the pre­cious sec­onds saved from stream­lin­ing process­es will reduce the strain on your employ­ees and pre­vent burnout. When you con­sid­er the costs asso­ci­at­ed with high turnover, this can be a major ben­e­fit. Fur­ther­more, sim­pli­fy­ing your staff-fac­ing tech­nol­o­gy across appli­ca­tions can also elim­i­nate much of the cost asso­ci­at­ed with cross-train­ing employ­ees for job func­tions across your attrac­tion. A sin­gle, cohe­sive point-of-sale solu­tion pro­vides oper­a­tors a tremen­dous advan­tage when it comes to train­ing employ­ees to per­form dif­fer­ent tasks. High­ly cus­tomiz­able solu­tions that uti­lize the same, famil­iar inter­face are key. Using a sys­tem like the acces­so Sir­iusware point-of-sale tick­et­ing sys­tem will allow staff to more eas­i­ly tran­si­tion from one role to anoth­er – such as from front gate tick­et­ing to F&B ser­vice – should the need arise.
Whether it's speedy sales trans­ac­tions or mobile apps, your tech­nol­o­gy can have a major impact on your F&B guest expe­ri­ence. With the right tech­nol­o­gy, you can have con­trol, data and con­fi­dence to make informed deci­sions that will dri­ve rev­enue, oper­a­tional effi­cien­cies and amaz­ing guest expe­ri­ences. See how we can help you move beyond the sta­tus quo and cre­ate con­nect­ed guest expe­ri­ences through technology.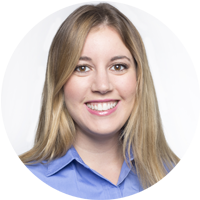 Katie Reil­ly — Dig­i­tal Mar­ket­ing Manager

Katie joined the acces­so team in 2016 and man­ages our con­tent and pres­ence online. She began her career work­ing in mar­ket­ing and group sales for the old­est con­tin­u­ous­ly-oper­at­ed the­atre in the Unit­ed States where she rou­tine­ly played intri­cate games of ​"Seat­ing Chart Tetris" to accom­mo­date large school groups. When she's not strate­giz­ing our dig­i­tal cam­paigns, Katie enjoys trav­el­ing, chas­ing around her tod­dler with her hus­band and their fluffy orange cat, and keep­ing the local Whole Foods cheese counter in business.