People of accesso: Justine Dong – On Growing Up in the Tech Industry, International Presence, and the Love of Travel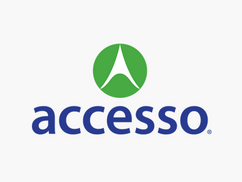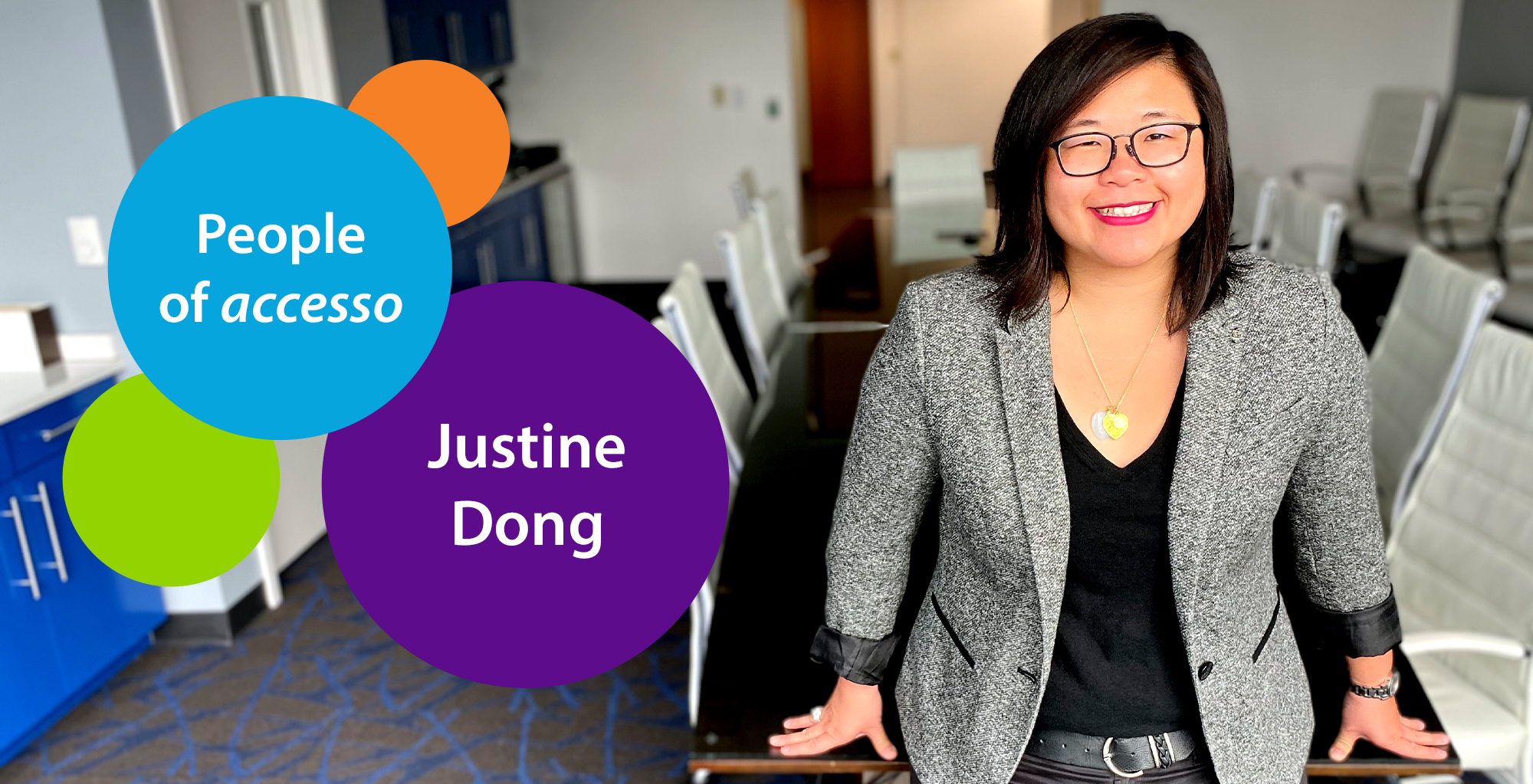 We launched our ​"Peo­ple of acces­so" blog series to high­light some of the phe­nom­e­nal and devot­ed indi­vid­u­als who are inte­gral parts of our acces­so team. The series kicked-off took us through the jour­ney of our Direc­tor of Euro­pean Tick­et­ing Oper­a­tions Robin Good­child and recent­ly intro­duced you to our Prod­uct Own­er of Tick­et­ing Research and Devel­op­ment Valerie Wieren­ga.
One of the many ben­e­fits of employ­ing a diverse team is that employ­ees can often use what they've learned through­out pre­vi­ous jobs, life expe­ri­ences and edu­ca­tion to bring valu­able and unique insights when solv­ing prob­lems and work­ing to improve the busi­ness. acces­so Glob­al Imple­men­ta­tion Direc­tor Jus­tine Dong is a per­fect exam­ple. Hav­ing spent the last 7 years with acces­so, her pas­sion, pro­fes­sion­al­ism and appetite for adven­ture have made her an invalu­able part of our team. Recent­ly, we sat down with Jus­tine to learn more about her time in the indus­try, what changes she's seen over the years, and the impor­tance of expe­ri­enc­ing oth­er cultures.
A Grow­ing Pas­sion for Technology
Jus­tine joined the acces­so team when there were few­er than 30 employ­ees in the com­pa­ny. ​"I've grown up at Acces­so," she said, ​"I start­ed as a Client Ser­vices Asso­ciate in 2012 and have held 5 dif­fer­ent posi­tions since." From her begin­nings as part of the acces­so Oper­a­tions team to man­ag­ing the glob­al roll­out for one of our most val­ued inter­na­tion­al part­ners, Jus­tine has been a huge part of accesso's globalization.
Today, she man­ages teams in the Unit­ed States and the Unit­ed King­dom, and is also work­ing on mul­ti­ple Asia-Pacif­ic roll­out projects. Her team of imple­men­ta­tion man­agers and spe­cial­ists are tasked with vis­it­ing each new client loca­tion to deter­mine require­ments, speak­ing with key client stake­hold­ers and help­ing each prop­er­ty tran­si­tion to uti­liz­ing our acces­so Pass­port solu­tion. These require­ments are often ful­ly end-to-end, which includes onsite tick­et­ing, eCom­merce, kiosks and more.
Justine's edu­ca­tion­al back­ground has always sup­port­ed her inter­est in glob­al busi­ness, which served her well when she became the ded­i­cat­ed North Amer­i­ca Client Ser­vices Man­ag­er for Mer­lin Enter­tain­ments in 2014. In fact, she has earned an MBA in Finance and Oper­a­tions & Tech­nol­o­gy Man­age­ment. ​"I actu­al­ly worked Finance before com­ing here," she said, ​"and I took the oppor­tu­ni­ty at Acces­so to get my foot in the door at the field that I was tru­ly pas­sion­ate about. I had no idea I'd be able to use any of my degrees in this role when I first applied to this ​'small tech­nol­o­gy com­pa­ny' in Lake Mary, Flori­da." Ever since then, Jus­tine has been blaz­ing the trail when it comes to new acces­so tech­nol­o­gy imple­men­ta­tions around the globe!
Cul­ti­vat­ing an Inter­na­tion­al Presence
When Jus­tine first start­ed, accesso's sole inter­na­tion­al part­ner was Six Flags Enter­tain­ment Cor­po­ra­tion. ​"Our pres­ence glob­al­ly has dras­ti­cal­ly changed over the years. We have devel­oped a tru­ly expan­sive pres­ence in North Amer­i­ca. Now we can say that we've imple­ment­ed Acces­so solu­tions for over 100 glob­al attrac­tions over the last 5 years," she said. ​"It's been thrilling to watch our teams and our appli­ca­tions grow and become so glob­al­ized." Jus­tine went on to say, ​"I think peo­ple see the pas­sion of our team and the inno­va­tion of our prod­ucts, and they want to be part of that. As a result, we've been able to grow our glob­al pres­ence incred­i­bly both with excep­tion­al new team mem­bers and excit­ing new partners."
Anoth­er notable stop on Justine's acces­so jour­ney was the oppor­tu­ni­ty to help our Lon­don office become ful­ly trained. Our glob­al offices are key to our abil­i­ty to grow our client base glob­al­ly, allow­ing us to respond to client needs quick­ly and effi­cient­ly regard­less of time zone. Each sup­port team under­goes exten­sive train­ing to ensure both our staff and our clients can con­fi­dent­ly rely on their exper­tise. Com­ment­ing on her expe­ri­ence, Jus­tine said ​"It was a great part of my jour­ney with Acces­so. I helped team mem­bers in the Lon­don office who work on Acces­so Pass­port get trained on our poli­cies and pro­ce­dures for tasks such as prod­uct setups and on-going client oper­a­tions sup­port. It was the first time I had actu­al­ly worked inter­na­tion­al­ly and was such a great experience."
Perks of Trav­el­ing the World
For Jus­tine, trav­el­ing is a must. ​"It is eye-open­ing and remains excit­ing no mat­ter how much I trav­el," she says. Whether for a busi­ness trip or an expert­ly-planned vaca­tion, Justine's pass­port is stamped full of adven­ture. The trav­el bug bit her long before she came to acces­so. Dur­ing her time at Rollins Col­lege, Jus­tine stud­ied abroad in both Syd­ney, Aus­tralia and in France. Since then, she has vis­it­ed Ger­many, Aus­tria, Japan and the UK. She even had the oppor­tu­ni­ty to trav­el to Shang­hai at a pre­vi­ous job. Jus­tine rem­i­nisced about a piv­otal trip to Lon­don for the go-live of The Lon­don Eye: ​"I remem­ber leav­ing my hotel because obvi­ous­ly you can't sleep the night before your first huge project goes live! I walked down the emp­ty streets and just stared at The Lon­don Eye. I was just in awe of the fact that we were han­dling the tick­et­ing for such an icon­ic landmark."
Through her fre­quent trav­els, Jus­tine has learned a great deal about how dif­fer­ent cul­tures and coun­tries expe­ri­ence theme parks. She stressed the impor­tance of being open to learn­ing from each new expe­ri­ence and client: ​"Every­one has their own way of doing things, and as much as you'd love to stan­dard­ize process­es, it can some­times be chal­leng­ing to accom­plish." She elab­o­rat­ed by explain­ing that because of the dif­fer­ent cul­tur­al expec­ta­tions, some trends may actu­al­ly be sur­pris­ing! For exam­ple, one might be tempt­ed to gen­er­al­ize that con­sumers from cer­tain tech­no­log­i­cal­ly-advanced Asian mar­kets would pre­fer dig­i­tal ver­sions of every­thing like mobile tick­ets, but this is not always the case. ​"Over the years, I have watched many peo­ple in these loca­tions actu­al­ly print their mobile tick­et bar codes," she said, ​"I've also seen peo­ple wait in line just to get a phys­i­cal tick­et because they like to col­lect them." Guest expec­ta­tions and desires vary from place to place, which is part of why Justine's team takes the time to vis­it each new client loca­tion to learn and observe as part of the imple­men­ta­tion process.
Where Fun and Future Merge
Out­side of her love for trav­el­ing and all things tech­nol­o­gy, Jus­tine also has a thriv­ing love of music. She has spent the last 6 months learn­ing how to play a musi­cal instru­ment and is build­ing up her vinyl col­lec­tion after pur­chas­ing a record play­er. Jus­tine was hap­py to tell us how she spends her days off: ​"I always try to find activ­i­ties where I can bring my dog, whether that's brunch­ing or vin­tage mar­ket shop­ping or even find­ing local dog-friend­ly brew­eries." Not one to shy away from friend­ly com­pe­ti­tion, Jus­tine also enjoys games of skill such as darts, bil­liards, etc.
When asked what most excites her about com­ing back to work day after day, Justine's response was a famil­iar refrain heard from acces­so team mem­bers world­wide: ​"The peo­ple, hands-down," she said. ​"I've met a lot of great peo­ple and devel­oped true friend­ships. Our team is ded­i­cat­ed and pas­sion­ate, and also have a great sense of humor. I love how much we laugh together!"
To learn more about life at acces­so, click here.