People of accesso: Valerie Wierenga – On Culture, Teamwork and Working in Tech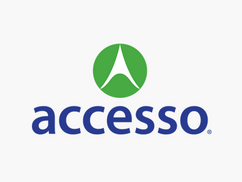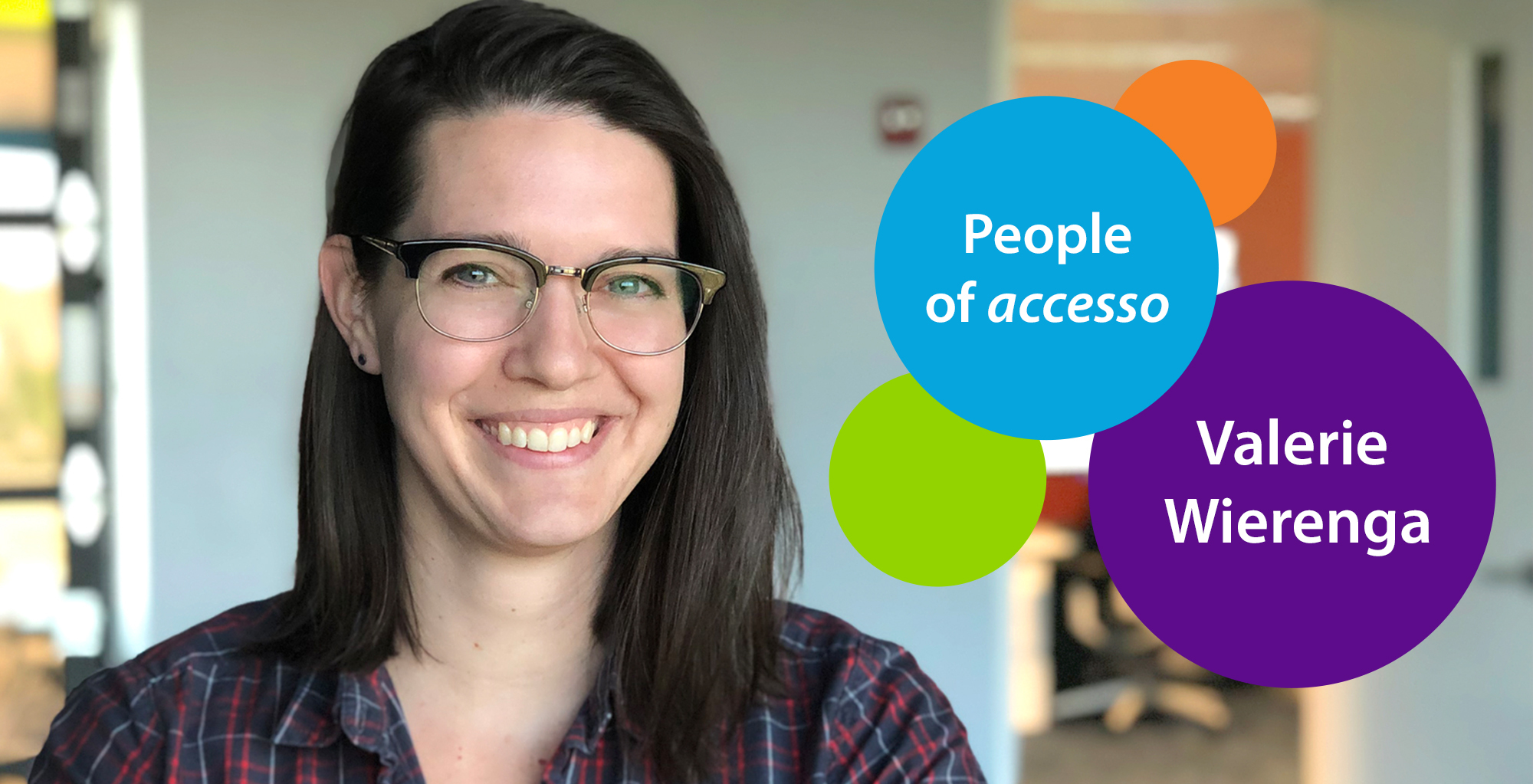 In Octo­ber, we kicked off the ​"Peo­ple of acces­so" blog series with the goal of high­light­ing some of the incred­i­ble and pas­sion­ate pro­fes­sion­als that make up the acces­so team. Begin­ning with CEO Paul Noland and on to EMEA Direc­tor of Tick­et­ing Oper­a­tions Robin Good­child, we've returned to the states to share some insight from one of the lead­ers of our office in Lake Mary, Flori­da – acces­so Prod­uct Own­er of Tick­et­ing Research and Devel­op­ment Valerie Wieren­ga – to take a clos­er look at the acces­so com­pa­ny cul­ture, the impor­tance of invest­ing in oth­ers and what it's like to be a woman in technology.
Behind the Curtain
Like so many of our team mem­bers, Valerie orig­i­nal­ly worked in one of our client indus­tries before join­ing the acces­so team. She grew up in a musi­cal fam­i­ly and was nat­u­ral­ly drawn to the live per­for­mance space, where she kicked off her career over­see­ing mar­ket­ing for a venue operator.

From tick­et­ing to upselling and event logis­tics, Valerie had a front row seat to the behind-the-scenes world of venue oper­a­tions, gain­ing a bet­ter under­stand­ing of the roles and needs of each indi­vid­ual play­er along the way. ​"Look­ing back, it real­ly laid the foun­da­tion for my long-term career and primed me for growth …. I had the chance to see what goes into putting on a live per­for­mance and run­ning that space," she shared.
Rem­i­nisc­ing about her years in the indus­try, Valerie under­lined the impor­tance of know­ing the real-life needs of clients, includ­ing those work­ing in live venues. ​"Par­tic­u­lar­ly as we con­tin­ue to move toward human-cen­tered design con­cepts, it's so impor­tant to know who those humans are," she said. ​"If you're not build­ing your tech­nol­o­gy for those humans, it's sim­ply not going to work."
Her time in live enter­tain­ment had its perks as well, pro­vid­ing a front-row seat to amaz­ing shows on a reg­u­lar basis. Valerie's best mem­o­ry? ​"The Boot­sy Collins show, hands down," she recalled. ​"It's rare to see a true show­man with raw, unde­ni­able tal­ent. Boot­sy was a star on the gui­tar and went through five dif­fer­ent cos­tume changes in 90 min­utes – the cal­iber of that per­for­mance was tru­ly magical."
An Empow­ered Path, An Empow­ered Team
For Valerie, the road to acces­so wasn't a straight and nar­row path; in her words, it's been a ​"pick your own adven­ture." Valerie points out that, while you don't nec­es­sar­i­ly need to bring home a tech­ni­cal degree to land a job in the field, per­sis­tence and ded­i­ca­tion are key to success.
In her time in venue mar­ket­ing and oper­a­tions, Valerie worked exten­sive­ly with dif­fer­ent mem­bers of the acces­so team and was pulled in by what we're find­ing to be a com­mon draw – our peo­ple. ​"The impor­tance of valu­ing peo­ple over all else is some­thing that's been instilled in me since child­hood, and I saw that in so many of the peo­ple who would become my future team­mates," she shared. ​"I thought, ​'These are peo­ple who real­ly care about the indi­vid­u­als they work with and take great care in devel­op­ing them.'"
So, in 2012, Valerie joined the acces­so ShoWare qual­i­ty assur­ance team in Mary­land, where she pri­mar­i­ly focused on two things: trans­lat­ing acces­so tech­nol­o­gy for user man­u­als and attempt­ing to ​"break the inter­net" by look­ing at every pos­si­ble way one could use a solu­tion and run­ning through dif­fer­ent sce­nar­ios to trou­bleshoot poten­tial prob­lems. She quick­ly rose through the ranks to become Team Lead and, even­tu­al­ly, Prod­uct Direc­tor. In her cur­rent role as Prod­uct Own­er, Valerie works in Research & Devel­op­ment with our three acces­so tick­et­ing teams (acces­so Pass­port, acces­so ShoWare and acces­so Sir­iusware), rep­re­sent­ing their inter­ests in how and what we build next.
As Valerie moved into man­age­ment, she found the oppor­tu­ni­ty to give back by invest­ing in the devel­op­ment of her team mem­bers, which was some­thing she had ben­e­fit­ed from great­ly in the ear­ly stages of her career. Of all the traits she admires in her men­tors, Valerie recalled one that stands out as per­haps the most impor­tant for team devel­op­ment – indi­vid­u­al­ized sup­port. ​"I've always tried to focus on my own strengths and those of my team … what are those strengths and how can we cap­i­tal­ize on them?"
On the World Stage
In ear­ly 2018, Valerie moved to Lake Mary to take on her cur­rent tick­et­ing prod­uct own­er­ship role, but not before mak­ing an inter­na­tion­al pit stop on the way. In prepa­ra­tion for the recent­ly announced expan­sion of accesso's part­ner­ship with Vil­lage Road­show Theme Parks, Valerie spent a few weeks in Aus­tralia, meet­ing with on-the-ground team mem­bers to pre­pare for a smooth oper­a­tional roll-out. And, while she has spent quite a bit of time in coun­tries across the globe, this trip served as a reminder of the nuances that vary from coun­try to country.
"Sure, there are the small­er things, like remem­ber­ing to dri­ve on the ​'wrong' side of the road," Valerie not­ed. ​"But it's real­ly impor­tant to learn the dif­fer­ent com­mu­ni­ca­tion­al cues in each of the geo­graph­i­cal mar­kets we serve to ensure we're real­ly under­stand­ing our clients' needs."
As acces­so con­tin­ues to expand its glob­al pres­ence, cur­rent­ly serv­ing over 1,000 clients world­wide, Valerie empha­sized the need to read between the lines with inter­na­tion­al clients. ​"When you're work­ing in a glob­al­ized busi­ness land­scape, it's so impor­tant to make gen­uine con­nec­tions with peo­ple from oth­er coun­tries, and the key to that con­nec­tion often boils down to the slight­est dis­tinc­tions. Pick­ing up on those vari­ances helps you ease peo­ple along their jour­ney and make sure they feel com­fort­able part­ner­ing with you."
A High-Tech Sisterhood
Cur­rent­ly, women make up less than 20 per­cent of the U.S. tech­nol­o­gy work­force. But, in Valerie's opin­ion, the work­force gen­der gap will con­tin­ue to nar­row in the years to come. ​"Build­ing on the growth of our cur­rent work­force, I think the next gen­er­a­tion is going to be more diverse than any­thing we've seen before," she said. ​"It's excit­ing, because as more women join – both inside and out­side of acces­so – we're learn­ing from the women who blazed the trail ahead of us while work­ing to widen that path as we go along."
Valerie's first piece of advice for women look­ing to break through in tech­nol­o­gy is to seek out a men­tor that can lend guid­ance and sup­port as they nav­i­gate the ins and outs of suc­ceed­ing in a tra­di­tion­al­ly male-dom­i­nat­ed field. For Valerie, men­tor­ship has mate­ri­al­ized with­in acces­so, where she's found a net­work of women – a ​"sis­ter­hood," as she calls it – that brings togeth­er unique per­spec­tives on the chal­lenges and oppor­tu­ni­ties women may face in the work­place. ​"I'm so blessed to have this group of col­leagues from all dif­fer­ent depart­ments and walks of life to lean on," she said.
Valerie is forth­com­ing about the chal­lenges that come with being a woman in tech­nol­o­gy, par­tic­u­lar­ly in a lead­er­ship posi­tion. ​"The biggest thing for me has been learn­ing to nego­ti­ate the dou­ble-edged sword of being a woman of author­i­ty while main­tain­ing my abil­i­ty to per­suade," she shared. But embrac­ing those chal­lenges rather than run­ning from them is key to suc­cess. ​"Don't be afraid when things get hard," Valerie assert­ed. ​"Get­ting through those times and look­ing back on chal­lenges you've over­come … that type of growth will get you fur­ther in your career than near­ly any­thing else."
The Great­est Gift
When Valerie moved to the Lake Mary acces­so office, she set a goal for her­self: make one long-last­ing friend with­in the first year. As she point­ed out, ​"We're adults, so friend­ships take longer to devel­op. Plus, I was mov­ing into a work envi­ron­ment filled with hun­dreds of peo­ple." To her sur­prise, Valerie had devel­oped sev­er­al close friend­ships with co-work­ers with­in just two months. And, while Valerie is a strong believ­er in work­ing to live, not liv­ing to work, she's found that the two can inter­sect in sur­pris­ing ways. Late last year, Valerie met a co-work­er that shared her pas­sion for per­for­mance; the two have start­ed a band and have fun explor­ing dif­fer­ent gen­res, from rock to pop and folk.
When asked what most excites her about com­ing back to work day after day, Valerie's response should come as no sur­prise: ​"Hands-down, the peo­ple I work with day after day," she said. ​"Our peo­ple are bril­liant, gen­er­ous, thought­ful and so ded­i­cat­ed to what we do. Find­ing a group like this – filled with peo­ple you trust and enjoy – is tru­ly a gift."
To learn more about life at acces­so, click here.