People of accesso: Mechele Larmore – On Her Passion for the Ski Industry and Empowering Her Team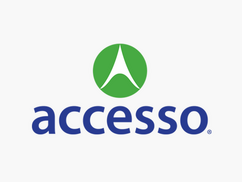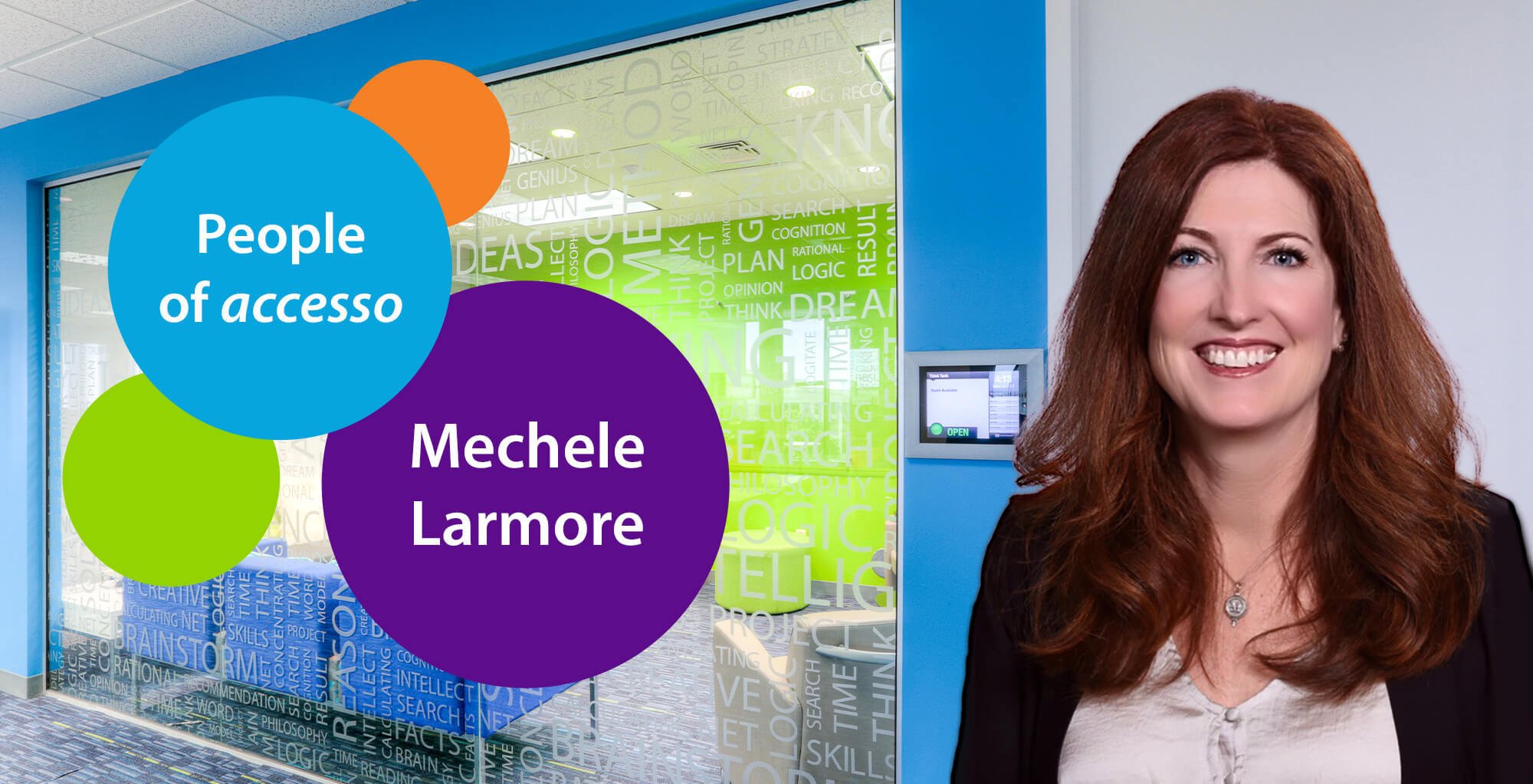 In 2019 we launched our ​"Peo­ple of acces­so" series to fea­ture some of the extra­or­di­nary indi­vid­u­als who are essen­tial to our team. We shined a spot­light on our Direc­tor of Euro­pean Tick­et­ing Oper­a­tions Robin Good­child, Prod­uct Own­er of Tick­et­ing Research and Devel­op­ment Valerie Wieren­ga and most recent­ly Glob­al Imple­men­ta­tion Direc­tor Jus­tine Dong. In this month's fea­ture, we are excit­ed to intro­duce you to our Vice Pres­i­dent of Sales, Mechele Larmore.
Mechele brings a wealth of knowl­edge to the com­pa­ny and is cel­e­brat­ed for her calm, poised and car­ing demeanor that inspires those around her to grow to their full poten­tial. Whether it's a con­ver­sa­tion at a tradeshow, a for­mal sales meet­ing or even just vis­it­ing one of the acces­so offices, Mechele is always recep­tive to new ideas and makes sure every­one she comes in con­tact with feels heard. Around the indus­try, she is well-known for her unwa­ver­ing fair­ness and loy­al­ty to both her own core val­ues and those of acces­so. As our prod­ucts have evolved, her approach to sales and client rela­tion­ships has always been two steps ahead. Mechele recent­ly sat down with us to rem­i­nisce on her start in the ski indus­try, the way she leads her team and the impor­tance of paving a way for women in leadership.
An End­less Love for Ski
The foun­da­tion of Mechele's fruit­ful career is in the ski indus­try. ​"I will always have a spe­cial place in my heart for the ski indus­try. I owe so much of my hap­pi­ness to ski. I grew up ski­ing with my fam­i­ly, I met my hus­band at a ski resort and my career tru­ly start­ed to blos­som with­in this indus­try," she recalled. Mechele shared with us how she got involved in ski, ​"It start­ed like every great ski sto­ry does- in Lake Tahoe! I thought I was mov­ing there for one ski sea­son and nev­er left, which is pret­ty stan­dard when you grow up lov­ing the moun­tains. Peo­ple say that no two snowflakes are ever the same, but I would say no two win­ters are ever the same!"
Mechele's career in tick­et­ing began with Sir­iusware in the ear­ly 2000s which was lat­er acquired by acces­so in 2013. Her exten­sive knowl­edge of the ski indus­try has helped her tru­ly con­nect with clients and under­stand the unique chal­lenges they face. ​"Dur­ing my 16 years in the indus­try, I worked with three dif­fer­ent tick­et­ing sys­tems and went through four sep­a­rate own­er­ships," she said."All of that expe­ri­ence gave me the oper­a­tional back­ground that helps me today in under­stand­ing what resorts strug­gle with and how impor­tant guest expe­ri­ences are."
One of the chal­lenges the ski indus­try faces today is stay­ing rel­e­vant with new gen­er­a­tions of skiers. It's a very com­pet­i­tive mar­ket and not all ski areas have the foun­da­tion to embrace the type of inno­va­tion that is nec­es­sary to attract and retain younger gen­er­a­tions. ​"I always say you have to approach find­ing a solu­tion with both wise eyes and fresh eyes," said Mechele. ​"As a ski resort or a venue in any indus­try, you need peo­ple who under­stand the his­to­ry of the way things have always been, but it's equal­ly impor­tant to have fresh eyes on a prob­lem who can see a new way of solv­ing cer­tain con­cerns. You need a bal­ance of the two, not just one to be successful."
A Long-Last­ing Impact

In 2019, Mechele was tasked with uni­fy­ing mul­ti­ple sales teams here at acces­so, a task that she wel­comed with open arms. ​"I work with my team; they don't work for me. You are only as good as your peo­ple. If you cap­i­tal­ize on what each person's strengths are and give them the edu­ca­tion, they need to empow­er their tal­ents, then a team can tru­ly grow." When asked what the key was to lead­ing such a large and diverse team to the lev­el of suc­cess they've achieved, Mechele said her secret is hir­ing based on their pas­sion and how their per­son­al­i­ty fits in with the team dynam­ic. ​"As a leader, I can add fuel to their pas­sion, but I can't ignite it for them. They have to bring that if they want to be suc­cess­ful on this sales team."
Mechele's strong ethics and knack for effec­tive lead­er­ship con­sis­tent­ly wins high praise from her loy­al team. ​"Mechele has been the best man­ag­er I've ever worked for and I have no doubt oth­er mem­bers of our team would say the same thing," said Phil Schwartz, Sales Direc­tor. ​"She is not just a good cowork­er, but a good per­son and some­one I would con­sid­er a friend and men­tor in my life." Mechele is an advo­cate for acces­so team mem­bers even if they are not on her spe­cif­ic team, as we learned from Erin Gan­non, acces­so Senior Sys­tem Spe­cial­ist. She shared with us that, ​"From the moment I met Mechele, she has nev­er stopped teach­ing me about work and life. To this day, she con­tin­ues to be a strong sup­port­er and men­tor of mine, and I am eter­nal­ly thank­ful for all she has done for me over the years. She is one of my all-time favorite peo­ple on this plan­et and I feel super lucky to be able to con­sid­er her one of my clos­est friends."
This heart­felt praise was repeat­ed by vir­tu­al­ly every­one we asked in assem­bling this piece, even mem­bers of the lead­er­ship team. ​"Accesso's POS tick­et­ing would not be the prod­uct it is today with­out Mechele, and I would not be the leader I am with­out her unwa­ver­ing loy­al­ty and sup­port," said Mark Dane­mann, acces­so Chief Infor­ma­tion Offi­cer. ​"Mechele is not afraid to stand up for the truth with sen­si­tiv­i­ty and grace, which is an attribute any leader should want from their team mem­bers. Mechele is hands-down one of the best peo­ple I've had the good for­tune to work with."
Lead­ing by Example

Mechele has man­aged to not only blaze her own trail but also empow­er oth­er women to achieve their lead­er­ship goals. Though the indus­try has final­ly begun to piv­ot in favor of more women in tech­nol­o­gy, Mechele solid­i­fied her lead­er­ship role before it was a trend. Her pas­sion for peo­ple has allowed her to con­struct a superb sales team with ambi­tious goals. Mechele cred­its the foun­da­tion of her suc­cess to a men­tor from ear­ly in her career: ​"At a pre­vi­ous employ­er, I used to report direct­ly to our CFO. I learned an incred­i­ble amount from him that I still use to this day. He taught me about lead­er­ship, sup­port, and most impor­tant­ly that it is okay when things are tough because they won't always be tough. Sit­u­a­tions will always get bet­ter." She shared with us that many prin­ci­ples she learned under his men­tor­ship have stood the test of time and con­tin­ue to influ­ence how she cur­rent­ly builds and leads her team.

The same hap­pi­ness and grat­i­tude Mechele showed while rem­i­nisc­ing about her men­tor was echoed by many of our female employ­ees when talk­ing to us about what Mechele has meant to their careers. ​"Hav­ing a female leader in a promi­nent­ly male-dom­i­nat­ed indus­try has been inspir­ing," said Lyn­d­say Jones, acces­so Sales Engi­neer. ​"Mechele encour­aged me to apply for a role with the sales team for almost a year. What I have learned and the con­nec­tions I have made since the tran­si­tion have been invalu­able. She believed in me which helped me to believe in myself." This sen­ti­ment was repeat­ed by Audrey Child, acces­so Sales Admin­is­tra­tor, who said that, ​"Mechele has helped nur­ture my career all through­out my adult life. She hired me when I moved to Tahoe at 21 years old, and 22 years lat­er, I'm still work­ing with her. She cares about my career growth and per­son­al devel­op­ment. Mechele has taught me to always demand respect for myself and oth­ers. She encour­ages me to dri­ve for equal­i­ty while mak­ing pos­i­tive impacts with­in our orga­ni­za­tion and most impor­tant­ly to nev­er give up. Mechele is a great boss, a great friend, and a great mentor."

Enjoy­ing the View

When Mechele isn't lead­ing our sales team, she loves spend­ing time away from tech­nol­o­gy. ​"I like to do things that sep­a­rate me from my phone and tech­nol­o­gy," she shared. ​"There is some­thing so calm­ing about stand­ing on the top of a moun­tain and just enjoy­ing the view below with­out any inter­rup­tions from your phone." As an avid ski­er and bik­ing enthu­si­ast, Mechele is hap­pi­est when enjoy­ing every­thing nature has to offer with her hus­band Jim and her labradoo­dle Elle. She even joked, ​"I'm not sure who is more addict­ed – me to my dog or my dog to me, but we are meant for each oth­er. My hus­band always tells me that if he could come back in a dif­fer­ent life, he wants to come back as Elle."
In a posi­tion that requires a lot of trav­el­ing, it is no sur­prise that Mechele has fall­en in love with see­ing the world. Moti­vat­ed by her quest to always seek out great food and even bet­ter music, Mechele's favorite place to trav­el is New Orleans. The dot­ing new grand­moth­er let us know that the food isn't the only thing that pulls her to the fes­tive New Orleans atmos­phere. There is always a great fes­ti­val going on where you can catch amaz­ing artists and the food nev­er dis­ap­points. But even more excit­ing, New Orleans is where my son and grand­son live. No mat­ter how busy work gets, any chance I get to sneak away to Louisiana to see my grand­son makes it all worth it."
To learn more about life at acces­so, click here.