IAAPA Expo 2019: Our Three Biggest Takeaways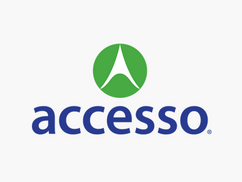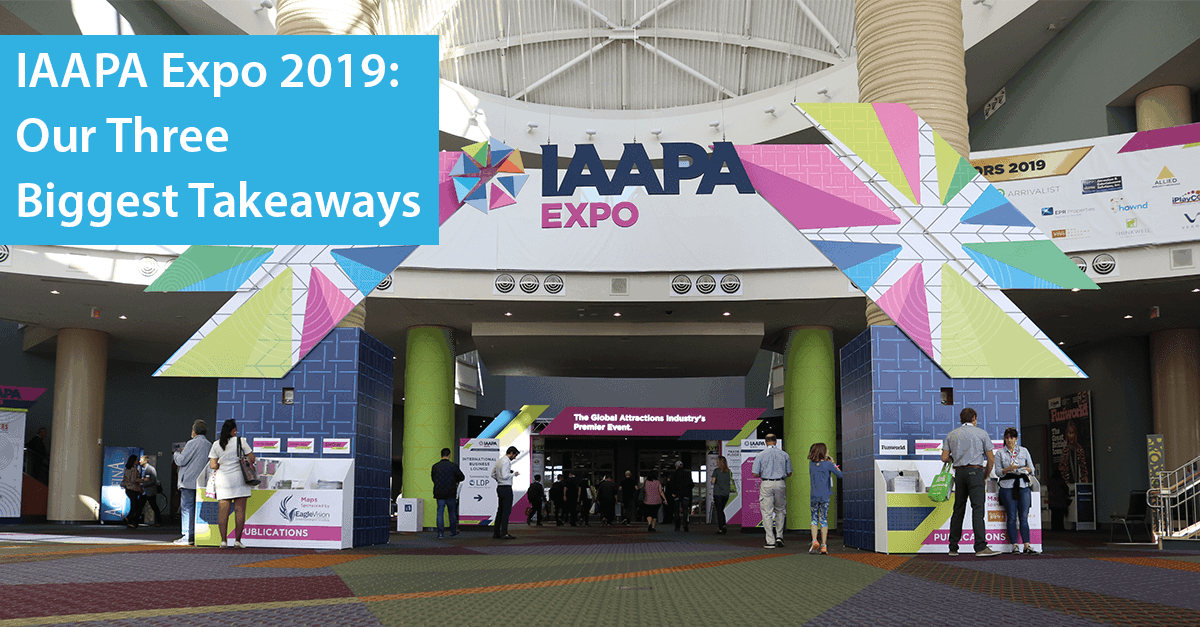 From excit­ing trade show exhibits to enlight­en­ing edu­ca­tion­al ses­sions, the annu­al IAA­PA Expo is packed full of oppor­tu­ni­ties to learn from the bright­est minds in the attrac­tions indus­try. Each year, we leave with sev­er­al key take­aways on where the indus­try is head­ed and what attrac­tions oper­a­tors can do to posi­tion them­selves for suc­cess, and this year was no excep­tion! Read on to explore our three biggest take­aways from IAA­PA Expo 2019 and see how you can imple­ment them to cre­ate pos­i­tive guest expe­ri­ences and dri­ve increased revenue.

1

. Using Data Effec­tive­ly is the Key to Suc­cess – But It's Not Always Easy.
The abil­i­ty to lever­age data is crit­i­cal for theme parks and attrac­tions, but with­out the right tools, it can be over­whelm­ing. As Mered­ith Vaugh­an, CEO of Vladimir Jones revealed in her Mon­day pan­el on ​"Turn­ing Data into Mar­ket­ing Dol­lars," we only use about 1% of the data avail­able to us. There is a vast amount of data that is avail­able to you and your busi­ness. It can be tempt­ing to only look at a few pieces that have always been help­ful and eas­i­ly acces­si­ble in the past, but focus­ing on a lim­it­ed amount of data may actu­al­ly hin­der you from see­ing the whole poten­tial of a guest's buy­ing capac­i­ty. Fol­low­ing these three steps can help: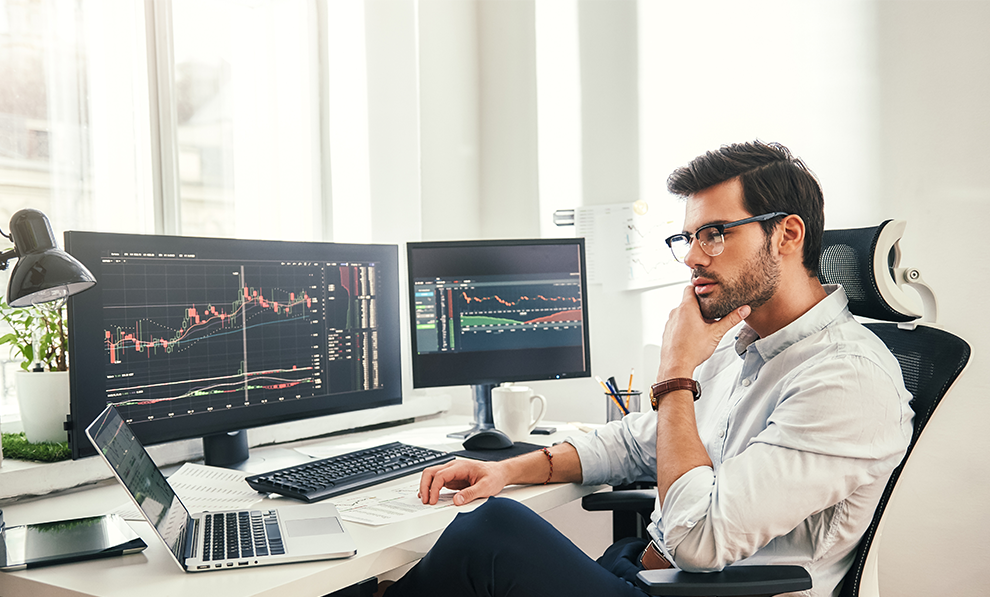 Iden­ti­fy What Data is Impor­tant to Your Goals.
To help fil­ter through some of the avail­able data, it is impor­tant to first set goals. What are you try­ing to achieve or uncov­er with­in the depths of your data? Whether it is to reach new audi­ences, increase rev­enue from your loy­al vis­i­tors or even to look for oppor­tu­ni­ties to reduce oper­a­tional costs, estab­lish your goals in advance. This will help fil­ter out the irrel­e­vant data that might dis­tract you. Once you have well-defined goals, it is time to make sure your tech­nol­o­gy is updat­ed to fil­ter and report on your new needs. Dur­ing Wednesday's edu­ca­tion­al ses­sion on ​

"

The

10

Secrets to Increas­ing Your Prof­its Through F

&

B Sales," Michael Holtz­man of Prof­itable Food Facil­i­ties World­wide explained to the atten­dees that ​

"

data har­vest­ed by tech­nol­o­gy takes the guess­work out of oper­a­tions. You can pre­dict demand, which informs inven­to­ry man­age­ment and helps save on costs."
Col­lect data wher­ev­er you can.
In order to fill your data­base with rel­e­vant data, you have to col­lect as much infor­ma­tion as pos­si­ble. Dur­ing Wednesday's ses­sion on ​

"

Using Your Facil­i­ty Data to Mea­sure the Impact of Mar­ket­ing," Don McBrayne of Per­for­mance Enter­tain­ment shared insights on the many sources of infor­ma­tion that his orga­ni­za­tion col­lects. Don't under­es­ti­mate how many peo­ple come to your counter, vis­it your web­site or even stop by your social media page, and don't be afraid to ask for more infor­ma­tion. The pan­elists from ​

"

Using Your Facil­i­ty Data to Mea­sure the Impact of Mar­ket­ing" all agreed that con­sumers are will­ing to give as much data as you request because they are look­ing for unique oppor­tu­ni­ties, so get cre­ative with the dif­fer­ent ways you can incen­tivize your cus­tomers and reap the ben­e­fits. (Read our post on

3

Ways Guest Data Can Help Opti­mize Your Busi­ness for more).
Prac­tice good data hygiene.
Once you have a robust data­base, the fun is not over! You have to keep your data­base up to date and accu­rate, which means set­ting a time lim­it for how long data will remain in your sys­tem. One rec­om­men­da­tion from McBrayne was to purge your email data­base every year: ​

"

If they don't respond to any of our cam­paigns, we clear them out of the data­base," he said. ​

"

Focus your efforts on the

15

% of new cus­tomers com­ing in and purge out old customers."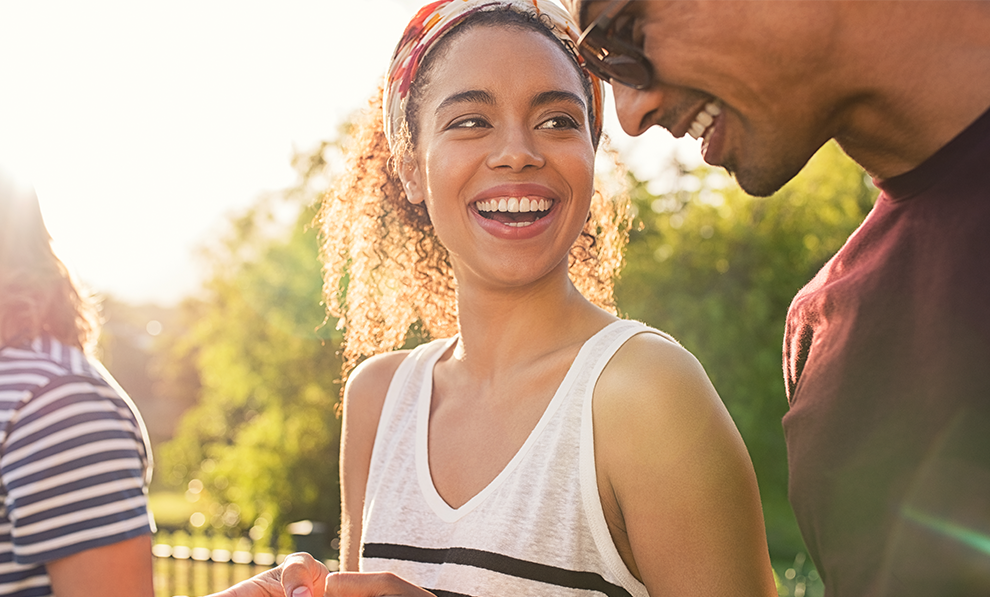 2

. Con­tent Per­sonas are Out. Con­sumer Pro­files are In.
Con­tent Per­sonas have long been a fun­da­men­tal part of mar­ket­ing to dif­fer­ent tar­get seg­ments. Take for exam­ple, CEOs in their mid 40s to ear­ly 60s who obtain infor­ma­tion by read­ing print arti­cles. Unfor­tu­nate­ly, con­tent per­sonas leave a lot to the imag­i­na­tion, accord­ing to Mered­ith Vaugh­an of Vladimir Jones. These cat­e­gories can be much broad­er than we think, which means it's dif­fi­cult to pre­dict the type of mes­sag­ing that will real­ly res­onate with these audi­ences. ​"Know­ing their com­plete con­sumer pro­file could tremen­dous­ly help your staff tai­lor per­son­al­ized cam­paigns for them," said Vaugh­an. ​"If they are a par­ent, maybe they are look­ing for deals on a fam­i­ly vaca­tion, but if they don't have kids, that wouldn't appeal to them."
How do we build uni­fied con­sumer pro­files? The answer lies in your data. Use the data with­in your var­i­ous sys­tems to paint a com­plete pic­ture of your guests' spend­ing habits and pref­er­ences so that more per­son­al­ized expe­ri­ences can be offered to them. A major fac­tor in com­pil­ing a full pro­file is mak­ing sure you are con­nect­ing data for the same guest no mat­ter the ori­gin of the touch­point. ​"It's about build­ing a uni­fied cus­tomer pro­file," explained Bran­don Wil­ley, CEO of Hownd, dur­ing Wednesday's ​"Using Your Facil­i­ty Data to Mea­sure the Impact of Mar­ket­ing" ses­sion. ​"It's impor­tant to be able to con­nect your dif­fer­ent sys­tems or even if you can't con­nect them, to extract the data from those card sys­tems, bowl­ing sys­tems, waiv­er sys­tems. Bring that data to a sin­gle ware­house and begin to try to con­nect the dots between an email address and the oth­er data, or an email address and poten­tial­ly point of sale pur­chas­es or a first name, last name or zip code and try to draw some infer­ences there."
If you're look­ing to make the jump from con­tent per­sonas to con­sumer pro­files, a guest expe­ri­ence man­age­ment plat­form can help inte­grate dis­parate sources of infor­ma­tion and give you the tools you need to con­duct high­ly per­son­al­ized mar­ket­ing cam­paigns. Keep in mind that there's a sweet spot between com­pil­ing too much data as opposed to a more min­i­mal­ist approach — you want a robust cus­tomer pro­file with­out being over­whelmed by infor­ma­tion — but you don't have to find that bal­ance alone! Look to part­ner with firms that can make the data easy to inter­pret and more intu­itive to enable quick­er deci­sions and faster results.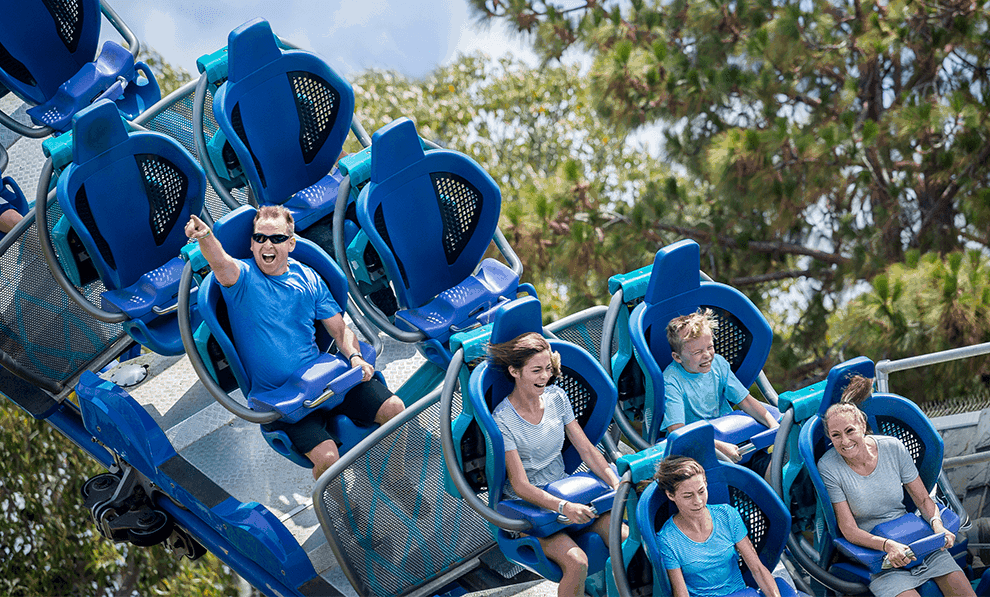 3

. Every Touch­point Mat­ters (No Pressure)

Great guest expe­ri­ences are estab­lished and rein­forced with every inter­ac­tion your guests have with your orga­ni­za­tion. From friend­ly and knowl­edge­able staff who are hap­py to answer ques­tions, to an intu­itive online tick­et­ing web­site that makes pur­chas­ing tick­ets in advance a breeze, to excep­tion­al F&B tech­nol­o­gy that saves your guests time, every inter­ac­tion matters.
Give Your Team the Tools They Need to Suc­ceed
Human inter­ac­tion leaves a last­ing impres­sion on your guests. Accord­ing to the ​

"

10

Secrets to Increas­ing Your Prof­its Through F

&

B Sales" ses­sion, an upfront invest­ment in your team can be a key suc­cess fac­tor. Whether it's pro­vid­ing a robust train­ing pro­gram that inspires staff to be their very best or upgrad­ing to an intu­itive point of sale sys­tem that makes it eas­i­er to serve guests, find­ing ways to improve your team mem­bers' expe­ri­ences will pay back div­i­dends. Fur­ther­more, when employ­ees feel more val­ued, they will like­ly con­tribute more val­ue to your oper­a­tions, so get to know your staff and what excites them. The more they under­stand why their role is cru­cial to your organization's suc­cess, the more they can help you reach your larg­er orga­ni­za­tion­al goals.
Small Changes Can Make a Big Impact
Anoth­er theme pre­sent­ed relat­ed to the guest expe­ri­ence was the idea of extend­ing the expe­ri­ence beyond an attraction's bor­ders. How are you con­tin­u­ing the rela­tion­ship with your guests once they have gone home or to kick­start them plan­ning their next vis­it? This can be some­thing as sim­ple as email­ing park pho­tos to guests after they leave or high­light­ing a spe­cial event at the park on your social media. The ses­sion ​

"

Defin­ing Suc­cess: From Strat­e­gy to Imple­men­ta­tion" empha­sized how small changes can cre­ate a huge impact on how mem­o­rable your guest's expe­ri­ences are at your venue. Lat­er in the week, Chris Nel­son,

VP

of Enter­tain­ment for Car­ni­val, spoke about how the cruise ship indus­try is try­ing to cap­i­tal­ize on using small adap­ta­tions to increase the mem­o­ra­bil­i­ty of their voy­ages, by high­light­ing exclu­sive expe­ri­ences and enlist­ing the help of celebri­ties and brands that tie into their cruise themes. Some of these celebri­ties include best-sell­ing authors, restau­ra­teurs and even pro­fes­sion­al ath­letes like Shaquille O'Neal, their Chief Fun Offi­cer who was announced dur­ing their ses­sion. By seek­ing out big names that their guests are famil­iar with and asso­ciate with a

VIP

expe­ri­ence, Car­ni­val has added even more val­ue to their guest experience.
At acces­so, we pro­vide solu­tions that empow­er our clients to cre­ate con­nect­ed guest expe­ri­ences that dri­ve rev­enue. To see how we can help you move your busi­ness for­ward, con­tact us today.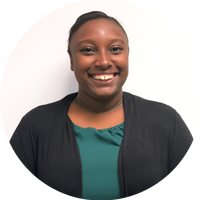 Lynette Williams — Mar­ket­ing Assistant
Based in our Lake Mary office, Lynette joined the acces­so mar­ket­ing team in June 2018. As Mar­ket­ing Assis­tant, she works close­ly with mul­ti­ple teams with­in the com­pa­ny to cul­ti­vate con­tent, find new swag for trade shows, and lend a help­ing hand wher­ev­er it is need­ed. In her free time, Lynette enjoys trav­el­ing, find­ing new restau­rants to obsess over, and relax­ing at home with her very ener­getic dog, Rambo.