People of accesso: Scott Kelley – On Virtual Queuing, Innovation and 20 Years in the Industry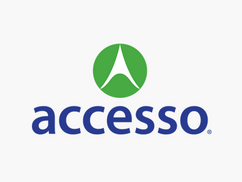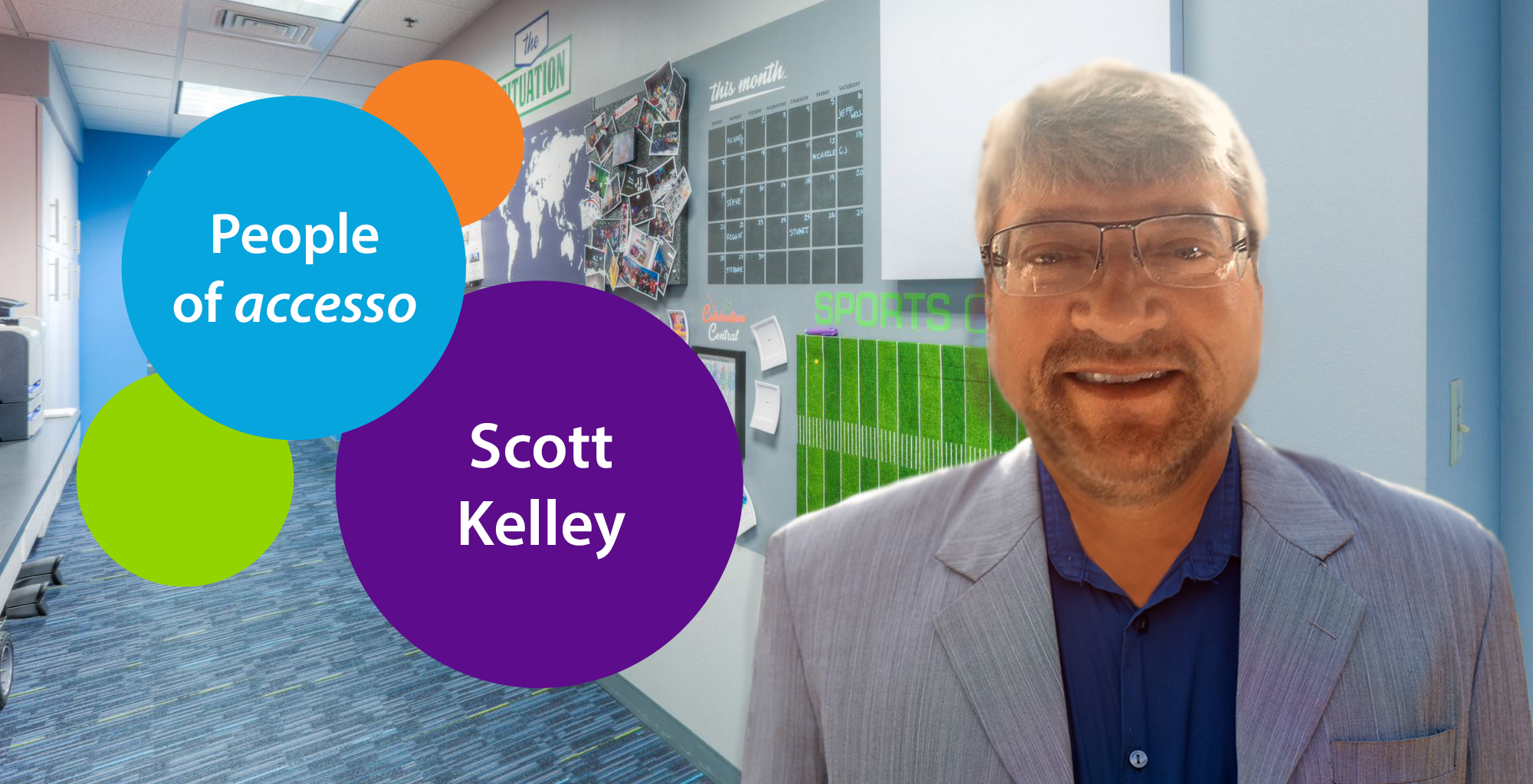 Since 2019, our ​"Peo­ple of acces­so" series has allowed us the oppor­tu­ni­ty to high­light the tal­ent­ed and devot­ed indi­vid­u­als who make up our incred­i­ble team. We start­ed by fol­low­ing the jour­ney of Robin Good­child in the UK, before talk­ing with Valerie Wieren­ga about the impor­tance of invest­ing in oth­ers, hear­ing what it's like to grow your career at acces­so from Jus­tine Dong and most recent­ly, Mechele Lar­more​'s ded­i­ca­tion to build­ing a pow­er­house sales team.
In this fea­ture, we were thrilled to inter­view an acces­so LoQueue® leg­end, Scott Kel­ley. Kel­ley holds the unique dis­tinc­tion of being the 2nd employ­ee hired in Amer­i­ca for our acces­so LoQueue team. As a Prod­uct Sup­port Man­ag­er, he has stepped foot in every park that has imple­ment­ed our acces­so in-park vir­tu­al queu­ing solu­tion over the last two decades. He and his team vis­it each park to run cables, set-up the onsite equip­ment, and trou­bleshoot con­cerns once imple­men­ta­tion is com­plete. Kel­ley has also played an inte­gral role in the inno­va­tion and growth of our vir­tu­al queu­ing solutions.
Build­ing a Pas­sion for Technology
Before he was installing com­plex tech­nol­o­gy solu­tions in theme parks, Kel­ley got his start in the con­struc­tion indus­try, build­ing a Burg­er King as he made his way through col­lege. He took on a vari­ety of project man­age­ment and job site orga­ni­za­tion roles before he dis­cov­ered an inter­est in tech­nol­o­gy. ​"I start­ed help­ing a friend who had a com­pa­ny that worked with data. That's where my inter­est in tech­nol­o­gy real­ly start­ed. We helped with updat­ing sys­tems, mov­ing cor­po­rate offices and upgrad­ing tech­nol­o­gy for med­ical offices," Kel­ley shared.
As one of his first major projects as part of the acces­so team, Kel­ley was tasked with an in-park install at a theme park in Atlanta — with a mon­u­men­tal debut date. The project began in Feb­ru­ary 2000 and it had to be ready for the park to launch lat­er that same year dur­ing the IAA­PA Expo in Atlanta. As part of this install, Kel­ley not only had to hard­wire the entire park with phys­i­cal in-ground cables to sup­port the acces­so LoQueue net­work but also had to suc­cess­ful­ly debut the vir­tu­al queu­ing prod­uct to thou­sands of atten­dees at one of the first live streams in IAA­PA his­to­ry. Because of his team's strong work eth­ic, they were able to nav­i­gate this high-pres­sure sit­u­a­tion grace­ful­ly: ​"We were a lean and trim group. So, for the six weeks lead­ing up to IAA­PA, we all worked around the clock, day and night to make sure every­thing was test­ed and ready to go for the big night. And it paid off when every­one was impressed at what the tech­nol­o­gy could do," he detailed.
Reflect­ing on the sim­i­lar­i­ties between con­struc­tion and the theme park and attrac­tions indus­try, Kel­ley shared that they actu­al­ly have a lot in com­mon. ​"Every day on the con­struc­tion site was dif­fer­ent. That's what I liked! It's the same for this indus­try. The parks are sim­i­lar but every­thing else changes dai­ly. There's always some­thing new to do or focus on. Every day of the last two decades has been a new adventure."
Carv­ing His Name in Vir­tu­al Queu­ing History
When Kel­ley joined the acces­so team, vir­tu­al queu­ing was tru­ly a brand-new con­cept, one that Kel­ley was excit­ed to help launch. ​"Acces­so LoQueue tru­ly was the first vir­tu­al queu­ing sys­tem of its kind and I got to be a part of that!" he recount­ed. How­ev­er, launch­ing ground­break­ing tech­nol­o­gy is not with­out its chal­lenges, and Kel­ley shared that get­ting the first few acces­so clients to adopt vir­tu­al queu­ing was an exer­cise in build­ing trust and per­sis­tence. ​"When you are deal­ing with some­thing new not only for clients but also the indus­try over­all, you have to work to earn their trust," he said. ​"Get­ting through the first few years of being a part of this excit­ing time in vir­tu­al queu­ing was my great­est pro­fes­sion­al accom­plish­ment. It was tough and a lot of work, but we did it with very lit­tle prod­uct at first and a team of only 5 people."
In his ear­ly years at acces­so, Kel­ley found him­self learn­ing the ins-and-outs of the tech­nol­o­gy busi­ness under the wing of a prod­uct engi­neer, Bar­ry. He fond­ly rem­i­nisced his time with his men­tor, ​"Bar­ry was a prod­uct engi­neer who came to Acces­so LoQueue dur­ing my sec­ond year. He taught me more about busi­ness than I had ever known. We would fig­ure out exact­ly how every­thing worked, togeth­er. He showed me how func­tion­al­i­ty worked and was devel­oped with­out ever being dis­mis­sive if I asked ques­tions. He was a key piece of me being able to solid­i­fy my name in vir­tu­al queu­ing his­to­ry for Acces­so LoQueue." Kel­ley went on to share that with­out his mentor's patient and thor­ough expla­na­tions of how and why cer­tain func­tion­al­i­ty was built to solve cer­tain issues, he would not have gained the in-depth knowl­edge of the vir­tu­al queu­ing solu­tion that he now has. What­ev­er chal­lenges may arise, Kel­ley cred­its much of his con­fi­dence in tack­ling them to the time spent learn­ing from his mentor.
As with many of our ​"Peo­ple of acces­so​"nom­i­nees, Kel­ley shared that his favorite part of his job is ​"the peo­ple," rav­ing about his fan­tas­tic team and how grat­i­fy­ing it is to see each per­son devel­op and grow in their career. ​"Our team is fan­tas­tic and there is some­thing very sat­is­fy­ing about see­ing each of my team­mates grow up in the indus­try. See­ing their career growth is just amaz­ing!" he shared, adding that he has built invalu­able rela­tion­ships over the years. ​"It's the first time I have been at a job this long and it's because of the peo­ple. We like what we do and not many peo­ple can say that for 20 years. Acces­so LoQueue is at the fore­front of vir­tu­al queu­ing for our indus­try. We're always inno­vat­ing, build­ing and pro­gress­ing the prod­uct to a high­er lev­el. That keeps me engaged and excit­ed to come back day after day."
Still Hav­ing Fun After

20

Years
Through­out the com­pa­ny, Scott Kel­ley is known for his icon­ic col­lec­tion of queu­ing mem­o­ra­bil­ia. Our for­mer Atlanta office was a ver­i­ta­ble muse­um of vir­tu­al queu­ing thanks to Kelley's col­lec­tion! ​"At first it start­ed with sav­ing signs and lit­tle stuff from installs that were near and dear to me," he shared. ​"Then, next thing I knew, we had enough vin­tage posters and ban­ners to fill an entire wall at our ware­house! It was incred­i­ble because you could see how dif­fer­ent parks adapt­ed the tech­nol­o­gy to fit their needs over the years," he added. Kel­ley fur­ther detailed, ​"The actu­al prod­uct evo­lu­tion is on my desk. Things like the orig­i­nal hard­ware, stuffed ver­sions of our old Qbot mas­cot and of course a full-blown mas­cot cos­tume. It is fun to look back at every­thing we have played around with and imple­ment­ed for vir­tu­al queuing."
When Kel­ley isn't installing the lat­est vir­tu­al queu­ing tech­nol­o­gy in parks across Amer­i­ca, he spends his time fish­ing and on the golf course. Spear fish­ing is his favorite thing to do after a long week of work. How­ev­er, from fall to spring, you can find the Mia­mi, FL native watch­ing or attend­ing foot­ball games for his favorite teams – the Mia­mi Dol­phins and the Uni­ver­si­ty of Mia­mi Hurricanes.
To learn more about life at acces­so, click here.