accesso Announces Support for Passbook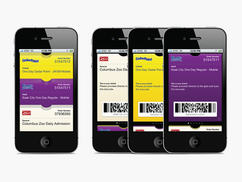 Enhance­ment Posi­tions Cedar Fair Theme Parks, Colum­bus Zoo Among First Attrac­tions to Lever­age New iPhone Functionality
LAKE MARY, Fla. (Sep­tem­ber 19, 2012) – acces­so, a lead­ing provider of attrac­tion tick­et­ing, is one of the first trav­el indus­try sup­pli­ers to adapt its tick­et­ing plat­form to sup­port Pass­book, a new fea­ture in Apple's new iOS 6 oper­at­ing system.
Pass­book allows iPhone users to col­lect and more eas­i­ly access dig­i­tal ver­sions of board­ing pass­es, loy­al­ty rewards and theme park, con­cert or sport­ing event tick­ets in one con­ve­nient iPhone app.
The acces­so solu­tion lets con­sumers import tick­et pur­chas­es from attrac­tions, includ­ing 11 Cedar Fair Enter­tain­ment theme parks as well as the Colum­bus Zoo and Aquar­i­um, direct­ly into their Pass­book app on their iPhone for access any­time, anywhere.
"Mobile com­merce has become a vital sales strat­e­gy for theme parks and oth­er attrac­tion venues, not to men­tion a guest expec­ta­tion," said Steve Brown, acces­so CEO. ​"We knew iPhone users would be eager to lever­age Pass­book so we worked aggres­sive­ly to inte­grate it with our tick­et­ing solu­tion well in advance so that our clients and their guests could begin using the fea­ture from day one."
###
About acces­so
acces­so deliv­ers pow­er­ful ful­ly host­ed tick­et­ing and com­merce solu­tions that help cus­tomers increase sales with­out adding expen­sive infra­struc­ture costs. accesso's onsite, online and on-the-go tick­et­ing solu­tions sup­port top attrac­tions across North Amer­i­ca from theme parks and water parks to zoos, con­certs and sport­ing events. accesso's solu­tions are ful­ly host­ed and sup­port­ed 24⁄7 to ensure con­tin­u­al focus on the user expe­ri­ence and sales results.
accesso's pro­pri­etary solu­tions are not­ed for stream­lined, easy-to-use designs with seam­less­ly inte­grat­ed rev­enue dri­ving fea­tures. All acces­so solu­tions are con­tin­u­al­ly updat­ed to pro­vide speed to mar­ket for enhance­ments and to stay cur­rent with the lat­est advances in tech­nol­o­gy. accesso's main­tains Lev­el 1 PCI Data Secu­ri­ty Stan­dard cer­ti­fi­ca­tion, the high­est rank avail­able from major cred­it card providers. For more infor­ma­tion vis­it acces​so​.com