accesso Provides eCommerce to Two Top Seattle Attractions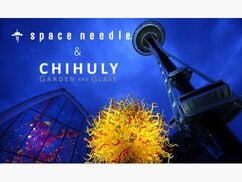 The icon­ic Space Nee­dle, cel­e­brat­ing its 50th Anniver­sary, and Chi­hu­ly Gar­den and Glass, a new art expe­ri­ence fea­tur­ing the work of renowned artist Dale Chi­hu­ly, have deployed accesso's com­pre­hen­sive tick­et­ing plat­form, includ­ing front gate point of sale, group sales, access con­trol, ecom­merce and mobile tick­et­ing to enhance tick­et sales and opti­mize their guest experience.
"While the Space Nee­dle con­tin­ues to stand the test of time and remains the num­ber one tourist des­ti­na­tion in the North­west, the expec­ta­tions of our guests in terms of the tick­et pur­chase process have changed," said Ron Sevart, Space Nee­dle Pres­i­dent and CEO which oper­ates both the icon­ic obser­va­tion tow­er and the new Chi­hu­ly Gar­den and Glass exhi­bi­tion. ​"We felt it was time to set the stage for the future and Accesso's sys­tem allows us to imme­di­ate­ly offer our guests an upgrad­ed e‑commerce expe­ri­ence while the over­all sys­tem func­tion­al­i­ty gives us the ver­sa­til­i­ty to cross pro­mote and dynam­i­cal­ly bun­dle tick­et options."
"Chi­hu­ly Gar­den and Glass is already attract­ing glob­al atten­tion," accord­ing to Michelle Bufano, the exhibition's exec­u­tive direc­tor. ​"We are lit­er­al­ly in the shad­ow of the Space Nee­dle and that offers vis­i­tors an amaz­ing oppor­tu­ni­ty to expe­ri­ence both of these world-class attrac­tions at the same time. Hav­ing a tick­et­ing sys­tem that makes the pur­chase eas­i­er and stream­lines the entire vis­it is cru­cial to the suc­cess of both venues," she concluded.
"We are pleased to be the tick­et­ing provider of choice for these phe­nom­e­nal attrac­tions. The Space Nee­dle is one of the most rec­og­nized land­marks in the world and the Chi­hu­ly Gar­den and Glass sets a new stan­dard for art­work exhi­bi­tion" said acces­so CEO Steve Brown. ​"Meet­ing the needs of these unique venues demon­strates our platform's flex­i­bil­i­ty and abil­i­ty to meet the grow­ing demand for a ful­ly-host­ed, vis­i­tor focused tick­et­ing solution."
###
About the Space Needle
The Space Nee­dle is cel­e­brat­ing its 50th Anniver­sary in 2012. Built for the 1962 World's Fair, the Space Nee­dle has become the Num­ber One attrac­tion in the Pacif­ic North­west, with over one mil­lion vis­i­tors each year. Along with SkyC­i­ty, the world's longest-oper­at­ing revolv­ing restau­rant, the Space Nee­dle is now rec­og­nized as the glob­al icon for the City of Seattle.
About Chi­hu­ly Gar­den and Glass
Chi­hu­ly Gar­den and Glass pro­vides a look at the career of artist Dale Chi­hu­ly. Locat­ed at Seat­tle Cen­ter, the exhi­bi­tion fea­tures an Exhi­bi­tion Hall offer­ing vis­i­tors a com­pre­hen­sive look at Chihuly's sig­nif­i­cant series of work. Vis­i­tors will also enjoy the cen­ter­piece Glasshouse – a dra­mat­ic struc­ture hous­ing a sus­pend­ed 1,340-piece, 100-foot-long glass sculp­ture — and the Gar­den, which is a back­drop for a num­ber of mon­u­men­tal sculp­tures and oth­er instal­la­tions. Also housed in the Exhi­bi­tion Hall is the Col­lec­tions Café, fea­tur­ing pieces from Chihuly's col­lec­tions includ­ing car­ni­val chalk ware, vin­tage accor­dions, vin­tage radios and cam­eras and The Book­store, show­cas­ing the works of local arti­sans and a vari­ety of books and mate­ri­als relat­ing to Chihuly's art­works, includ­ing some Stu­dio Edi­tions and prints. For more infor­ma­tion vis­it: www​.chi​hu​ly​gar​de​nand​glass​.com.
About acces­so
acces­so deliv­ers pow­er­ful ful­ly host­ed tick­et­ing and com­merce solu­tions that help cus­tomers increase sales with­out adding expen­sive infra­struc­ture costs. accesso's onsite, online and on-the-go tick­et­ing solu­tions sup­port top attrac­tions across North Amer­i­ca from theme parks and water parks to zoos, con­certs and sport­ing events. accesso's solu­tions are ful­ly host­ed and sup­port­ed 24⁄7 to ensure con­tin­u­al focus on the user expe­ri­ence and sales results.
accesso's pro­pri­etary solu­tions are not­ed for stream­lined, easy-to-use designs with seam­less­ly inte­grat­ed rev­enue dri­ving fea­tures. All acces­so solu­tions are con­tin­u­al­ly updat­ed to pro­vide speed to mar­ket for enhance­ments and to stay cur­rent with the lat­est advances in tech­nol­o­gy. accesso's main­tains Lev­el 1 PCI Data Secu­ri­ty Stan­dard cer­ti­fi­ca­tion, the high­est rank avail­able from major cred­it card providers. For more infor­ma­tion vis­it acces​so​.com