accesso's ShoWare™Division Lands 11 New Contracts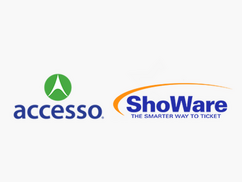 FRES­NO, Calif. (26-Feb­ru­ary-2015) – ShoWare, a divi­sion of acces­so® Tech­nol­o­gy Group plc (AIM: ACSO), the pre­mier tech­nol­o­gy solu­tions provider to the glob­al attrac­tions and leisure indus­try, today announced 11 new con­tract wins.
Among the new clients sign­ing agree­ments to uti­lize the ShoWare cloud-based Soft­ware-as-a-Ser­vice (SaaS) tick­et sales and dis­tri­b­u­tion solu­tion are four venues in the U.S., three venues in Mex­i­co – includ­ing the cur­rent and future home of the Dia­b­los Rojos base­ball team – three inde­pen­dent Mex­i­can pro­duc­ers – and the Cred­it Union iPlex in Saskatchewan, Canada.
In the U.S., the Ritz The­ater in Newark, NJ; 2300 Are­na the new state-of-the-art sports and enter­tain­ment in Philadel­phia, PA; Val­hal­la Tahoe – home to the Val­hal­la Art, Music & The­atre Fes­ti­val in South Lake Tahoe, Cal­i­for­nia; and the Puget Sound Attrac­tion Coun­cil in Seat­tle, Wash­ing­ton have all signed contracts.
In Mex­i­co, three promi­nent inde­pen­dent pro­duc­ers – Oscar Gar­cia, Ale­jan­dro Vega, and Arturo Ramos – will lever­age the ShoWare online tick­et­ing solu­tions as well the system's abil­i­ty to sell tick­ets through Face­book. Oth­er Mex­i­can venues tap­ping ShoWare tick­et­ing tech­nol­o­gy are Los Dia­b­los Rojos de Mex­i­co, the country's most pop­u­lar base­ball team; the Mete­pec The­atre, a for­mer Tick­et­mas­ter client; and the new La Teatreia the­ater in Mex­i­co City.
"I'm delight­ed that ShoWare has so quick­ly estab­lished itself as a vital part of the Acces­so group" said Tom Bur­net, acces­so CEO. ​"The product's ver­sa­til­i­ty and user-friend­li­ness con­tin­ues to attract cus­tomers from a strate­gi­cal­ly impor­tant and diverse range of ver­ti­cals and geo­gra­phies, all of which are entire­ly com­ple­men­tary to our exist­ing business."