CoCo Key Water Resorts Select accesso as New Ticketing and Access Control Provider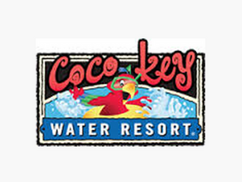 ACCES­SO NOW DELIV­ERS STATE-OF-THE-ART ECOM­MERCE FOR TROP­I­CAL FAM­I­LY WATER RESORTS NATIONWIDE
Orlan­do, FL (Feb­ru­ary 2, 2010) – CoCo Key Water Resorts, a lead­ing col­lec­tion of trop­i­cal indoor water parks and hotels, has cho­sen acces­so to deliv­er com­pre­hen­sive elec­tron­ic tick­et­ing and access con­trol solu­tions effec­tive Feb­ru­ary 1, 2010. Coco Key water parks now offer guests a new, themed, online shop­ping expe­ri­ence designed to stream­line the pur­chase process and enhance resort revenue.
CoCo Key Water Resorts will employ acces­so's host­ed tick­et­ing and com­merce solu­tions includ­ing acces­so SHOP­LAND, a state-of-the-art print-at-home and eCom­merce solu­tion cur­rent­ly used by many of North America's largest vis­i­tor attrac­tions; and acces­so AFFIL­I­ATE, an inno­v­a­tive third par­ty sales pro­gram that elim­i­nates many of the chal­lenges of tra­di­tion­al con­sign­ment pro­grams deliv­er­ing turnkey, cus­tomized web­sites to third par­ty resellers. These acces­so solu­tions will offer CoCo Key the abil­i­ty to dynam­i­cal­ly cross-sell and up-sell prod­ucts and ser­vices based on guests' pur­chase pat­terns and online selections.
"We are excit­ed about our switch to Acces­so as a key part of our over­all strate­gic focus on a stream­lined guest expe­ri­ence and dri­ving rev­enue growth," said Ed Bak­lor, Senior Vice Pres­i­dent of CoCo Key Water Resorts. ​"The unique fea­tures offered by Acces­so will give our water­parks the pow­er to offer guests addi­tion­al prod­ucts to enhance their visit."
"Max­i­miz­ing sales requires more than just offer­ing print-at-home admis­sion tick­ets," said Steve Brown, CEO of acces­so. ​"With these Acces­so solu­tions, CoCo Key will increase their oppor­tu­ni­ty to offer vis­i­tors the option of upgrad­ing to a sea­son­al or annu­al pass, pur­chas­ing gift cards or arcade cards, reserv­ing a cabana, host­ing a birth­day par­ty and more though our inter­ac­tive, stream­lined sell­ing process."
###
About acces­so
acces­so prod­ucts and ser­vices pro­vide cut­ting edge tick­et­ing and com­merce solu­tions for a wide vari­ety of lead­ing theme parks, water parks and zoos includ­ing; Six Flags theme parks across North Amer­i­ca, the Colum­bus Zoo, Zoombezi Bay water park and Elitch Gar­dens. To date, accesso's tech­nol­o­gy has processed over $3 bil­lion in sales.
acces­so solu­tions are not­ed for their stream­lined, easy-to-use design with a keen focus on dri­ving topline rev­enue improve­ments. acces­so tech­nol­o­gy seam­less­ly inte­grates Front Gate/​Box Office Point of Sale, eCom­merce, Group Sales, Con­sign­ment, Direct Mar­ket­ing, Sea­son Pass Pro­cess­ing, Print-At-Home Tick­ets, Self-Ser­vice Tick­et­ing, and Pay­ment Card Pro­cess­ing into one flex­i­ble and con­fig­urable dig­i­tal platform.
acces­so deliv­ers pow­er­ful tick­et­ing and com­merce solu­tions that are ful­ly host­ed in a world class data cen­ter. With no com­pli­cat­ed local net­work servers to main­tain, acces­so deliv­ers a com­pre­hen­sive, state of the art solu­tion to any size venue in an afford­able man­ner. For more infor­ma­tion please vis­it www​.acces​so​.com.
About CoCo Key
CoCo Key Water Resorts, cre­at­ed in part­ner­ship with Wave Devel­op­ment LLC and Sage Hos­pi­tal­i­ty Resources, are the newest water resort devel­op­ment through­out the Unit­ed States, offer­ing a Key West-themed par­adise for fam­i­ly adven­ture get­aways. Man­aged and devel­oped by Sage Hos­pi­tal­i­ty Resources, one of the nation's lead­ing hotel man­age­ment and devel­op­ment com­pa­nies, CoCo Key Water Resort prop­er­ties are cur­rent­ly open in the fol­low­ing cities: Rock­ford, IL, Orlan­do, FL, Oma­ha, NE, Kansas City, MO, Colum­bus and Cincin­nati, OH, Water­bury, CT, Mount Lau­rel, NJ, Fitch­burg and Dan­vers, MA.