ShoWare Contract Wins Expand accesso Global Client Base.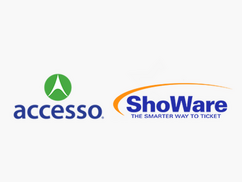 FRES­NO, Calif. (18-Decem­ber-2014) – ShoWare™, a recent­ly acquired divi­sion of acces­so® Tech­nol­o­gy Group plc (AIM: ACSO), the pre­mier tech­nol­o­gy solu­tions provider to the glob­al attrac­tions and leisure indus­try, today announced 11 con­tract wins and one sig­nif­i­cant renew­al across three regions.
Eleven venues across the Unit­ed States, Cana­da, Mex­i­co and Brazil have signed new agree­ments to uti­lize the ShoWare solu­tion since its acqui­si­tion by acces­so in November.
In the U.S., the Hard Rock Hotel & Casi­no in Lake Tahoe and the Lesh­er Cen­ter for the Arts in Wal­nut Creek, Calif. have signed con­tracts. In Mex­i­co, ShoWare has secured an excit­ing new oppor­tu­ni­ty as the pre­mier eCom­merce provider for the rapid­ly expand­ing Fonte­can España inflat­able water parks busi­ness. And in Brazil, ShoWare will be rolled out at the 1,200-seat Prime Hall in Camp­inas, Sao Paulo, while the Phil­har­mon­ic Orches­tra, based in Cal­gary, Cana­da has agreed to a three-year con­tract renewal.
An addi­tion­al sev­en venues are opt­ing to lever­age the ShoWare solu­tion, includ­ing the Teton Coun­ty Fair, the Kiwa­nis Wyoming Coun­ty Fair and the North­land Per­form­ing Arts in Colum­bus, Ohio, as well as the Cine Joia in Brazil, and inde­pen­dent pro­duc­er Eduar­do Paz and events com­pa­nies Daniel­la Pro­duc­ciones and APM Pro­duc­ciones, all in Mexico.
"We are thrilled at the oppor­tu­ni­ty to serve this diverse col­lec­tion of venues," said Tom Bur­net, acces­so CEO. ​"These new clients illus­trate a grow­ing inter­est in the flex­i­bil­i­ty of the Showare solu­tion and we look for­ward to help­ing them deliv­er excep­tion­al eCom­merce expe­ri­ences for their guests."
The ShoWare tick­et­ing solu­tion is the lead­ing, cus­tomiz­able cloud based Soft­ware-as-a-Ser­vice (SaaS) tick­et sales and dis­tri­b­u­tion solu­tion for oper­a­tors and is now used in more than 485 venues and leisure orga­ni­za­tions through­out North and South America.