Year-end Trading Update and Directorate Change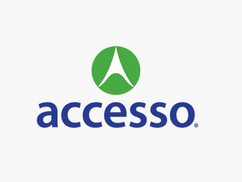 acces­so Tech­nol­o­gy Group plc (AIM: ACSO), the pre­mier tech­nol­o­gy solu­tions provider to leisure, enter­tain­ment, hos­pi­tal­i­ty and cul­tur­al mar­kets, pro­vides the fol­low­ing update on trad­ing for the finan­cial year end­ed 31 Decem­ber 2018 and Board composition.

Trad­ing update and notice of results
2018 was a year where the Group con­tin­ued to make good progress. Full year results are expect­ed to be broad­ly in line with mar­ket expec­ta­tions for FY18. These results are before tak­ing account of one-off excep­tion­al costs of approx­i­mate­ly $1.7m, relat­ing to pro­fes­sion­al fees asso­ci­at­ed with a sig­nif­i­cant and well-advanced acqui­si­tion oppor­tu­ni­ty, which was ulti­mate­ly ter­mi­nat­ed by the Board of acces­so in Octo­ber 2018.
Direc­torate Change
Bill Rus­sell has served in a vari­ety of roles in both pub­lic and pri­vate tech­nol­o­gy com­pa­ny boards, in a career span­ning sev­er­al decades, includ­ing 23 years across a num­ber of senior man­age­ment roles at Hewlett Packard, includ­ing Vice Pres­i­dent and Gen­er­al Man­ag­er of Hewlett Packard's mul­ti-bil­lion-dol­lar Enter­prise Sys­tems Group and its Soft­ware Solu­tions Group. Bill is cur­rent­ly Non-Exec­u­tive Chair­man at lead­ing tech­nol­o­gy solu­tions provider Pik­sel Group and PROS Hold­ings, a provider of AI-pow­ered solu­tions that opti­mize sell­ing in the dig­i­tal econ­o­my, and pre­vi­ous­ly held roles at SABA Soft­ware, Inc., web­Meth­ods and Cog­nos. Bill is based in the Unit­ed States.
Paul Noland, Chief Exec­u­tive Offi­cer, said:
"Tom has been cen­tral in dri­ving acces­so's sig­nif­i­cant growth and inter­na­tion­al expan­sion over the last nine years he has been with the com­pa­ny and he is great­ly admired by all in and around the busi­ness. Per­son­al­ly, and on behalf of the Board, I would like to take the oppor­tu­ni­ty to thank Tom for his excep­tion­al lead­er­ship and tenure, as he has dri­ven acces­so from suc­cess to suc­cess. I look for­ward to con­tin­u­ing my work­ing rela­tion­ship with Tom in his new Non-Exec­u­tive capac­i­ty, as the busi­ness pre­pares for anoth­er year of con­tin­ued growth."
Tom Bur­net, Exec­u­tive Chair­man, said:
"I am immense­ly proud of the suc­cess that acces­so has achieved over the last decade and feel very for­tu­nate to have led the busi­ness and rep­re­sent­ed our out­stand­ing peo­ple over much of that time. acces­so has grown from an auda­cious idea into a posi­tion of glob­al lead­er­ship, with inno­v­a­tive tech­nol­o­gy embed­ded across venues world­wide. I'm delight­ed that Bill Rus­sell has accept­ed our invi­ta­tion to take over as Chair­man of the Board and I have no doubt that the excep­tion­al team we have assem­bled will help us con­tin­ue to go from strength to strength."
Addi­tion­al infor­ma­tion
| | |
| --- | --- |
| Cur­rent directorships: | Past direc­tor­ships (last five years): |
| B.T. Manci­ni | Inno­v­a­tive Inter­faces Inc. |
| PROS Hold­ings Inc. | Blue Roost­er Inc. |
| Uni­ver­si­ty of Edin­burgh USA Devel­op­ment Trust | Saba Soft­ware Inc. |
| Pik­sel Limited | |
Mr Bill Rus­sell has no ben­e­fi­cial inter­est in the ordi­nary shares of the Group.
Mr Bill Rus­sell was a Non-exec­u­tive Direc­tor of Net­work Physics Inc. which filed for vol­un­tary liq­ui­da­tion whilst he was a direc­tor of the company.
Mr Bill Rus­sell was a Non-exec­u­tive Direc­tor of KIT Dig­i­tal which filed for Chap­ter 11 bank­rupt­cy pro­tec­tion whilst he was a direc­tor of the company.
Save as set out above there are no fur­ther dis­clo­sures required pur­suant to Rule 17 or Sched­ule Two, para­graph (g) of the AIM Rules for Com­pa­nies in respect of Mr Rus­sel­l's appoint­ment to the Board of accesso.
For fur­ther infor­ma­tion, please contact:
acces­so Tech­nol­o­gy Group plc

+44 (0)118 934 7400

Tom Bur­net, Exec­u­tive Chairman

Paul Noland, Chief Exec­u­tive Officer

John Alder, Chief Finan­cial Officer

FTI Con­sult­ing, LLP

+44 (0)20 3727 1000

Matt Dixon, Adam David­son

Canac­cord Genu­ity Lim­it­ed

+44 (0)20 7523 8000

Simon Bridges, Richard Andrews

Numis Secu­ri­ties Limited

+44 (0)20 7260 1000

Simon Willis, Mark Lander
About acces­so Tech­nol­o­gy Group
At acces­so, we believe tech­nol­o­gy has the pow­er to rede­fine the guest expe­ri­ence. Our patent­ed and award-win­ning solu­tions dri­ve increased rev­enue for attrac­tion oper­a­tors while improv­ing the guest expe­ri­ence. Cur­rent­ly serv­ing over 1,000 venues in over 30 coun­tries around the globe, acces­so's solu­tions help our clients stream­line oper­a­tions, gen­er­ate increased rev­enues, improve guest sat­is­fac­tion and har­ness the pow­er of data to edu­cate busi­ness and mar­ket­ing decisions.
acces­so stands as the lead­ing tech­nol­o­gy provider of choice for tomor­row's attrac­tions, venues and insti­tu­tions. We invest heav­i­ly in research and devel­op­ment because our indus­tries demand it, our clients ben­e­fit from it and it makes a pos­i­tive impact on the guest expe­ri­ence. Our inno­v­a­tive tech­nol­o­gy solu­tions allow venues to increase the vol­ume and range of on-site spend­ing and to dri­ve increased trans­ac­tion-based rev­enue through cut­ting-edge tick­et­ing, point-of-sale, vir­tu­al queu­ing, dis­tri­b­u­tion and expe­ri­ence man­age­ment software.
Many of our team mem­bers come from back­grounds work­ing with­in the attrac­tions and cul­tur­al indus­try. In this way, we are expe­ri­enced oper­a­tors who run a tech­nol­o­gy com­pa­ny serv­ing attrac­tions oper­a­tors, ver­sus a tech­nol­o­gy com­pa­ny that hap­pens to serve the mar­ket. Our staff under­stands the day-to-day oper­a­tions of man­ag­ing com­plex venues and the chal­lenges this cre­ates, and togeth­er we strive to pro­vide our clients and their guests with tech­nol­o­gy that empow­ers them to do more and enjoy more. From our agile devel­op­ment team to our ded­i­cat­ed client ser­vice spe­cial­ists, every team mem­ber knows that their pas­sion, integri­ty, com­mit­ment, team­work and inno­va­tion are what dri­ve our success.
acces­so is a pub­lic com­pa­ny, list­ed on AIM: a mar­ket oper­at­ed by the Lon­don Stock Exchange. For more infor­ma­tion, vis­it www​.acces​so​.com. Fol­low acces­so on Twit­ter, LinkedIn and Face­book.